First implant experience proves fun
It's not often that I praise patients for not following their dentists' advice, but after placing my first implant, this is exactly what I did.
Jan 1st, 2010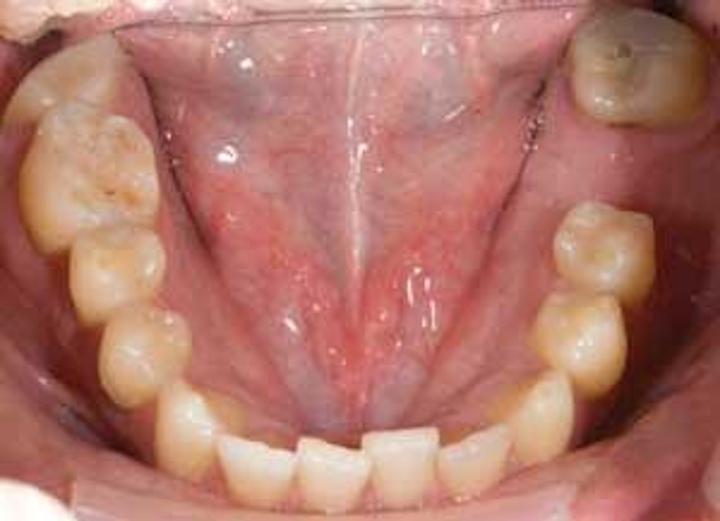 For more on this topic, go to www.dentaleconomics.com and search using the following key words: implant, alveolar canal, fixed bridges, periapical radiograph, Dr. Michael DiTolla.
It's not often that I praise patients for not following their dentists' advice, but after placing my first implant, this is exactly what I did. Ten years earlier, when this 32–year–old male patient had tooth No. 19 extracted, his dentist suggested a three–unit bridge to replace the missing tooth.
The patient didn't like how much it was going to cost. But more importantly, he opposed the idea of prepping two adjacent teeth to replace one missing tooth, especially when he had no restorations on the lower arch. I told the patient he made a good decision not having the bridge done, since this is what allowed us to place the implant without harming either of the adjacent teeth.
Fixed bridges seem to create as many periodontal problems as the restorative problems they are meant to solve. Throw in the fact that the two abutment teeth could potentially need endodontic treatment now or later, and a compelling case is made for the single– tooth implant.
I have always known that patients would rather stay in my office than be referred to another, but I was afraid to surgically place an implant. Up to this point, I had been restoring implants for some time and had taken numerous implant courses. But when our lab's implant department convinced me that digital treatment planning technology would eliminate the guesswork, I decided I was ready to give it a try.
Shown here are some step–by–step pictures of my first implant. I can honestly say it was the most fun I have had in a long time, and it was easier than almost any crown prep I have done recently.
I wish there was this much technology available to walk me through molar endo, wisdom tooth extractions, or multiple–unit bridge preps.
I recommend that you take advantage of this technology and use the digital treatment planning expertise of Glidewell's implant department. If your first experience is anything like mine, you will start looking quickly for a second implant case.
Since we planned on placing a NobelReplace™ implant, this case was done using the NobelGuide™ Guided Surgery System.
To see the full HD video of this surgery in real time, visit www.glidewelldental.com, click on "Education" and then "Video Gallery." The presentation is titled My First Implant, and offers an up–close look at my first surgical implant experience.
For more information on Glidewell Laboratories' digital treatment planning services, you can call (800) 497–3692.
To have Dr. Michael DiTolla speak at your next study group or dental society, contact him at mcditolla@mac.com. For more information, visit www.drditolla.com or www.glidewelldental.com.