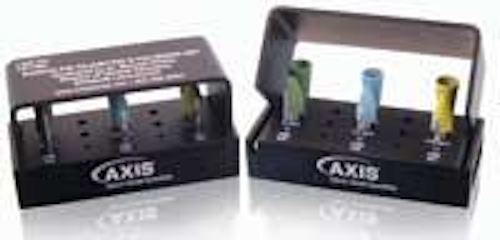 For more on this topic, go to www.dentaleconomics.com and search using the following key words: bur kits, ceramic materials, diamonds, zirconia, restorations, Dr. Michael DiTolla.
I recently finished up a project with many different shapes, sizes, and grits of burs trying to determine which work best for a variety of ceramic materials. In this column, I want to highlight the results of those efforts by discussing the two kits that have become my workhorses.
The first is an all–around Porcelain Adjusting & Polishing Kit (Fig. 1) that can be used on PFMs and all–ceramic crowns in the anterior or the posterior. For 99% of the time, this will be the only kit you need for adjusting and polishing porcelain. I wanted the kits to be as small as possible with the least amount of confusion.
The Porcelain Adjusting & Polishing Kit has three shapes of diamonds: a bullet shape for adjusting occlusal surfaces of posterior teeth, a football shape for adjusting the lingual surfaces of anterior teeth, and a tapered diamond for adjusting interproximal contacts.
There is a blue stripe on the shanks of these diamonds identifying them as fine grit diamonds. This is a desirable characteristic for adjusting ceramics. Many dentists will adjust porcelain with the same grit used for prepping teeth, which makes polishing the ceramic material almost impossible. These fine grit diamonds leave a surface conducive to quick, effective polishing with the enclosed diamond impregnated cups and points.
Have you had the opportunity to cut through a zirconia–based crown yet? If you haven't, you will soon — even if you don't place zirconia–based restorations. A patient will walk in with a crown that needs to be replaced, and as you cut through the ceramic material, you will notice that the coping is white — not gray.
You will also notice that no burs seem to cut through it, and you most likely will get frustrated. It takes a special bur to cut through zirconia effectively, specifically a fine grit bur. The next kit I will discuss makes sure that you have this kind of bur chairside when the first patient arrives.
The BruxZir™ Adjustment & Polishing Kit (Fig. 2) has three shapes of these diamonds to cut through a crown for removal, or if you have to do an endodontic procedure, access through a zirconia–based crown.
Recently, Glidewell Laboratories launched BruxZir™, a solid zirconia crown that can be used when clinical conditions call for a cast gold crown or a PFM with a metal occlusal, but the patient refuses these two options.
The same burs that cut through zirconia are the same ones used to adjust zirconia. They are simply the only class of burs that work on zirconia. For BruxZir™ restorations, three diamond impregnated polishing cups are included to polish the zirconia surface after the adjustments are finished.
Polishing ceramic or zirconia restorations does not have to be difficult or time consuming, and can certainly be delegated in states where it is legal to do so. The Porcelain Adjusting & Polishing Kit is a universal kit for any porcelain restoration, and the BruxZir™ Adjustment & Polishing Kit does dual duty for either cutting off zirconia restorations or adjusting and polishing BruxZir™ restorations.
Both kits are available from Axis Dental by calling (800) 355–5063 or through your dental dealer.
To have Dr. Michael DiTolla speak at your next study group or dental society, contact him at mcditolla@mac.com. For more information, visit www.drditolla.com or www.glidewelldental.com.