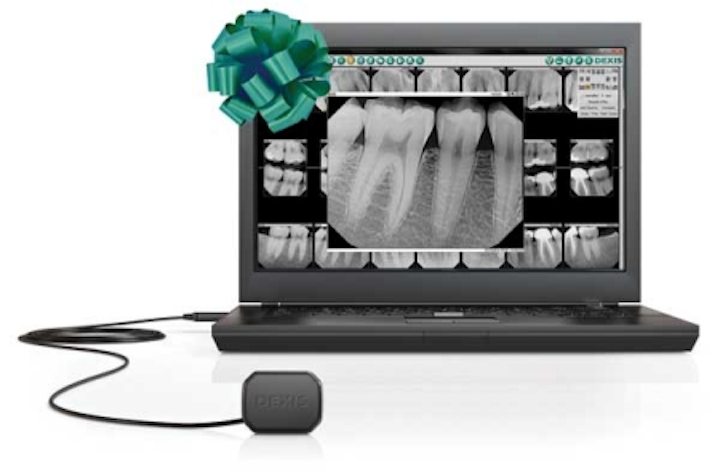 Terry L. Myers, DDS, FAGD
For more on this topic, go to and search using the following key words: dental technology, digital imaging, digital radiography, digital X-rays, 3-D imaging, cone beam, technology, social media, e-mail, Dr. Terry L. Myers.
December is filled with holiday activities, some sentimental "Auld Lang Syne," and anticipation of new adventures. With the improving economy, hopefully the stores will be filled with shoppers looking for perfect gifts. During this season, don't forget to put your practice on your shopping list, and give yourself a "gift that keeps on giving." This phrase was originally used for a phonograph ad in the 1920s, but its spirit still has voice today – the gift of technology will continue to benefit your practice long after the holiday season.
My favorite technologies bring cheer to my office year-round.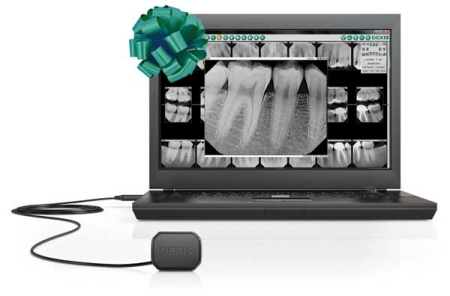 Digital technology: an ongoing gift for you and your patients
Digital radiography has many attributes for the dentist, the patient, and the staff. Digital imaging, especially with my DEXIS® Platinum sensor, provides clear, crisp images that can show cracks, periapical radiolucencies, and even interproximal decay that has broken through the enamel to the dentin.
I can enlarge the image to fill my large computer monitor while maintaining resolution. For me, that's the gift of better treatment planning. There's no waiting for all of this either; digital images appear on the screen almost immediately.
My patients receive the gift of understanding that ultimately leads to their increased and continued dental health. With the clarity and size of the image, educating my patients is much easier, and I can draw or spotlight areas of interest. My sensor's rounded corners increase patient comfort, and that's a cause for celebration too.
My staff gladly accepts the gift of an easier workday. With the direct USB connection, they can easily transport the sensor between operatories and plug in without a docking station. The cable and shape of the digital sensor allows for quicker, easier movement around the mouth, reducing an FMX to a five-minute job.
Not cleaning up or changing the chemicals involved in traditional X-ray is not only a gift, it is a relief. Images can be integrated into a practice-management system, such as DENTRIX, so that all patient files, history, and images are organized and easily retrieved.
For expanding the scope of my practice, my medium-field-of-view GXCB-500 HD™ cone beam scanner gives me the gift of information that is unavailable in 2-D formats. This radiographic option is perfect for diagnosis and patient education for more complicated procedures, such as implants.
From the CBCT scan, I can determine the height and width of bone, position of the roots, and proximity of the teeth to the nerves and sinuses. Now, I can keep more patients in-house, whenever possible, and plan less-invasive procedures.
Intraoral cameras also help with case acceptance. These views provide a great perspective of deteriorating amalgams, possible crown opportunities, tooth fractures, periodontal problems, or even small cracks.Intraoral and extraoral pictures can be printed or e-mailed to patients so they don't forget why treatment is necessary.
As communicating with existing patients and reaching new ones becomes more tied to the Internet, visual technology, such as social networking and Web design, take center stage. Make an impact by emphasizing your technological capabilities on your Web site, Facebook page, or Twitter feed.
Reminders through cell phone texting or e-mails keep the younger generation on time for appointments, and birthday messages remind everyone that their teeth need a birthday checkup too.
I hope this year of columns has given you additional insights into incorporating innovative dental economics and growing a successful business, as well as providing the best care possible to patients. All of us at Keystone Dentistry wish you happiness, health, and technology that counts, all year long!
Dr. Terry L. Myers is a fellow in the Academy of General Dentistry and a member of the Academy of Cosmetic Dentistry and the Dental Sleep Disorder Society. He has a private practice in Belton, Mo. You may contact Dr. Myers at office@keystone-dentistry.com.Digital technology: an ongoing gift for you and your patients
More DE Articles
Past DE Issues