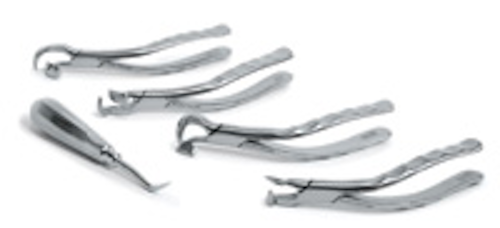 Joe Blaes, DDS
Physics Forceps®
by Golden Dental Solutions
I cannot believe that every dental office does not have a set of these forceps. The use of these forceps has totally changed my extraction techniques. This is because I had not removed a tooth for years. But now I remove teeth on a routine basis with no damage to the bone and no broken root tips. The Physics Forceps are a unique type of extraction system that provides:
Predictable and efficient extractions in less than four minutes
Atraumatic extractions where the bone is preserved
Elimination of root tip fractures
No need for elevating or laying a flap
Minimal operator movement required
The Physics Forceps are an innovative design that provides a simple mechanical advantage by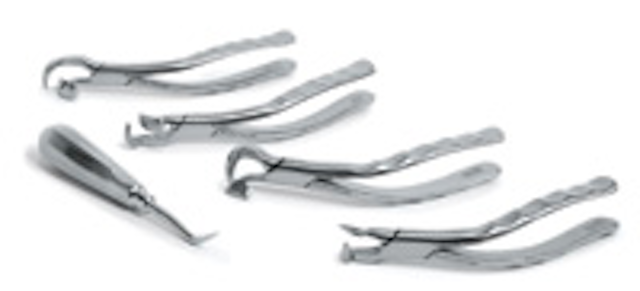 employing first-class lever mechanics. Using the patented "beak and bumper™" technique, you can simply and predictably extract virtually any tooth in any condition while preserving the buccal bone and socket. The beak of the Physics Forceps is designed to apply control pressure parallel to the long axis of the root. The bumper acts as a simple fulcrum or pivot point. While traditional instruments grasp, squeeze, and twist, the Physics Forceps employs a slow, steady force that releases the tooth from the alveolar bone. By combining the biomechanical advantages of a lever with the biochemical reaction that is occurring, extracting teeth has never been easier. When the periodontal ligament is traumatized with forceps or elevators, hyaluronidase is released. Once this chemical breakdown of the periodontal ligament by hyaluronic acid is sufficient, the tooth is released from its attachment to the alveolus and can be easily removed. I've learned that there are some rules you must follow for success with this technique. Take your time. Be sure that you have a good contact with the beak on the lingual aspect of the tooth. This is critical. Do not squeeze the tooth. This is not the grasp, squeeze, and rock technique that has been previously taught. Keep light, steady pressure on the handles of the forceps. Do not rock the tooth. You must be patient and wait for the biochemical process to take place. There is no way to hurry this process. It will happen if you have created the correct mechanical forces. Often there is a lack of space in the areas of the upper and lower posterior teeth. A special set of posterior Physics Forceps has been created for these teeth. Sometimes you will need to drill a trench on the lingual side of the tooth (at the expense of the tooth) just below the gum line to secure a solid purchase point with the beak. I recommend taking advantage of the 90-day money-back guarantee trial period. Give the Physics Forceps a try today and eliminate extraction frustration.
To order, or for more information, visit www.physicsforceps.com or call (877) 987-2284.
To have Dr. Joe Blaes present his lecture, "Pearls For Your Practice®," for your study group or dental society, please call (866) 274-4500.
Aquasil Ultra Smart Wetting Impression Material®
from DENTSPLY Caulk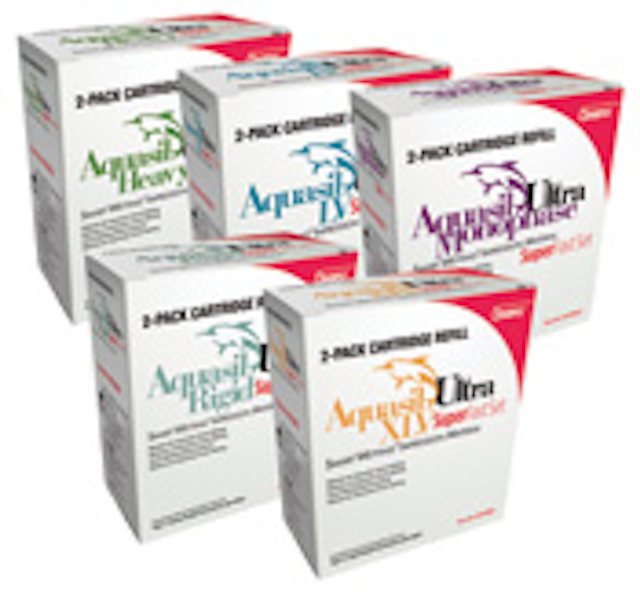 Adds a Super Fast Set Formula. When I'm the patient, I always wish for a faster-setting impression material so I can get that stuff out of my mouth! Ok, so I'm a dental phobic. I know too much. But I also know that your patients feel the same way. I have never met anybody who likes impressions. The folks at DENTSPLY Caulk have a new impression material that has an intraoral working time of 35 seconds for the syringe material and one minute and 15 seconds of bench working time for the tray material. Once you have seated the impression in the mouth, the removal time is a short two minutes and 30 seconds from start of mix. Super Fast Set requires that you and your team have an impression system in place before using this material. In my office, whenever we get a new material, we try it on a mannequin or a model first to perfect the technique. My team and I have had too many embarrassing moments in front of patients using new materials without trying them first. I find this impression material is best for cases that involve impressing one or two teeth. This material is available in all viscosities, and packaged in a convenient two-cartridge 50 ml or DECA™ 380 ml refill. Aquasil Ultra Smart Wetting Material is formulated to reduce voids and bubbles, and it captures great detail. Superior tear strength keeps the impression from tearing or distorting during removal from the mouth or separation from the model. Now you have a technique that will shorten your impression time and keep patients happy.
For more information, contact DENTSPLY Caulk at 1-800-LD-CAULK, visit www.aquasilultra.com, or call an authorized DENTSPLY distributor.
GC FujiCEM™ 2
from GC America Inc.
Take a good look at this new product from one of the most respected resin modified glass ionomer companies in the world. You can expect to save time, get better chemical properties, and have an easier time cementing your restorations. That sounds like faster, better, and easier to me! I have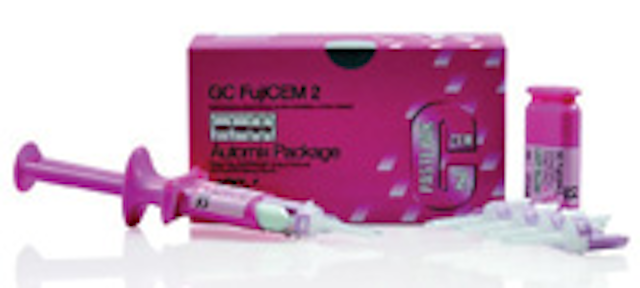 come to expect innovative products with great chemistry from GC America. This next generation resin modified glass ionomer luting cement is powered by F², Flex Fuse Technology. The Flex part incorporates new high-elastic crosslinking monomers that give higher flexural strength, which allows it to act like a shock absorber to better resist the challenges of occlusal loads. The Fuse part is a modified filler-surface treatment that creates a strong bond between the glass particles and the resin matrix, increasing strength properties. Now you have a product that will significantly increase bond, flexural, and compressive strengths to not only enamel and dentin, but also some of the most popular substrates in the dental market. GC FujiCEM 2 exhibits strong retention because of an optimal chemical balance that produces the best adhesion to the tooth surface. Its high compressive and flexural strengths provide the best support for your indirect restorations. Chemical bonding to the tooth structure maintains the marginal seal, which minimizes the risk of microleakage and secondary caries. The product's sustained fluoride release is designed to protect the tooth structure from recurring caries. GC FujiCEM 2 has an extremely thin film that allows you to easily seat your restorations. This product is moisture tolerant so you do not need a rubber dam or extra care to control humidity. The material is self-adhesive so there is no need to etch and bond, which saves time and extra steps. One minute after luting, the cement reaches a rubbery consistency for very easy removal of excess material. With this cement you get a long-lasting restoration with no postoperative sensitivity and no hassles. I've saved the best for last — those of you who have used GC FujiCEM (a former Pearl) are aware of the GC Paste Pak Dispenser. If you prefer, you can continue to use that dispenser OR choose my favorite, the new GC FujiCEM 2 Dispenser that continues the GC tradition of innovative delivery systems. With 85% less weight, GC FujiCEM 2 is easily dispensed directly into the restoration. This product can be purchased as an introductory kit or in the standard GC FujiCEM 2 Automix Package.
Order from your dealer or visit www.gcamerica.com to learn more.
MCX Micromotor
from Bien-Air
Before I begin, I must give you some background. I've been using an electric handpiece for more than 30 years, and 25 of these years have been with a Bien-Air handpiece. So, I have a lot of experience with these motors. The only major problem that I've had through the years is when my dental assistant autoclaved a motor 20 years ago. At that time, the motors weren't sealed and could not be autoclaved. Obviously, it had to be replaced. I've visited the Bien-Air factory in Bienne, Switzerland, and watched the motors being made. The quality begins there. Bien-Air has positioned itself as a world leader in electric micromotors. Some models have revolutionized modern dental techniques. Power, high torque, absence of vibration, and reliability are the assets that make Bien-Air micromotors so unique. The company's new arrival is the MCX, which is the first brushless micromotor to offer perfect speed control at a constant torque and competitive price. This motor is based on the Smart Logic technology already used on the MX and MX2. The MCX's performance, reliability, and price ratio set it apart. The MCX with adjustable LED light is the smallest and lightest brushless motor designed by Bien-Air. Use it with the new Bien-Air Micro-Series instruments for a micromotor/instrument assembly that's even smaller than a turbine. With the MCX and Micro-Series,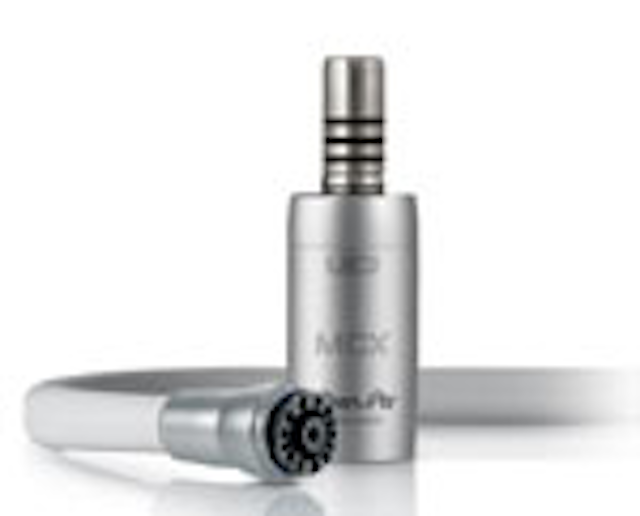 you benefit from a grip and balance that give you more precise control and less fatigue at the end of the day. Thanks to its Smart Logic electronic control, the power is automatically regulated, adapting to variations in pressure. This means the MCX delivers precise, constant power. To ensure the micromotor offers a longer service life, the DMCX electronic control has built-in automatic regulation to prevent overheating. The motor phases and light output are protected against short circuits. Just like its big brother, the MX2 micromotor, the MCX micromotor is designed to withstand the harshest treatment. Expertise in brushless technology combined with strict manufacturing processes are a given. Thanks to its ball bearings, which are lubricated for life, the MCX can be sterilized, yet it is maintenance-free. The result is even better infection control combined with low maintenance costs. To allow the MCX to be easily integrated with all types of units, the MCX's electronic control is equipped with electric and pneumatic inputs and a digital communication protocol. If you're in the market for a new high-torque, quiet, powerful, tooth-cutting system, I recommend you take a good look at the Bien-Air system. The proof is in the usage. You can even arrange to try the Bien-Air in your office before you buy.
Order from your dealer or go to www.bienair.com for more information.
More DE Articles
Past DE Issues