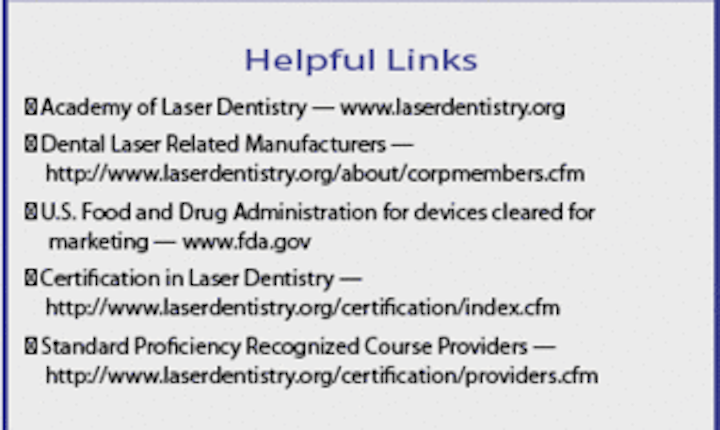 by Gail S. Siminovsky, CAE
This is the second in a series on laser dentistry.Before buying a laser, clinicians should attend national meetings where lasers are being presented and also attend an introductory laser course. As long as you assess the variety of devices in the marketplace, participate in manufacturer training, commit to attending Standard Proficiency Dental Laser Certification as recognized by the Academy of Laser Dentistry, and proceed through the learning curve at a pace comfortable for you, the rewards will be noticed quickly by your staff, patients, and practice.
First things first
Before you purchase a dental laser, consider your type of practice and learn about the different laser wavelengths and their recommended applications. Matching the laser wavelength to your practice needs is important. What this really means is that you begin your laser education prior to making a purchasing decision.
Sorting through marketing hype
There are many manufacturer-based training courses, and the old adage "let the buyer beware" applies. It's important to understand basic laser physics, laser safety, clinical uses, different laser wavelengths, power settings, and various tissue interaction effects. Attend an introductory course. A general introduction to laser technology provided by ALD includes most laser devices currently available in the marketplace.
With the assistance of ALD corporate member manufacturers who willingly provide devices for ALD introductory courses, the side-by-side evaluation provides access to and understanding of lasers in a nonselling environment. Make your purchasing decision based on sound scientific evidence and your own particular needs - not upon the misconception that lasers will revolutionize your dental practice.
Questions to ask
What features do I want or need? What procedures have been cleared for marketing by the U.S. Food and Drug Administration? What procedures do I currently perform that can be assisted with laser technology? What procedures do I not perform that I would consider providing for my patients if I had a laser? How much training and certification do I need? What are the regulatory issues, if any, in my state dental practice act? How do I successfully incorporate laser technology into my practice? What technical support is available, and is it consistent? How long has the device been on the market, and what is the company's track record for efficiency, reliability, and serviceability?
Laser device checklist
Range of applications, speed of performance, precision, and controllability - Currently there are 23 indications for laser use cleared for marketing by the FDA. No single laser can perform all applications equally well under all conditions. Lasers should be a part of the conventional armamentarium. In some cases, it can be the primary instrument of choice; in others, it can be an adjunctive instrument.
Delivery systems, ease of use, disposable components - The laser's delivery system is one of the most important considerations. Does the delivery system provide intraoral accessibility to your satisfaction? How easily are components changed in the middle of a procedure for the desired tissue interaction?
Design limitations, safety, sterilization, and infection control - Is the laser designed specifically for dental use? What are the power requirements and external cooling system requirements (if any)? What are the built-in safety features? How easy is it to sterilize and disinfect the laser, the individual components, and accessories?
Cost (initial, continuing education, maintenance, and replacements) - The range of laser purchase prices may be anywhere from $6,700 to $78,000 depending upon numerous features, delivery systems, wavelengths, and add-on components. As with any well-managed investment, consider the cost over the expected lifetime of the device, not just the initial purchase. As with any well-managed practice implementation, consider the learning curve for you as a practitioner and for your staff.
Ease of set-up, use, and portability; control panel displays; foot pedals - Is the laser easy to set up in your operatory? Can you easily transport the laser between operatories? Is the control panel easily viewable? Are power settings pre-set, and how easy is it to change those settings as needed? Is the activation of the foot pedal easily accessed? Is the pedal adequately protected from inadvertent activation? Are power settings preset? Can you easily adjust those settings?
Quality of construction, beam alignment, and calibration; upgradeability - Is calibration of the device easily achieved? How often, if ever, is calibration necessary? Does the design of the laser lend itself to upgrade capability, if appropriate? Does the manufacturer support such a program?
Features and accessories - Prioritize a list in these categories: "must have," "nice to have," and "not necessary." Learn about the accessories that may require separate purchases. Consider cost and ease of replacement. Assess the features and accessories relative to your clinical setting.
Manuals, training, troubleshooting

- Do training manuals include indications for use, suggested power settings for particular procedures, and methods to adjust any factory presets? Is manufacturer training provided, and how is it provided - in your office or in a seminar setting?

Track record, warranty, and service - Ask hard questions about customer satisfaction and talk with actual dentist customers. What is the track record of the manufacturer or distributor? How responsive are they? If factory-serviced, consider how the device is to be repackaged for shipment and whether the manufacturer provides shipping support. Compare warranties. Determine how often you should reasonably expect to use the warranty provisions and how quickly issues are resolved.
Regulatory agencies and standards organizations
The U.S. Food and Drug Administration (www.fda.gov) controls what manufacturers can claim about their products, but it does not control the practice of dentistry. The agency's Center for Devices and Radiological Health (www.fda.gov/cdrh) standardizes the manufacture of all laser products.
The American National Standards Institute (ANSI) Z136.3 document relates to laser safety in health care. The Laser Institute of America (www.laserinstitute.org) is the secretariat organization for the ANSI Z136.3.
Before purchasing
Examine your practice needs, wants, and goals.
Attend a dental laser introductory course and ask questions.
Compare devices and arrange for in-office demonstrations.
Talk with other laser users.
Understand the role of regulatory agencies and critically evaluate the available information.
After purchasing
Obtain training for the device from the manufacturer.
Attend an ALD-recognized Standard Proficiency Dental Laser Certification Course that includes lecture, hands-on, written examination, and clinical simulation examinations.
Start slowly and realize there is a learning curve. Keep it simple and increase your confidence over time.
Realize that dental laser education is continual.
Gail Siminovsky, CAE, is the executive director of the Academy of Laser Dentistry. She is a member of the American Society of Association Executives, Florida Society of Association Executives, American Association of Dental Editors, National Coalition of General Dental Organizations, and National Council of Dental Credentialing Organizations. She may be reached by e-mail at siminovsky@laserdentistry.org.
---

Laser Manufacturers
BIOLASE Technology* (www.biolase.com)
DEKA Laser Technology (www.dekalasers.com)
Hoya ConBio* (www.conbio.com)
Incisive* (www.incisivelaser.com)
Ivoclar Vivadent* (www.ivoclarvivadent.us.com)
KaVo America* (www.kavousa.com)
Lares Research* (www.laresdental.com)
Lumenis* (www.lumenis.com)
Millennium Dental Technologies (www.millenniumdental.com)
Sirona* (www.sirona.com)
Syneron* (www.syneron.com)
Zap Lasers* (www.zaplasers.com)
* indicates current ALD corporate member status