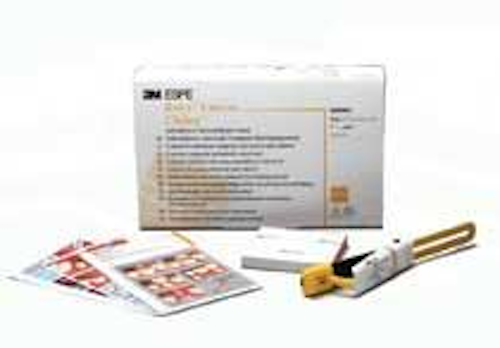 by Joe Blaes
I have selected Pearls from the last 12 months to come up with my list of the best of the best for 2007. Obviously, this is a biased list of my favorites. This was no easy task, because each month I felt that each of the products I wrote about was certainly worthy of being a Pearl. I have many favorites that just barely missed my list of 12. I use all of them on a regular basis. Here are my picks for the year 2007.
RelyX™ Unicem Cement in the Clicker™ dispenser from 3M ESPE — The convenience of a paste-paste mix is now available with all the great features of a product you already trust! RelyX Unicem eliminates the need for etching, priming, and bonding, and there is no postop sensitivity. The innovative Clicker dispenser makes it easy to get the exact dosage, and the cement can be used for virtually all indications. Order from your dealer or call (800) 634-2249 for more information.
XP Bond from Dentsply Caulk —This adhesive's new chemistry delivers exceptional handling for quick and easy strong bonds to dentin and enamel. XP Bond has a new Tertiary-Butanol solvent that improves handling by mixing with water and resins for greater penetration into moist dentin and collagen. A combination of nano-filler and resin technology provides great bond strength. Order from your dealer or call (800) LD Caulk, ext. 794 for more information.
Tru-Align Positioning System from Interactive Diagnostic Imaging, Inc. — Alignment errors can be eliminated from radiographic images with this innovative system. Tru-Align is a fail-safe system for taking accurate radiographs 100 percent of the time. It produces sharper images, with more diagnostic information, with radiation exposure reduction of 70 to 80 percent to your staff and patients using either film or digital sensors. Visit www.idixray.com or call (866) 343-9729 for more information.
AdheSE® One VivaPen from Ivoclar Vivadent — This adhesive is self-etching, light-cured, and applied in one step. AdheSE One contains no organic solvents and is packaged in the VivaPen. Dispense by clicking until the unique brush tip is wetted. The VivaPen eliminates waste because only the exact amount you need is dispensed. The contents are good for at least 80 applications. Order from your dealer or call (800) 533-6825 for more information.
Demi LED Light Curing System from Kerr Demetron — This is a compact, lightweight, easy-to-hold, powerful LED cordless curing light system. Demi has a super-quiet, built-in fan that keeps it cool. It has superior battery technology that lasts three to four days when fully charged. Demi accommodates all the Demetron light guides and it is one great curing light. Order from your dealer or visit www.kerrdental.com for more information.
Revolution Carbides from KOMET USA — You have to be kidding — a new carbide. KOMET has improved the design to improve how the bur cuts. It truly has to be tried to be believed! The Revolution produces clean margins, faster cutting, and very low vibration. Get some soon; they are priced right! For more information or to order, call (800) 208-1630.
VELscope® from LED Dental — Finally, we have breakthrough technology that will help us take charge of oral cancer and stop the unnecessary deaths and disfiguring surgeries. Early detection is the key! This means oral cancer exams for everyone. With the VELscope, dentists and hygienists can better differentiate between normal and abnormal oral mucosal tissues in minutes. Order from your dental dealer or visit www.velscope.com, or call (888) 541-4614 for more information.
Neodiamond® from Microcopy — I have been using these premium quality instruments to cut teeth for at least 15 years. Neodiamonds are economical single-patient use diamonds. You are assured of a sterile, fresh, fast-cutting diamond every time. Your staff will love you for their freedom from maintaining used diamonds, and you and your patients will love having a sharp diamond for every procedure. To order call (800) 235-1863 or visit www.microcopydental.com for more information.
Track Light Monitor from Midmark Corporation — A two-trolley design allows independent movement of the light and TV monitor for optimal patient viewing while supine or upright. A 17-inch, dental-grade monitor with sealed display, control buttons, and speakers will withstand the use of disinfectants. It features true plug-and-play with inputs from TV, DVD, and PC, plus VGA, RCA, S-video, 3.5mm stereo, and coaxial cable. It has a cable-ready tuner and easy-to-use remote. Order from your dealer or call (800) MIDMARK for more information.
Revolution Magnifiers from Orascoptic — This is the first hybrid loupe that combines TTL (through the lens) and flip-up technology. The Revolution features Orascoptic's HiRes® line of magnification telescopes known for its superior resolution, field width, brightness, and light weight. Unlike any other loupe, the glasses with the lens attached flip up to allow for unobstructed vision. To order, call Orascoptic at (800) 369-3698, or go to www.orascoptic.com for more information.
Sonicare FlexCare™ from Philips Oral Healthcare — a new power brush that was built by listening to consumers and professionals. The FlexCare includes a new ProResults brush head that removes plaque more efficiently. A new multiple-needs area that has three brushing modes and two personalized cleaning routines is built into the handle. It has a multi-volt travel charger! Visit www.sonicare.com for more information.
Vivacaine™ from Septodont — This new anesthetic will provide anesthesia for up to seven hours in many patients, along with a period of analgesia which persists even after the return of sensation. Vivacaine is indicated for dental procedures by infiltration or nerve block in adults, but is not recommended for children. Patients will appreciate having only one injection during a procedure. Order from your dealer or go to www.septodontusa.com for more information.