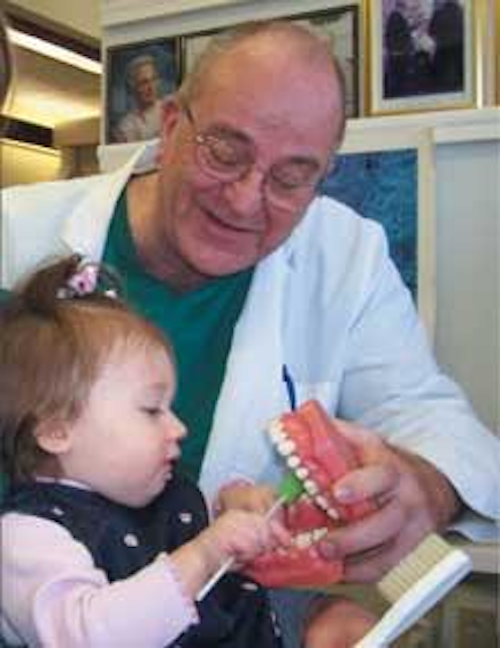 by Kat Hartley
Dr. Douglas Ross emerged from a childhood without siblings to have an earnest aspiration to fill his life with children. Besides having five of his own and three grandchildren, Dr. Ross' general practice in Farmington, Mo., has always welcomed children of all ages, one as young as five months for an emergency. With so many kids around, it's no surprise that he takes their oral health very seriously.
His desire to improve children's health has led him to preach to anyone who will listen: parents, dental students, local civic groups, and the Missouri State Board of Health. Not afraid to "step on toes from time to time," in the last decade he spearheaded a "Crusade for Children's Health" that proactively works to tackle the attitude of neglect that surrounds dental health for children.
Now, after 44 years of practice, Dr. Ross has developed the "First Dental Visit Program" that integrates his zeal for children's dental health into his daily practice. The program acts on recommendations by the American Academy of Pediatric Dentistry that children should start visits to the dentist between 12 and 24 months of age to prevent the decay that can begin as soon as teeth emerge.
The First Dental Visit Program invites parents to introduce their children under the age of three to the dentist's office for a free first visit that aims to "set the stage for a lifetime of excellent dental health," according to a practice brochure. There are "no invasive procedures like X-rays or cleanings; it's just a child's chance to meet the staff, see what's in the office, hear the equipment sounds and experience the customary smells found in a dental office."
Dr. Ross personally meets with every toddler, taking pictures that will later be made into a collage to hang in the waiting room for further publicity (other advertising ranges from business cards and Yellow Page listings to interviews by local television stations). Of the children featured on the wall for their participation in the program, 70 percent return six months later to begin a normal schedule of examinations, cleanings, fluoride applications, sealants, and X-rays, for which regular charges apply.
Dr. Ross said pitching the First Visit concept to his staff was a breeze, in part because nearly all staff members have children of their own.
"Everyone bought into the idea right off the bat and made it work beautifully. All of them can relate to young children and have a sincere interest in making the program successful. They all help make it fun for me, too." Of his own feelings about the program he added, "Any child makes me smile; what's better than that?"
In addition to acclimating children to the sights and sounds of a dental office, the First Dental Visit educates parents on the home care their children need. Dr. Ross declared, "I'm a stickler for parental involvement at least six days a week with brushing and flossing, and no sippy cups with sugary fluids." He also instructs parents to use fluoride toothpastes and fluoridated water systems, and to give their kids non-sugary snacks.
Convincing parents of the importance of dental health care before age three requires confronting the same ingrained attitudes that hamper policymakers' decisions. Speaking of today's busy parents, Dr. Ross explains, "Many are not well-informed enough to fully understand the short- and long-range importance of their role in diet selection and plaque control through brushing and flossing."
Like many of his previous efforts, teaching parents about health care for infants and toddlers fits into his larger campaign that attacks dental disease as a problem that can only be solved, realistically, through preventive care.
Dr. Ross encourages all dentists considering extending their practices to include one- and two-year olds to, "Jump in, the water's fine! Don't delay because you're not sure how to do it."
For more information about caring for young children, he recommends visiting Web sites like those sponsored by the American Academy of Pediatric Dentistry (www.aapd.org), American Dental Association (www.ada.org), Academy of General Dentistry (ww.agd.org), and American Dental Hygienists' Association (www.adha.org).
"Plus, anyone can holler at me and I'll share what I have in my files," he added.
The First Dental Visit Program is just one manifestation of Dr. Ross' convictions.
"We must all take responsibility for our communities and the people who live in them. Children are indeed our future. If we don't teach them, who will?"
Contact Dr. Douglas Ross by phone at (573) 756-5760 or by e-mail at smilesbydkr@ldd.net.