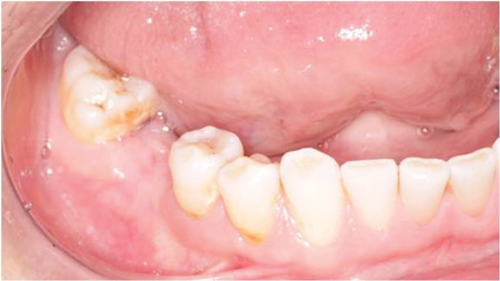 Bart Silverman, DMD
Computer-aided design/computer-aided manufacturing (CAD/CAM) devices seem to be taking over the dental space. Of these, 3-D intraoral scanners are revolutionizing the way we take impressions. However, many focus only on the restorative aspects of this exciting new technology, not realizing that advancements in digital impressions apply to implants as well.
The way we were taught to take conventional impressions in dental school is quite a process. The initial setup includes choosing the correct impression material (whether alginate or polyvinyl), setting up the mixing pads, spatulas, adhesive, lubricating agents, mixing bowls, and a whole slew of different tray size options. Then, we have to select the correct maxillary and mandibular tray, prep the tray, and start mixing the materials.
And, of course, this all has to be done on a live dental patient-one who sometimes doesn't want to be there, has dental phobias, and who sometimes gags. When all is said and done, taking the impression can be stressful for both the patient and staff. If all went well, only one impression was necessary; however, a whole range of errors could occur, whether in the practice or at the lab, requiring us to do it all over again.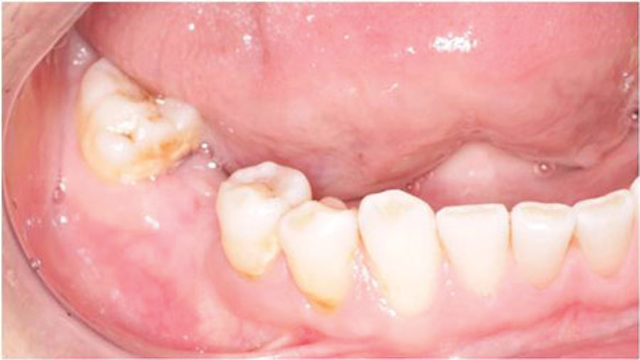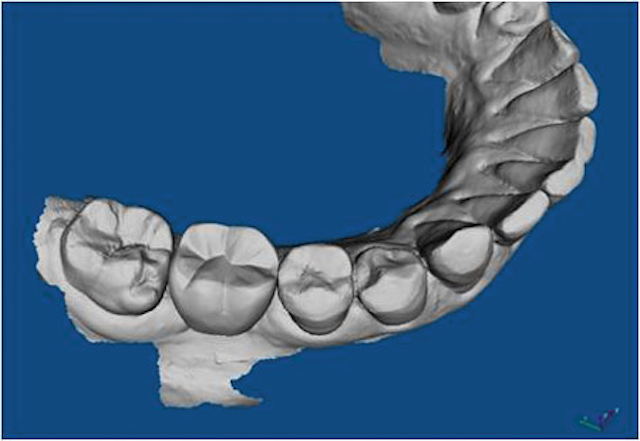 Fortunately, digital impressions have exponentially simplified this process. Setup is as easy as unplugging the scanner from one laptop and plugging into the USB port of the computer you want to use. A series of quick intraoral images are stitched together by the computer, completing the digital impression in a matter of minutes. The speed and efficiency a scanner offers can combat any champion dental-phobe or gagger.
In my practice, we use the CS 3500 intraoral scanner by Carestream Dental. Featuring "plug-and-play" technology, the handpiece is lightweight and can be easily moved from operatory to operatory. And, while some units require powder to take an impression-something that doesn't make sense when it comes to scanning a surgical site-this scanner is powderless.
Once the digital file is obtained, it can be sent to a lab or opened in implant- or surgical-planning software.
Basic surgical guides
When placing dental implants, using a surgical guide is always recommended. In addition to aiding in the proper placement of dental implants, surgical guides can help prevent malposition and spacing of dental implants, which can be a nightmare to restore. They can also prevent the need for a custom abutment during the restorative phase, keeping patient costs down.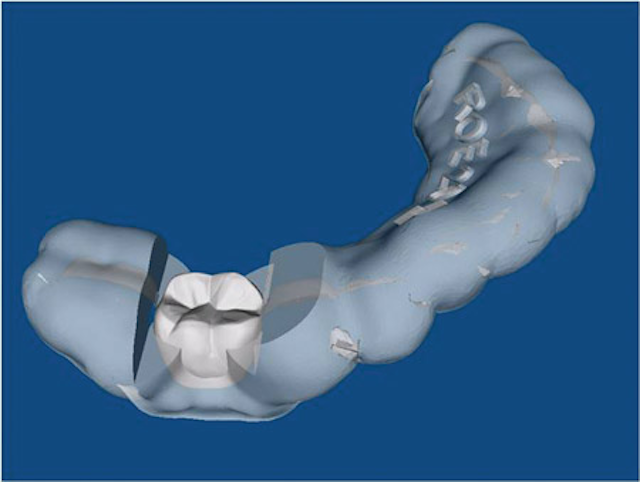 Fabricating a surgical guide using the conventional impression technique requires taking a conventional impression with alginate or polyvinyl and pouring up the stone model-two time-intensive steps. After the model sets, the lab places a denture tooth or teeth in the edentulous area and a vacuform tray is made by heating a thermoplastic material and adapting it down over a model with a special vacuum machine.
Fortunately, with a digital scanner, once the intraoral scan is performed, the digital file is sent to the lab where a virtual tooth is added and a guide is fabricated and sent back to the office. No model is made, eliminating additional costs.
Implant dentistry
After an implant is placed and osseointegration occurs, one must determine what type of abutment will be placed. Should you choose a standard or stock abutment or a custom abutment to serve as the connector on top of which the crown will be placed? A standard abutment is one that is provided by the implant manufacturer and is typically used when there are no concerns about angulation of the implant, while a custom abutment is considered when implant positioning or interocclusal space is a concern.
If conventional or analog impressions are used to take an impression of a standard abutment, an impression coping is placed on top of the abutment. A goopy material is syringed into a tray and then the patient's mouth. Once set, it is removed from the mouth with the coping. An implant analog is placed into the coping and the lab receives this and pours up a stone model. Along the same line with analog dentistry, if a custom abutment is planned, we are taking an impression of the top of the implant fixture, affording the fabrication of a connector specific for each patient. A fixture-level impression coping is placed inside the implant and a similar impression technique is performed. The laboratory technician takes the impression, pours up a stone model and waxes up a custom abutment. The wax abutment is then invested, cast, and polished.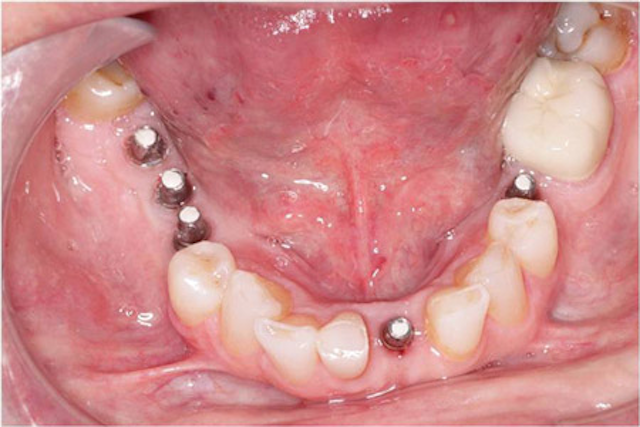 This conventional technnique, which many of us are used to, has many steps that allow for the introduction of potential errors. This has a direct impact on patient care, as we cannot accurately predict the length of crown insertion appointments and the results are inconsistent. In addition, this unknown chairtime can cost our practices a lot of potential lost income.
Let's explore digital dentistry as an alternative. We choose whether we are going to use a standard or custom abutment using our same criteria; this first step does not change. However, from there, digital impressions make for a more accurate and streamlined process. If we decide to place a standard abutment, we use a digital scanner to scan the actual abutment. Here, in the adjacent photo, we used the CS 3500 to take a digital impression of the abutment in the patient's mouth.
The patient presented with three edentulous areas and multiple implants were placed. Standard abutments were torqued into position and the CS 3500 was used to capture the impressions. No setup time was needed for trays, and there was no gagging or clean up.
In the next case, we decided to fabricate a custom abutment which would require a fixture level impression. With analog dentistry, a fixture level impression coping is placed. With digital dentistry, we have the ability to place a scanning body, which is the digital equivalent of a fixture level impression coping.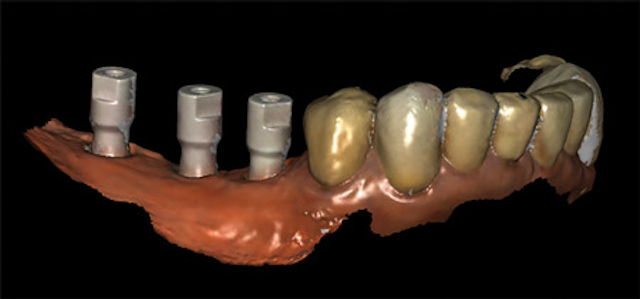 A couple of caveats: the scanning bodies are implant- and digital lab-specific. In other words, you must request these specifically from the digital lab that you will work with for the specific implant that you placed.
Guided surgery
The latest trend in implant dentistry is to be prosthetically driven when we plan our cases; that is, we need to go to the final result and work backward to plan where we have to place our implants. Guided surgery enables us to do this and place our implants precisely based upon final prosthetic restorations limited by bone morphology. In order for us to do this, we take impressions, pour up models, and plan our cases. We then need to send this along with a CBCT scan to a guided surgery facility. Guides are fabricated and implants placed. We can now shorten the process by using the intraoral scanner to scan our patients instead of using the analog model technique. This STL file is then merged with the DICOM file of the cone beam scan into the implant-planning software to plan our cases.
Digital dentistry is in its beginning stages. The technology is new and exciting, with many uses in dentistry and-more specifically-implant dentistry. It allows for more precision when treating our patients. From guided surgery to abutment and crown fabrication, digital technology provides more exact treatment planning and decreased chairtimes. In the days of trying to maintain and attract new patients, the patient "WOW" factor can't be matched.
---
Bart Silverman, DMD, is a graduate of Fairleigh Dickinson University in New Jersey. He completed his graduate training from Fairleigh S. Dickinson Jr. School of Dentistry in 1986 where he received his doctorate of dental medicine degree. He completed his residency in oral and maxillofacial surgery at Westchester County Medical Center and served as chief resident in 1989. He currently is board certified in oral and maxillofacial surgery with a private practice in New City, New York. Dr. Silverman is a clinical assistant attending at Westchester County Medical Center in Valhalla, New York.