Metal-free restorations: 2006 all-ceramic update
All-ceramic restorations continue to make inroads into the overall restorative market at the rate of about 1 to 2 percent each year.
Nov 1st, 2006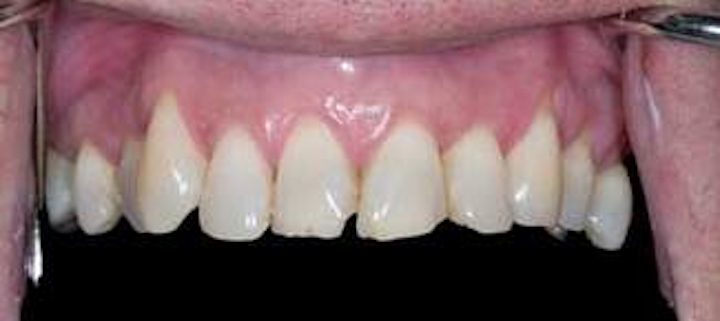 All-ceramic restorations continue to make inroads into the overall restorative market at the rate of about 1 to 2 percent each year. In 2000, approximately 20 percent of restorations were all-ceramic, and year to date in 2006 it has risen to 31 percent of restorations. Metal-free restorative options include composites, pressed ceramics, and cementable all-ceramic products. Each of these metal-free options has a place in current esthetic restorative dentistry, and I will share what I think are the proper indications for each of these materials. Certainly, we have seen failures in the lab when dentists attempt to push these materials beyond their indications. There are still several clinical situations that call exclusively for the use of PFM restorations, but that list of situations is shrinking.
One interesting trend in the all-ceramic segment is how the indirect composite market continues to slowly die. Amazingly, as the all-ceramic market has continued to expand, the indirect composite market is down 45 percent since 2003! In my communications with dentists as I lecture around the country, the reasons for the decrease in composites become clear. Dentists complain that the dismal insurance reimbursements for these restorations and their short clinical longevity (when compared to other restorations) are the main reasons they have stopped placing composite inlays and onlays.
It is easy to profit from metal-free restorations because, by definition, they are appearance-related and typically esthetic in nature. Since they often are used to improve a patient's smile, many patients are more motivated to have this type of treatment done as compared to ordinary restorative treatment. Furthermore, for restorations such as porcelain veneers, there is no insurance benefit paid. This allows practitioners to set fees at any level they feel is fair. For example, I think that preparing and bonding veneers is more difficult than preparing and cementing crowns. Therefore, I believe that veneers should have a higher fee than typical crowns. Many dentists I've met do charge 10 to 25 percent more per unit for their veneers. Again, since insurance doesn't cover these restorations, you are free to set fees wherever you would like.
Pressed ceramics, such as IPS Empress, were the first metal-free restoration to make a large impact on dentistry. The increase in popularity of porcelain veneers through the years can be tied directly to the development of pressed ceramics. I still think there is no restoration that is more esthetic than an Empress veneer. I find Empress veneers look better than even Empress crowns! When done by a skilled technician, these veneers can rival the beauty of a natural tooth. I still use a lot of pressed ceramics, but only for prep and no-prep veneers. Now that we have stronger cementable all-ceramics for use on bicuspid and molar crowns, I confine my pressed ceramic use to veneers. With the choices available in cementable all-ceramic crowns, I see no reason to ever do another pressed-ceramic crown, because of their lower strengths and the need to bond them into place.
Explosive growth of zirconia
The biggest change in the all-ceramic market from 2005 has been the explosive growth of zirconia-based restorations. From 2005 to 2006, the zirconia-based crowns and bridges prescribed by dentists went up 417 percent. That is not a typo; it reads four hundred seventeen percent! The two biggest products in that category are LAVA and Clinical Zirconia, although Cercon and Procera are in that category as well. Why does zirconia seem to be catching on so fast? Much of it stems from repeat business from dentists who are satisfied with the products. Let's take a closer look at zirconia and how it came to be used in dentistry.
The search for a high-strength, esthetic, biocompatible metal-free material that could be used for multi-unit frameworks as well as single-unit restorations has been the focus of many research and development efforts during the last decade. Some dentists have wanted these materials in order to avoid the use of metals in the mouth because of their potential allergenicity, while others have just wanted to provide the most esthetic restoration possible. Several materials have been developed in an attempt to meet these needs, yet have fallen short of clinician expectations because of low strength and toughness. Many clinical studies have shown that the fracture toughness and flexural strength of zirconia are significantly higher than that of alumina or any other esthetic ceramic on the market today.
Zirconia (zirconium oxide, ZrO2) is a highly stable ceramic oxide typically used in industrial applications requiring high strength and stability, and zirconia has a history as a biomaterial dating back to the 1970s. It is used in implants and other nondental applications, and is one of the materials used in total hip replacements. Hip replacements parallel dental applications in that they are both load-bearing situations with proximity to vascular and osseous tissue. They both are applications that experience wear.
Zirconia is unique among dental ceramics in that it exhibits a physical property called transformational toughening (strengthening). Through the use of additives, such as yttrium oxide, zirconia can be made in the tetragonal crystal structure at room temperature. When an external energy source, such as the stress at the tip of a crack, is applied to the material, it goes through an instantaneous phase transformation to a monoclinic crystal structure. This monoclinic form of zirconia crystal is about 4 percent larger in volume than the tetragonal form. At the microscopic tip of the crack, this expansion upon transformation acts to clamp the crack shut, thus resisting crack propagation. This process of actively resisting crack growth is very important in fatigue situations, such as those caused by chewing forces on a restoration. Because of this strength, anterior crown copings can be manufactured as thin as 0.3 millimeters. At this dimension, the copings have a beautiful, pearlescent translucency that allows natural light to reach the preparation, much like a natural tooth.
Zirconia is indicated for the fabrication of anterior and posterior single-unit crowns, and three-unit bridges in the anterior and posterior. Zirconia is not currently indicated for long-span bridges, cantilever bridges, or Maryland bridges; a PFM bridge is still indicated in these situations.
The zirconia preparation is accomplished in accordance with the general principles common to most all-ceramic systems. Standard all-ceramic-modified shoulder margins (accomplished with burs containing the KR designation) or chamfer margins 1 mm deep are both acceptable. Proximal reduction of 1.5 mm is ideal, as is 1.5 mm to 2.0 mm of occlusal reduction. The taper of the final preparation should be 6 to 8 degrees and undercuts are not desirable, although these can be addressed in the laboratory if necessary
null
Dr. Michael DiTolla is the Director of Clinical Research and Education at Glidewell Laboratories in Newport Beach, Calif. He lectures on both restorative and cosmetic dentistry. Dr. DiTolla has several clinical programs available on DVD through Glidewell. For more information on this article, or for more information on receiving a free copy of one of Dr. DiTolla's clinical DVDs, e-mail him at mcditolla@mac.com, or call (888) 535-1289.