Pearls For Your Practice
Pearl #1 - Dry Tips by Microcopy (Figure 1). A number of you have tried and are using the flat absorbent paper products to block the flow from the parotid gland. Although similar in appearance, Dry Tips actually are composed of three separate layers: (1) a nylon mesh fabric that gently adheres to the mu-cous membrane, (2) the core, a polyacrylate/cellulose superabsor-bent that retains moisture, and (3) a transparent polyethylene film moisture barrier on the outside toward the oral cavity. I have
Jun 1st, 1996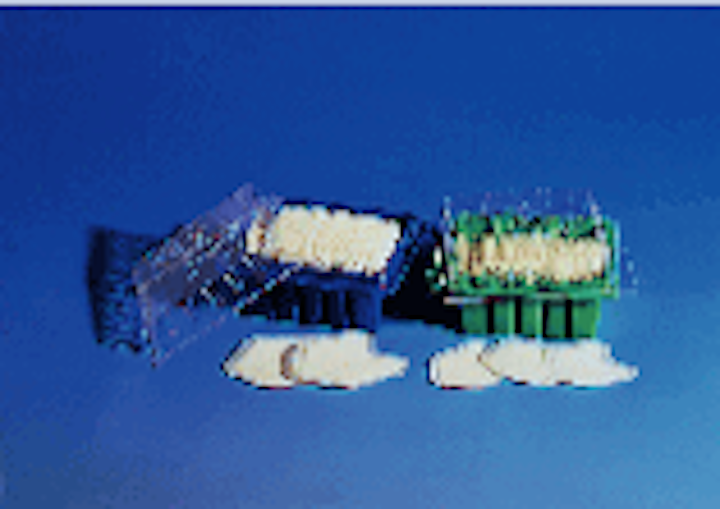 Joseph A. Blaes, DDS
Pearl #1 - Dry Tips by Microcopy (Figure 1). A number of you have tried and are using the flat absorbent paper products to block the flow from the parotid gland. Although similar in appearance, Dry Tips actually are composed of three separate layers: (1) a nylon mesh fabric that gently adheres to the mu-cous membrane, (2) the core, a polyacrylate/cellulose superabsor-bent that retains moisture, and (3) a transparent polyethylene film moisture barrier on the outside toward the oral cavity. I have tried a few samples of the triangular paper products over the years, but always went back to the rubber dam or cotton rolls. But Dry Tips are different. Imagine working without concern of moisture contamination or the irritation of changing cotton rolls or absorbent pads in the middle of a difficult procedure. Dry Tips have many features including: (a) tremendous saliva absorption capacity; (b) even after becoming fully saturated, they can be handled without losing the absorbed moisture; (c) complete coverage of the parotid orifice and the entire buccal mucosa; (d) actually sticks to the mucous membrane and stays in place, yet it removes easily with no loose fibers or other residues left in the mouth; (e) protects the buccal mucosa and facilitates work far back in the oral cavity (makes those crown preps on the second molar much easier); (f) it`s flexible, accommodates to cheek movements, and it comes in two sizes. Dry Tips absorb and retain 30 times their own weight in moisture! This is a must-have item; they make sealants a snap. Order from Microcopy at (800) 235-1863. Try them once and you will be hooked like I am!
Pearl #2 - The Craniometer by Craniometrics, Inc. (Figure 2). One of the biggest problems in fixed and removable prosthodontics is the determination of the correct vertical dimension. There are many methods for this determination, but all involve some guesswork and some trial-and-error methods. Dr. Stanley Knebel-man, a general practitioner from Philadelphia, has invented a wonderful instrument that will eliminate the guesswork and allow you to accurately determine how much vertical dimension has been lost. The Craniometer is easy to use and comes with a complete instructional video. The distance between the external auditory meatus and the lateral border of the ocular orbit is measured, recorded and then the gauge is reset to the craniometric adjustment. When growth and development and occlusion are normal, the gauge should fit snugly between the most anterior part of the undersurface of the mandible and the nasal spine when the teeth are occluded. If it fits loosely, then there is a loss of occlusal vertical dimension. You can easily restore back to the proper vertical. The Craniometer can be used with natural teeth and with full denture cases. I have had great success with this simple device.
For more information or to order, call (610) 642-4042. A training video is available.
Pearl #3 - "Low Profile Selling" by Tom Hopkins (Figure 3). This audiotape series will improve the way you relate to your patients. The new breed of professional plays the role of expert advisor, listener, empathizer and specialist. In "Low Profile Sel-ling," master sales trainer Tom Hop-kins reveals why you must view the sales process in a whole new way- as a manner of educating, rather than manipulating your customers (patients). Learn the five listening pitfalls common in the sales process and how to avoid them. Learn how to build trust and improve rapport by literally "reading" your customers. Learn how to create a favorable first impression. The ultimate ice-breaker, this powerful program will help you increase your sales and your self-confidence by building the kind of profitable relationships that will build your practice. I hope you are not put off by the words "sales" and "selling." This is an inexpensive way to change the way you look at the sales process forever. I have been using relationship selling in my practice for years, and it works. Call Nightengale-Conant at (800) 525-9000 to order (satisfaction guaranteed). If you don`t like the program, you can return it in 30 days. How can you lose?
Dr. Blaes practices in the St. Louis area and has developed every type of dental practice from solo to a 10-man group. He is known for his expertise in dental techniques and his innovative systems designs. He lectures, writes and conducts "in-house" seminars. He may be reached at (314) 843-3300.
Figure 1
Figure 2
Figure 3