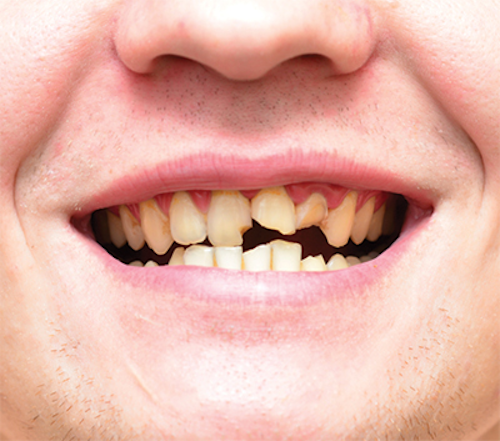 Gordon J. Christensen, DDS, MSD, PhD
Q:Many parents ask me what type of mouthguard is best for their young athlete, and I do not have an answer. They can buy very low-cost mouthguards from a sporting goods store, but these don't seem to be adequate to me. However, I don't know which form of the more well-fitted mouthguards is best. What do you suggest?
A: Most families have had young athletes playing some type of body contact sport, so your question is an important one. As would be expected, parents are concerned about the safety of their children or teenagers. These families are also in a time in life when expenses are high, and they want to conserve funds.
When they see commercially available athletic mouthguards for a few dollars, they are prone to buy them, thinking that they've satisfied the bodily harm challenge, and that their athlete will be protected with the inexpensive mouthguard. They are wrong! It has been estimated by sports medicine experts that up to 80% of currently worn athletic mouthguards are ineffective or that they may be more dangerous than not wearing a mouthguard at all.
I recently contacted Dr. Ray Padilla, a well-recognized expert on athletic mouthguards, and we discussed the matter thoroughly. Many of the thoughts and photos in this article are a combination of Ray's and my observations and opinions. I will describe the various types of mouthguards and their effectiveness or lack of effectiveness and make suggestions for you relative to the best types of mouthguards for your patients to use.
Potential lifetime cost of oral trauma
When young athletes have oral trauma, they and their parents are distressed. (Fig. 1) Unless the trauma is extreme, the athlete can usually be restored to near normal, at least for a period of time. However, the cost is hundreds to thousands of dollars for the initial treatment. The parents and patient usually do not understand that the initial treatment is just the beginning and that the restorative treatment will need to be redone several times during the athlete's lifetime. The cost of such initial and subsequent treatment is a major expense. I suggest that you express to parents that the cost of an acceptable mouthguard is a small amount when compared to the potential initial cost and redoing of the oral treatment over a lifetime.
Fig. 1 - This sports-related accident is not only expensive to repair initially; it will also require several remakes during the life of the patient. Such problems can be reduced or eliminated when using adequate mouthguards.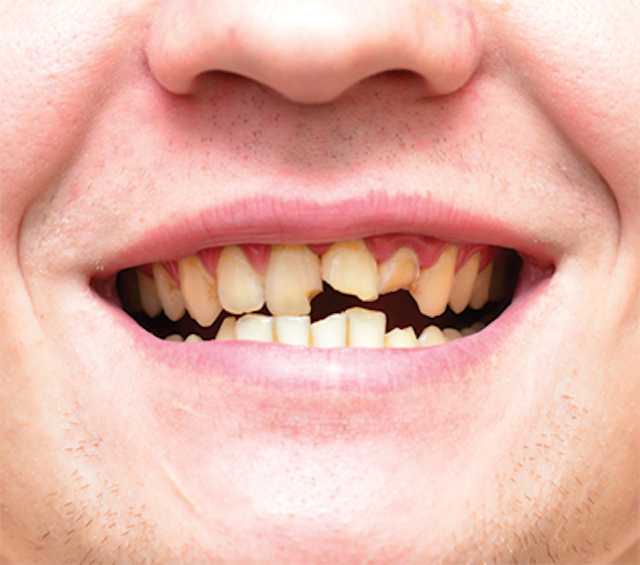 Types of mouthguards
There are several types of mouthguards available. I will discuss the most common ones in this article.
Stock mouthguards (FIG. 2)
These inexpensive mouthguards are readily available in sporting goods stores. They are essentially the same form as a stock impression tray used by dentists. They do not fit the teeth or arches at all. When an athlete receives a blow during an athletic event, the tray is forced rearward, and it contacts only a few of the teeth and only a portion of the soft tissue. The result is that the forces are not distributed evenly to the oral tissues. These mouthguards may be more harmful than not wearing a mouthguard at all.
Fig. 2 - Stock mouthguards are almost worthless. In fact, they may be worse in some cases than not using a mouthguard at all.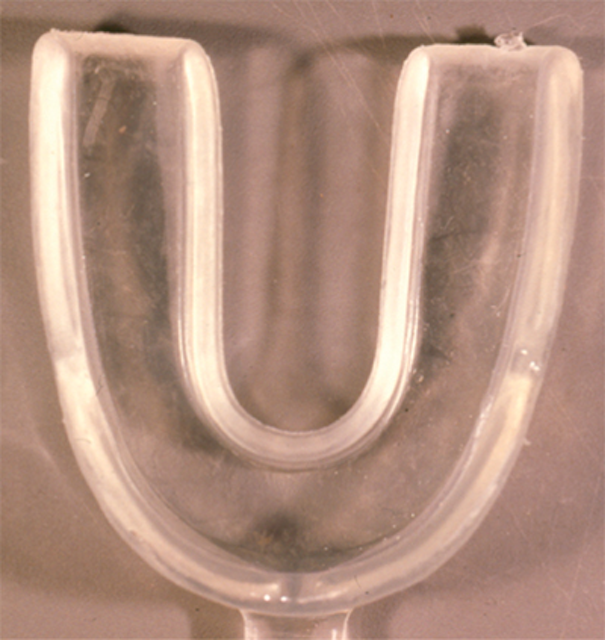 Boil-and-bite mouthguards (Fig. 3)
These mouthguards are available in sporting goods stores for a minimal cost.
Boil-and-bite mouthguards are worn by many young athletes. They have the potential to be better than stock mouthguards, at least when they are first fitted to the athlete's mouth. However, the athlete soon chews through the mouthguard, making it a poor fit in the mouth. These mouthguards last only a few months and do not provide much protection. The athlete must keep the upper and lower jaws together to hold the mouthguard in place, which is a conscious and uncomfortable situation. There is also a tendency to use these mouthguards beyond the time when they are chewed through or are too thin to offer protection. These mouthguards are an unacceptable choice.
Fig. 3 - Boil-and-bite mouthguards can fit moderately well at first, but soon lose their accuracy, or the athlete often chews through the mouthguard.
Vacuum-formed mouthguards (Fig. 4)
Most dentists make these mouthguards on a typical vacuum device, which softens the mouthguard material and provides suction on the molten material, and the vacuum pulls the material over a previously made stone cast. These mouthguards are better than anything described so far in this article, but their adaptation to the cast is only fair, and the thickness of material that can be used with them is limited. However, there are much better mouthguards to offer your patients.
Fig. 4 - Vacuum-formed mouthguards are better than stock or boil-and-bite mouthguards, but there are much better ones.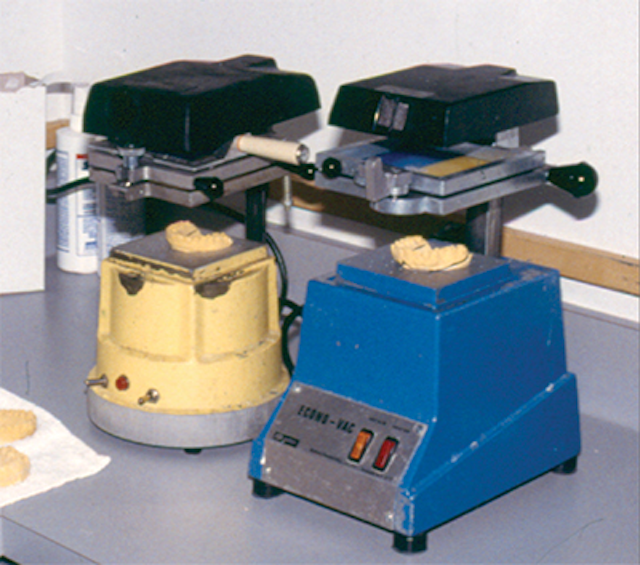 Laminated pressure-formed mouthguards (Fig. 5)
This type of mouthguard is among the best and most protective. Staff members can easily make these excellent mouthguards in the dental office. They can be made inexpensively in a few minutes, which allows for delivery to patients in a short time for a relatively low fee. Several devices are available for you to provide pressure to the ethylene vinyl acetate (EVA) mouthguard material. Among them are:
• Drufomat from Dentsply Raintree Essix (Fig. 6)
• Biostar VI from Great Lakes Orthodontics
• Erkopress from Glidewell Laboratories
Fig. 5 - Examples of laminated pressure-formed mouthguards, which are among the best types of mouthguards. They can easily be made in your office by staff.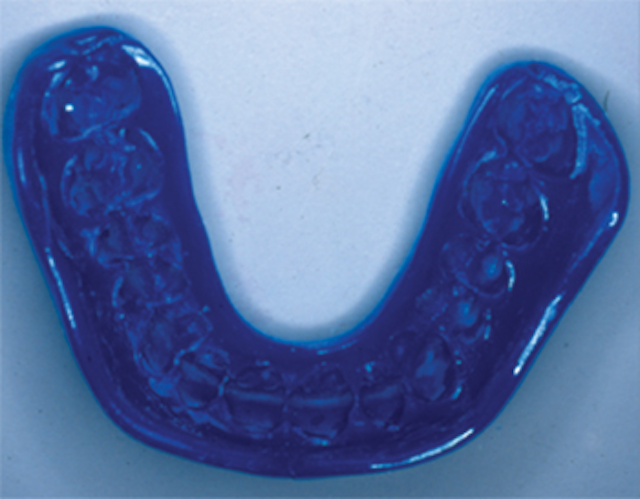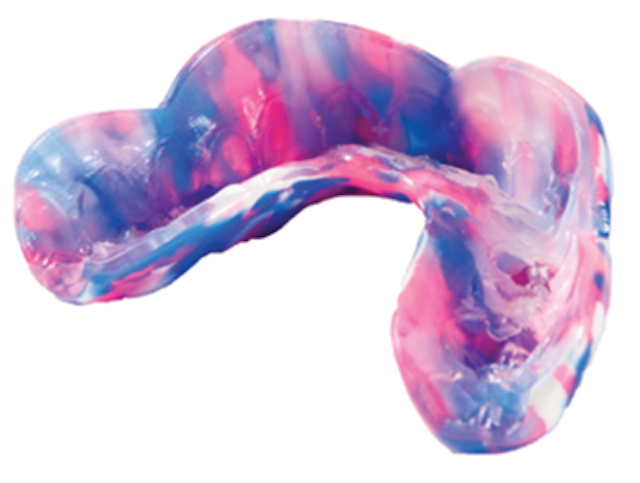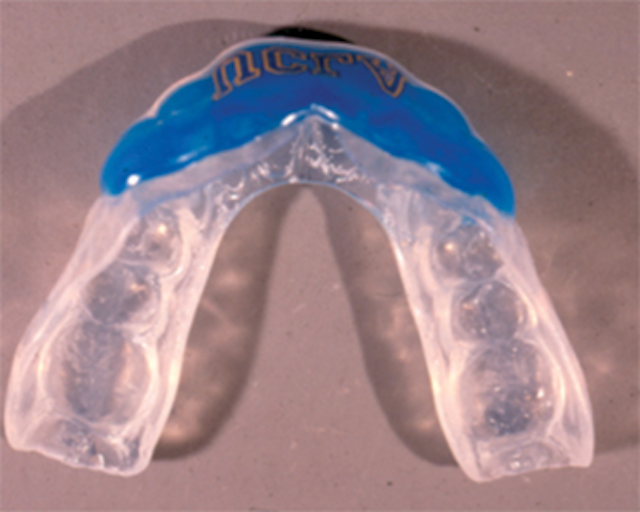 Fig. 6 - The Drufomat Scan is an example of a device you may purchase to make laminated pressure-formed mouthguards and many other dental appliances.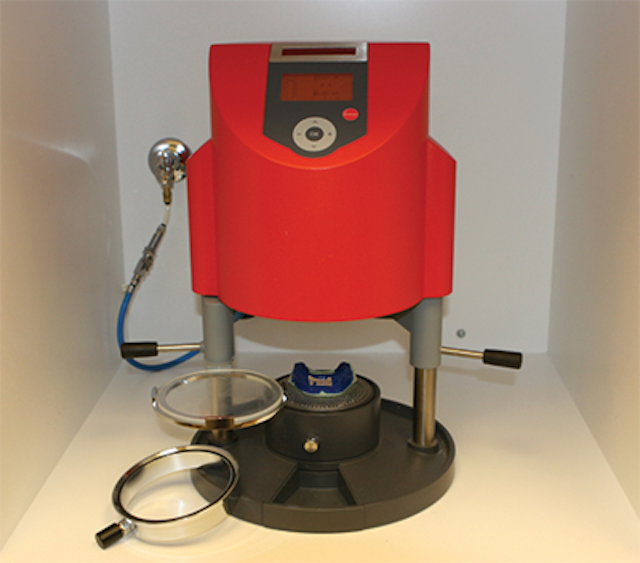 Also, if you prefer, the mouthguards may be made by dental laboratories, some of which include:
• Dentsply OrthoLab
• Great Lakes Orthodontics
• Glidewell Laboratories
• Keller Laboratories
• Space Maintainers Lab
The adaptation of the EVA material to the previously made stone cast by these machines is excellent. When a blow is delivered to the oral structures, the forces are distributed evenly over the teeth and soft tissues. Also, the machines I mentioned above can provide better results for you than vacuum devices for numerous clinical techniques other than just athletic mouthguards. These include:
• Bleaching trays
• Clear orthodontic positioners
• Copings
• Custom trays
• Denture bases
• Denture repairs
• Fluoride trays
• Implant stents
• Orthodontic retainers
• Protective intubation appliances
• Provisional (temporary restoration) stents
• Soft or hard bruxism splints
• Snore guards
Injection-molded mouthguards (Figs. 7 and 8)
The SR Ivoclar Vivadent Injection System, initially developed many years ago for dentures, eliminates much of the conventional denture flasking procedure, which puts pressure on putty resin and forces it into the lost wax mold.
The Ivocap system injects resin into the totally closed flask, eliminating porosity and reducing shrinkage, and it prevents opening of vertical dimension due to not adequately pressing the putty resin into the two flask components. This procedure is also excellent for mouthguards, providing any anatomic form desired by the dentist and technician, but it increases the mouthguard cost with the addition of a laboratory fee.
Fig. 7 - A wax-up for a custom injection molded mouthguard, having exact fit and occlusion as made by a dental lab.
Fig. 8 - An injection-molded athletic mouthguard ready to be finished and placed in the mouth.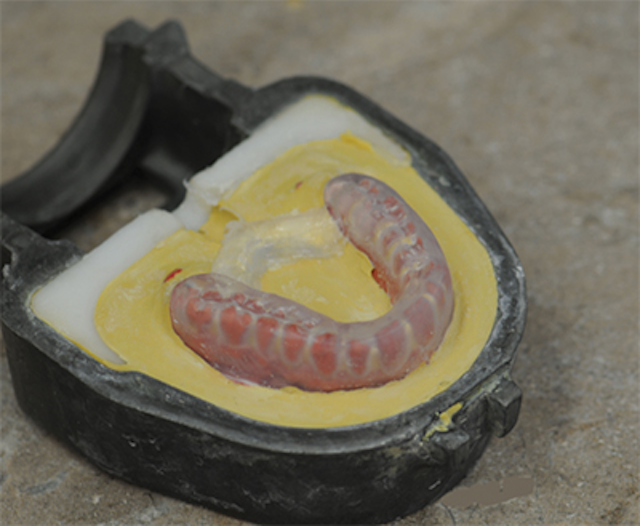 Additional educational information
My conversations with Dr. Padilla encouraged our education organization, Practical Clinical Courses, to produce an excellent one-hour video, Customized Mouthguards for Any Sport (Item V5165). On this video, Dr. Padilla and I provide enough information and demonstrations for you and your staff to make excellent laminated pressure-formed athletic mouthguards. Call (800) 223-6569 or go to www.pccdental.com for more information.
Summary
Have I frustrated you further with this article? You were correct! Most mouthguards are inadequate and do not produce optimum protection. I suggest that you strongly consider using laminated pressure-formed or injection-molded mouthguards. I also suggest that your use of laminated pressure-formed mouthguards made by your staff will add a very valuable service for your patients, and be a new profit center for your practice.
---
Gordon Christensen, DDS, MSD, PhD, is a practicing prosthodontist in Provo, Utah. He is the founder and director of Practical Clinical Courses, an international continuing-education organization initiated in 1981 for dental professionals. Dr. Christensen is a cofounder (with his wife, Dr. Rella Christensen) and CEO of CLINICIANS REPORT (formerly Clinical Research Associates).