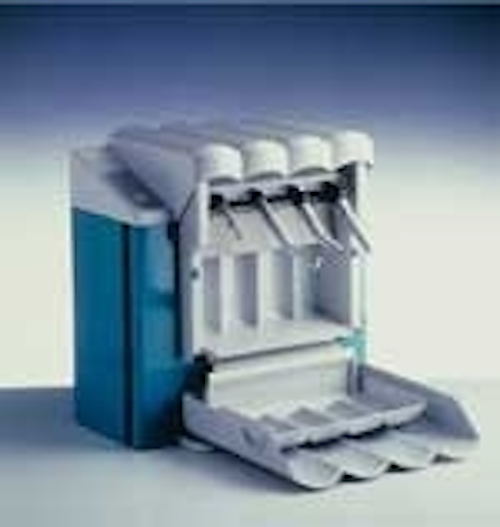 John M. Powers, PhD
The editors of THE DENTAL ADVISOR™ proudly bring you the second "Shared Secrets" column. Every other month, we will feature dental products and equipment that have received top ratings in THE DENTAL ADVISOR™. Take your practice to the next level with the help of our "Shared Secrets."
QUATTROcare
Editors' Product of the Year
KaVo America Corp.
(888) 528-6872
+++++/98%, Vol. 17-9
This is a unique automatic handpiece maintenance and purging unit for use with virtually any manufacturer's high-speed, low-speed, and straight handpieces.
The countertop unit connects to a compressed-air line and can accommodate four handpieces at a time. Handpieces are connected to couplers in the QUATTROcare, then the unit is closed and activated. It quietly cleans, lubricates, and purges the handpieces, leaving them ready for sterilization.
QUATTROcare provides effective and efficient maintenance that can extend the lifetime of the turbine.
Hemaseal & Cide
Advantage Dental Products
(800) 388-6319
++++1/2/92%, Vol. 17-8
Hemaseal & Cide is an aqueous solution of chlor-hexidine and HEMA to be used as a desensitizer and as a wetting agent prior to bonding procedures and cementations.
The solution is applied as one coat covering the den-tin, then air-dried. Consultants found it to be effective in reducing sensitivity. Testing by THE DENTAL ADVISOR™ confirms increased bond strength to dentin with the use of this product. The 10-ml bottle offers a low cost per application and provides about twice the amount of solution compared to similar products.
OPC Low Wear
One-Year Clinical Report
Jeneric/Pentron, Inc.
(800) 551-0283
+++++/98%, Vol. 17-9
OPC Low Wear is a low-fusing ceramic that may be veneered over an OPC-pressable core. OPC Low Wear is an excellent ceramic system for anterior and posterior crowns, inlays/onlays, and veneers. Designed to be kind to the opposing dentition and have high strength, it contains a fine leucite particle size and a higher leucite content than conventional porcelains.
Consultants evaluated OPC Low Wear restorations both at insertion and at one-year recall. The material provides excellent esthetics, shade match, vitality, and fracture resistance. Consultants were pleased with the clinical results and said they would continue to use and recommend OPC Low Wear.
Note: For information on the "Shared Secrets" lecture seminars or to subscribe, contact THE DENTAL ADVISOR™, 3100 W. Liberty, Ann Arbor, MI 48103, by phone at (800) 347-1330, by e-mail at info@dentaladvisor.com, or through www.dentaladvisor.com.
Before restoration
After restoring teeth #12 and #13
---
John M. Powers, PhD, an editor of THE DENTAL ADVISOR™, is a professor and vice-chair of restorative dentistry and biomaterials at UT Health Science Center at Houston. He also is director of the Houston Biomaterials Research Center. John W. Farah, DDS, PhD, an editor of THE DENTAL ADVISOR™, maintains a full-time dental practice in Ann Arbor, Mich., and lectures internationally on dental products and materials.