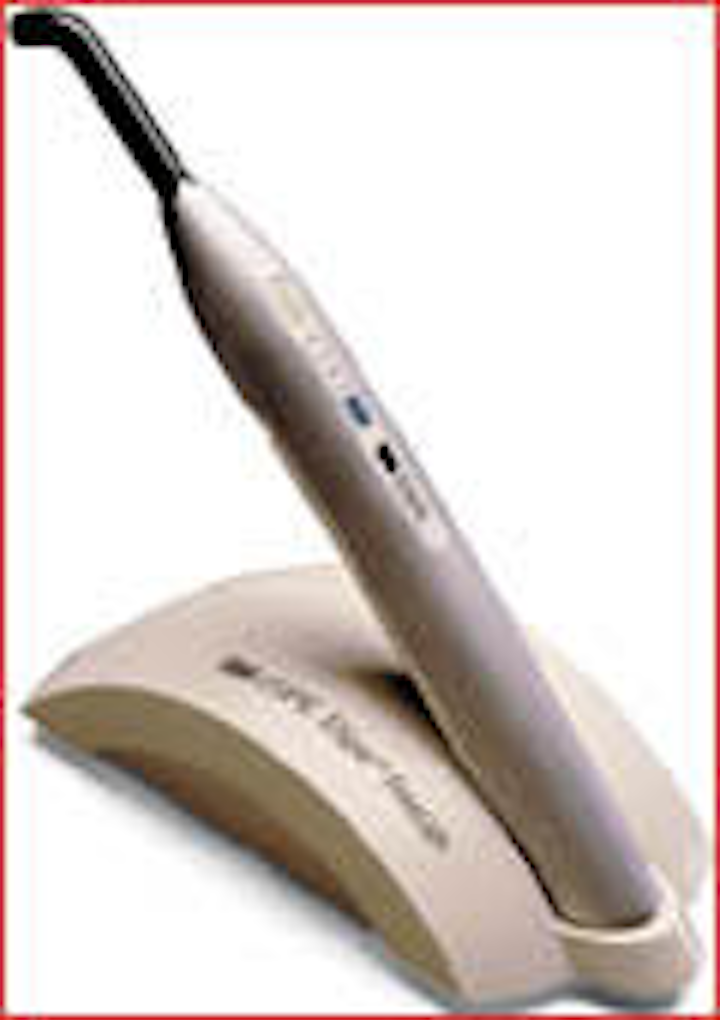 by Joseph Blaes, DDS
Pearl 1 — Epilar™ FreeLight Curing Light by 3M ESPE. I have been speaking about this light in my seminars since I saw it at the IDS show in Cologne last March — finally, it is here. Now you can have a truly cord-free light that will hold a charge for 45 minutes. The FreeLight is a considerably lighter (weight) LED (light emitting diode) curing light that puts all of the controls right at your fingertips.

A built-in microprocessor controls the light's intensity, ensuring that the light output remains constant. The FreeLight offers four settings for cure times between 10 and 40 seconds. Compared to a conventional halogen light, the FreeLight produces minimal heat during curing so there is no fan in the handpiece, which makes the light very quiet. When I received my FreeLight, I tested it on the bench with all of the light-cured materials that I currently use in my practice. I found that the FreeLight gave me polymerization results and cure times that were similar to my high-powered halogen units. I was able to cure my composite increments in 10 seconds and my resin cements in 20 seconds. I was very impressed with those kinds of curing times.
The blue LEDs generate a blue light that closely matches the absorption spectrum for materials that contain camphorquinone as the photo initiator. In my experience, it is important that you check any new curing light to be sure that it will polymerize the light-cure materials that you use in your office.
The charging base provides a light meter to test the light's intensity. The charging base also provides optimal recharging which protects the battery and prevents the memory effect. Once charged, the light will work continuously for 45 minutes. You can easily take the FreeLight from one operatory to the next. I expect that 3M ESPE may make a holster for you shortly.
I found the light to make curing easier and faster and more convenient! The cost is comparable to a halogen light. To obtain one, call your dealer. For more information, visit www.3mespe.com and be sure to look in the "What's new" section, or call (800) 634-2249.
Pearl 2 — Kodak Dental Photographic Slide and Print Film. Kodak has done it again! For all of your dental photographic needs such as before-and-after pictures, case presentation photos, patient communication, and dental lab communication, this film is the ideal selection.

I can't count how many times I have run out of film at the wrong moment and had to send someone down to the photo store to buy some more. Now you can order from you dealer and keep it in stock just like your needles or anesthetic. With 12 exposures per roll and technology chosen with dental needs specifically in mind, Kodak makes it easier to organize your pictures.
No more wasting unexposed shots at the end of a roll because you need the photos right away and need to develop the roll quickly. This represents a real savings, because many film makers have eliminated the 24-exposure rolls, leaving you with the only option of 36 exposures. Have you ever had a 36-exposure roll developed and, when you look at the pictures, you can't remember who it is?
You will get superb color images because Kodak uses the best emulsion technology for dentistry, taking the guesswork out of which film to use. You have one choice — slide or print! This makes taking photos in the dental office faster, better, and easier. Call your dealer to order your supply. For more information, visit www.kodak.com/go/dental or call (800) 933-8031.
Pearl 3 — PoGo™ from Dentsply Caulk. There is good news and bad news with today's new composite materials. The good news is that they can provide some incredible shades on teeth. The bad news is that they are hard to polish.

PoGo is a new one-step diamond micro polisher that will solve your problem and change the way you polish composites. PoGo will not replace all of your disc and finishing burs, but it will make the final polish simple.

Start with a composite surface that is finished to the desired form and contour, as well as smooth and defect free. Begin using PoGo, and you will get an incredible luster even on the hardest advanced hybrid composites in a fraction of the time it takes with disc systems. If you are using the new hybrid composites, you need this polishing system!
The shine in half the time is worth it. Order from your dealer or visit www.caulk.com for more information.
Pearl 4 — PropEZ™ Plus from Ultradent. This product is the brainchild of a dental assistant from the Ogden, Utah, area. Regina Campbell likes to come up with better ways of doing things. One day, when she was placing a bite block, she thought it would be great if it could also keep the tongue out of the way.

So, she worked on her idea and now we have the PropEZ Plus. This is really a nifty and simple idea. The tongue guard fits snugly into the mouth prop and keeps the tongue safely out of the way. This is really great if you are trying to work on a lower tooth by yourself. I have used a bite block on every patient for years because it is more comfortable. The PropEZ Plus fits right into my armamentarium for my patients.
Thanks, Regina, for a great idea and thanks to Ultradent for bringing it to us. This product makes every thing you do on the lower arch easier! To order, call (800) 552-5512.
Pearl 5 — Crescent Child Booster Seat by Crescent Products. This product is the ultimate seat to have in your practice to help you get children in a better position in the dental chair. It raises the child up in the chair; a special bevel prevents them from sliding.

This is a win/win — more comfortable for you to work and more comfortable for the child. Check out their dental headrest as well. It is easily cleaned and disinfected. To order, call (800) 989-8085 or visit their Website at www.crescentprod ucts.com/dental.htm.
Pearl Update — Integrity™ by Dentsply Caulk. This great crown and bridge temporary material now comes in a new dispensing system that has a new twin port to eliminate cross contamination. It is now available in six shades, including a new Bleach White shade — easy temps with great aesthetics. To order, call your dealer, or visit www.caulk.com for information.
Dr. Blaes has a general practice in the St. Louis area. He is known for his expertise in dental materials and techniques and his innovative systems designs. He writes and lectures on "How To Increase Productivity and Profitability." Dr. Blaes is a member of the American Academy of Dental Practice Administration. He may be reached at joeb@pennwell.com.