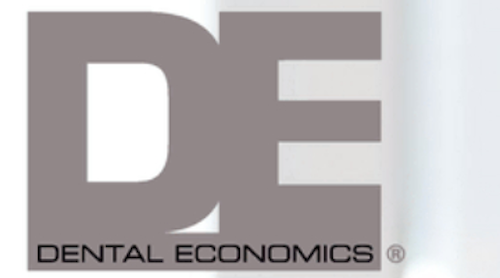 Joshua Austin, DDS, FAGD, reviews the Multipiezo ultrasonic system from Mectron, the Orbiter curing light shield from Ergocept, and 3.5x Prism loupes from Q-Optics.
---
Multipiezo ultrasonic system by Mectron
Like many people, I often think of Esther Wilkins with great awe. What an amazing and talented dental hygienist, dentist, and icon of our industry! Dr. Wilkins is considered the matriarch of dental hygiene. In her day, hand scaling was the modus operandi and the focus of the dental hygiene curriculum. I have no idea how she was able to accomplish what she did with hand instruments.
Today's world is different. Ultrasonics run the show for dental hygienists. While magnetostrictive ultrasonics have their place in the market, piezoelectric ultrasonics offer benefits to both dental hygienists and dentists. An excellent choice in the piezoelectric landscape is the Multipiezo by Mectron, which is distributed in the United States by Piezosurgery Inc.
When looking at a piezoelectric system, flexibility is key. That's what makes piezoelectric units stand apart from magnetostrictive units. Piezo units can be used for much more than plaque debridement and calculus removal. Aside from perio applications, restorative and endodontic applications are hallmarks of the Multipiezo's repertoire. With an array of available tips, the Multipiezo can be used in both your hygiene and treatment rooms with efficiency. In fact, we put my unit on a cart and move it from room to room.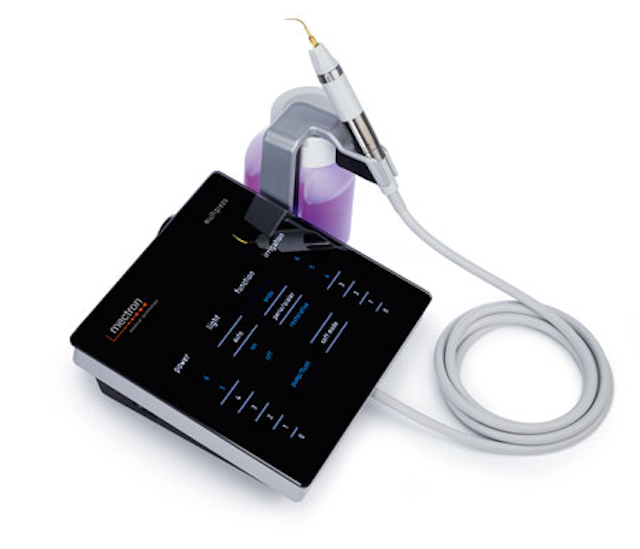 All of my operatories are equipped with piezoelectric scalers in the delivery systems; however, the Multipiezo is a much more powerful unit. When my hygienists have a gnarly scaling case, they reach for the Multipiezo. It's not just a power player though. The Multipiezo also has a Soft mode that is excellent for patients who are more sensitive to ultrasonic scaling. With numerous scaler tips available, including specific implant cleaning inserts, the Multipiezo will become your hygienists' new BFF. The external irrigation bottle, which allows for medicated irrigation, is a great feature for periodontal treatments, as well.
From a treatment perspective, the Multipiezo offers a ton of options. There are numerous endo inserts for everything from orifice locating and enlarging, to canal debridement and retrograde treatments for apicos. The Multipiezo also has tips for cavity and crown preparation, margin refinement, and even metal restoration removal. You can truly use the Multipiezo for almost any restorative procedure you want.
As previously mentioned, we decided to put our Multipiezo unit on a cart that can be wheeled from operatory to operatory. Since it has an external irrigation bottle, it doesn't need to be tied to your unit's water line. Simply plug in the power adapter, select your application and tip, and it is ready to go. It has been a workhorse around my office, and we all use it. I have been impressed with its power and flexibility. If you are thinking of adding an ultrasonic unit to your office's armamentarium, take a long look at the Multipiezo by Mectron. Line-drive double to the gap for Mectron!
The Orbiter curing light shield by Ergocept
Really good dental assistants are always one step ahead of the dentist throughout the procedure. Great dental assistants are two steps ahead. I worked with a great dental assistant once who was always two steps ahead and had the ability to hold the orange plastic curing light filter paddle up, shielding our eyes from that dreaded blue curing light. I have yet to work with anyone who was that meticulous about the curing light filter. My issue with the light filters attached to curing lights is that they are never in the correct position, so you're forced to either make an awkward move to get it in the correct position or go without. To our own detriment, we often go without. The Orbiter by Ergocept has put a stop to that.
The Orbiter replaces the slide-on light shield that comes with most curing lights. It has a nifty, well-designed counterbalance weight that uprights it to keep it in the correct position. I was skeptical at first, but it works, and it works very well! Since we know that the Orbiter is always going to move into the correct position, my assistant and I can concentrate on the curing light's position, which is important in getting an adequate cure.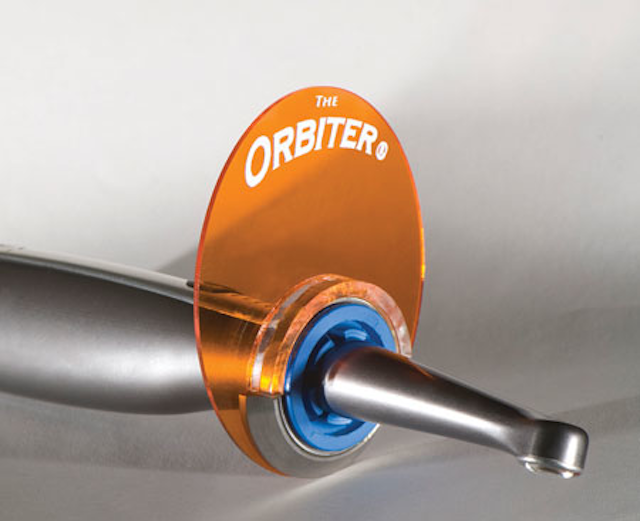 Obviously, curing lights come in different shapes and sizes. Ergocept has taken this into account and has made two sizes of Orbiters—standard and large. Between these two, practically every curing light on the planet is covered. The standard size fits most curing lights that come with removable static light filters, such as the 3M Elipar Deep Cure-S. Curing lights that don't come with a light filter, such as the Ultradent Valo Grand, will need the large Orbiter. The sales reps at Ergocept have a database of every curing light and can help you pick the correct shield for your light.
The Orbiter has been a nice addition to my practice. It makes it so easy to do the right thing and protect our eyes without any additional steps or actions. The Orbiter is the opposite of me on a basketball court; it is never out of position. The Orbiter took two seconds to install, and we have been using it on every curing light every day since. This isn't a purchase that will break the bank either. At less than $200 per Orbiter (and significantly less if you buy more than one), you will find great value in your purchase. The Orbiter is also well built and sturdy. Its solid construction should keep it orbiting for years!
This is one of those rare products that I really enjoy getting a chance to review. It is useful, inexpensive, and probably something you haven't heard of before. That is a sweet trifecta that doesn't come along very often. Solo home run for Ergocept on the Orbiter!
Q-Optics 3.5x Prism loupes
My fiancée and I have an agreement in place. She loves shoes. I don't ask or hassle her about shoe purchases. I love baseball caps. She doesn't ask or hassle me about baseball cap purchases. The problem with the arrangement is that shoes are much more expensive than baseball caps—especially the ones she really likes, the ones with the red leather soles, Louboutins. To make it even, I had to find a new interest that would be more price competitive with designer shoes. That item has turned out to be loupes, as nerdy as it sounds. Just like she wears shoes every day, I wear loupes every day. I believe that we should invest in items we use daily. For dentists, loupes should be in that category, but for some reason, they get forgotten. We tend to buy a new set of loupes and forget about them for a decade. Imagine doing that with your cell phone. You'd still be dialing that sweet black Motorola Razr. I think we should be looking at new loupes at least every other year.
Now, as I stated above, I am a loupes nerd, so I am looking at loupes all the time. One day, I was listening to the Shared Practices podcast, hosted by Dr. Richard Low. The cover art for the podcast immediately drew my eye. It's a fairly close-up picture of a dentist with headphones on, along with a mask and loupes. I immediately e-mailed Dr. Low to find out about the loupes. He responded quickly, telling me they were Q-Optics. I wasn't familiar with the brand, so I looked them up and immediately knew I had to get a pair.
After some research, I chose the Q-Optics 3.5x Prism through-the-lens (TTL) loupes. Prism loupes have become popular over the past few years because they can offer an expanded field of view compared to traditional Galilean telescopes, and they're more lightweight too. Q-Optics Prism loupes come to you with a sleek titanium unibody housing with strong, lightweight carbon fiber shrouds. All of this streamlined construction yields a light, well-distributed weight. The Q-Optics sports-type frames are comfortable and fit the esthetic well.
Generally speaking, working in a new set of loupes always requires an adjustment period. At least a few hours are spent trying to get the nose pads flared just the right way, learning the exact depth of field, or making any number of other minor adjustments. The Q-Optics 3.5x Prism loupes might be the only set of loupes I have ever owned that were ready to roll right out of the box. Zero adjustments were needed, and I was working at full speed almost instantaneously. The ordering and custom-sizing process was a snap, and the loupes were delivered in a compact carrying case that even has enough space for my wireless headlight, so I can take both to hands-on courses.
When people ask me how many different sets of loupes I have and I answer "eight," most guffaw. It's a ridiculous number, and I only have so many because I am interested in them. You don't need eight different sets. You need one or two, with the second being either a backup set or a higher magnification for specific procedures. But if it's been a while since you got a new set, I would highly encourage you to take a look at what Q-Optics offers. I have been very impressed with the product. Hotshot double down the third base line for Q-Optics.
---
For the most current dental headlines, click here.

---