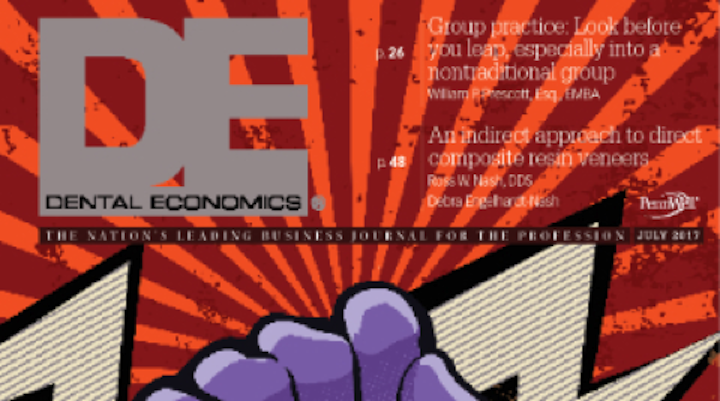 Dr. Richard Nagelberg says one oral-systemic trend that appears to be emerging is the ability of P. gingivalis to impact a variety of diseases and conditions. As such, he emphasizes the need for clinicians to have a knowledge of the systemic damage that periodontal pathogens can do as they treat their patients.
---
It can be difficult to discernoral-systemic research trends when reading a variety of dental and medical journals, especially considering the wide range of topics the journals cover. One such trend that appears to be emerging is the causative capabilities of Porphyromonas gingivalis(P. gingivalis) for a number of different diseases.
A considerable body of research reveals that P. gingivalis is causative for rheumatoid arthritis (RA) through a process known as citrullination. The prevailing theory indicates that P. gingivalis-mediated citrullination triggers the autoimmunity typically seen in individuals who are genetically susceptible to RA. The autoimmune processes then lead to the soft- and hard-tissue joint damage experienced in those with RA. Among the conclusions of some studies is that reduction of P. gingivalis may reduce RA's impact. More studies are needed to confirm this; however, studies completed to date consistently demonstrate the P. gingivalis/RA link.
A recent study revealed the presence of P. gingivalis in the esophagi of patients with esophageal squamous cell carcinoma (ESCC): "These findings demonstrate for the first time that P. gingivalis infects the epithelium of the esophagus of ESCC patients, establish an association between infection with P. gingivalis and the progression of ESCC, and suggest P. gingivalis infection could be a biomarker for this disease. More importantly, these data, if confirmed, indicate that eradication of a common oral pathogen could potentially contribute to a reduction in the overall ESCC burden." (1) The last sentence in this study's conclusion is powerful for us as dental professionals. Obviously, confirmation of the presence of P. gingivalis can only be determined by some form of bacterial testing.
Studies in 2016 and 2014 indicated the role played by P. gingivalis in abdominal aortic aneurysms: "It has also been proved that the presence of P. gingivalis in atherosclerotic plaques accelerates the progression of abdominal aortic aneurysms." (2–3) We cannot draw a conclusion from two studies, but the trend or pattern of the different ways in which P. gingivalis has some level of effect on different diseases and conditions cannot be ignored.
The close relationship between P. gingivalis and arterial disease has been well-documented. These are the conclusions of a 2017 study: "The results of this study strongly correlate periodontal bacterial co-occurrence and periodontal bacterial adhesion factor to atherosclerosis." (4)
The title of another 2017 study speaks for itself: "Porphyromonas gingivalis is the most abundant species detected in coronary and femoral arteries." (5)
P. gingivalis enters the circulatory system and travels to points of the body near and far by the bacteremia that occurs in the gingival epithelium. The more severe the case of periodontal disease, the greater the opportunity bacteria have to enter the circulatory system. Returning the gingival tissue to health is one of the ways we can reduce the number of bacteria entering the bloodstream. Targeting the specific bacteria first through identification would enhance the impact we can provide for our patients.
So, what is the point of all of this? We can go along scraping the gums of patients with periodontal disease without knowledge of the bacteria we are trying to control, or we can treat the people in our chairs rather than just their oral cavities. Consider how it would be to educate our patients about how their mouths affect their total health. We can show them that we are concerned about their vascular health and can do something about it. It would not be an exaggeration to indicate that identifying the bacteria causing their particular case of periodontal disease, then treating and retesting, will positively impact their oral and overall health. Obviously, this would include effective home care and frequent maintenance visits.
The ability of P. gingivalis to impact a variety of diseases and conditions emphasizes the need to know exactly what we are dealing with when we treat our patients. Knowledge of the systemic damage that can be done by periodontal pathogens confers a responsibility on us as clinicians.
References
1. Gao S, Li S, Ma Z. Presence of Porphyromonas gingivalis in esophagus and its association with the clinicopathological characteristics and survival in patients with esophageal cancer. Infect Agent Cancer. 2016;11:3. doi: 10.1186/s13027-016-0049-x.
2. Budzyński J, Wiśniewska J, Ciecierski M, Kędzia A. Association between bacterial infection and peripheral vascular disease: a review. Int J Angiol. 2016;25(1):3-13. doi: 10.1055/s-0035-1547385.
3. Sessa R, Pietro MD, Filardo S, Turriziani O. Infectious burden and atherosclerosis: A clinical issue. World J Clin Cases. 2014;2(7):240-249. doi: 10.12998/wjcc.v2.i7.240.
4. Mahalakshmi K, Krishnan P, Arumugam SB. Association of periodontopathic anaerobic bacterial co-occurrence to atherosclerosis. Anaerobe. 2017;44:66-72. doi: 10.1016/j.anaerobe.2017.02.003.
5. Mougeot JC, Stevens CB, Paster BJ, Brennan MT, Lockhart PB, Mougeot FK. Porphyromonas gingivalis is the most abundant species detected in coronary and femoral arteries. J Oral Microbiol. 2017;9(1): 1281562. doi: 10.1080/20002297.2017.1281562.
---
Richard H. Nagelberg, DDS, has practiced general dentistry in suburban Philadelphia for more than 30 years. He is a speaker, advisory board member, consultant, and key opinion leader for several dental companies and organizations. He lectures on a variety of topics centered on understanding the impact dental professionals have beyond the oral cavity. Contact Dr. Nagelberg at gr82th@aol.com.