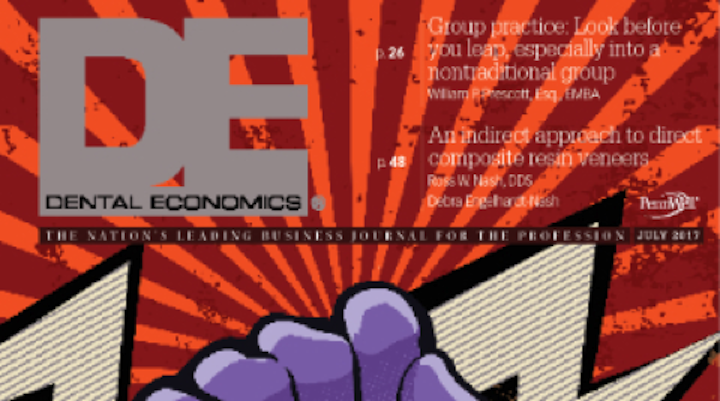 Joshua Austin, DDS, FAGD, reviews the Garrison Dental Solutions Composi-Tight 3D Fusion sectional matrix system and Bisco's TheraCem self-adhesive resin cement.
---
Composi-Tight 3D Fusion kit by Garrison Dental Solutions
It's post-Western Regional Examining Board (WREB) season here in Texas. The graduating dental school seniors have taken the licensing exam and passed (I hope) . . . meaning hundreds of Class II restorations were just done all across the western United States. I always wondered why Class II restorations were the assessment used to determine a dental student's competence. The more Class IIs I do, the more I realize how tough and challenging they can be. Finding tools to make Class II restorations faster and more predictable is vital. I have found Garrison Dental Solutions' latest offering, the Composi-Tight 3D Fusion kit, to be indispensable in my restorative practice.
There are two significant changes from the previous version of the kit. The first and most important is the latest version of the interproximal ring. The interproximal ring does a few important things. First, the force of the ring against the neighboring tooth helps us overcome the width of the matrix to get good, tight interproximal contact. We need to put pressure there to leverage the periodontal ligament space. Otherwise, we would end up with a thin space between the teeth the width of the matrix.
The other job the ring has is holding the matrix flush against the tooth to prevent flash when we bond the composite. That's where these new rings shine. There are three new rings in the 3D Fusion kit. The blue ring is best used for short teeth. The silicone-coated tips are shorter, which should prevent the ring from shooting out of the mouth. That always tends to be an issue for short teeth, and this ring helps solve that. The orange ring is made for longer teeth. Its silicone tips are taller, helping it apply even force all along the matrix.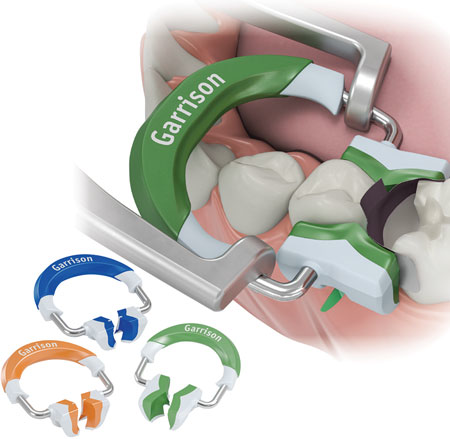 The final new ring is the green one. The green ring is the first interproximal ring designed for wide preparations. When we encounter a wide Class II—for example, if we've had to break the facial or lingual line angle—it can be very difficult to use a sectional matrix. Traditional rings tend to cave in the matrix around the line angles, fouling everything up. The wide, sweeping silicone tips on the green ring prevent that, making those difficult restorations so much easier.
The matrix bands on the 3D Fusion kit have been upgraded. They are dimensionally contoured, ultrathin, and dead soft, which will help us get the best contact possible. A grab tab was added, which makes placing and retrieving the matrices easier. The kit still has a variety of matrix sizes, and the wedges in the kit are unchanged and continue to be the best on the market. The fins that come out of the sides of the wedges help hold the gingival part of the matrix flush, even when a root concavity is present.
RELATED | Demo: Composi-Tight 3D Fusion sectional matrix system (VIDEO)
Composi-Tight kits are a staple in my office. The 3D Fusion is another leap forward, giving us even better tools to reduce the stress of Class II restorations. Where was this kit when I was taking the WREB?! Two-run home run to left field for Garrison Dental Solutions!
TheraCem self-adhesive resin cement by Bisco
Most restorative dentists today are using only two materials for indirect restorations, lithium disilicate and zirconia. These beautiful, tooth-colored materials have ushered in a monolithic revolution in dentistry. But there's one question that seems to be asked any time I lecture about restorative materials: how do we cement these materials? That question is an excellent one, and there is probably no perfect answer. I am not one for making definitive statements. "I always use this" and "I never use that" don't fly with me. We need to be more selective than that. We need to have a few different cement options that we can turn to on a case-by-case basis. One of the options needs to be a good self-adhesive resin cement. TheraCem by Bisco is a great option for that, due to its unique properties.
TheraCem is made by Bisco, the company that brought you TheraCal LC. The similarity in names is no mistake. TheraCal is a successful liner and pulp-capping material due to its calcium release properties. TheraCem releases calcium and fluoride ions as well. This ion release should trigger hydroxyapatite formation, giving us all sorts of advantages—from decreasing sensitivity to filling microgaps. The ion release also increases the alkalinity of the cement over time, which should help us with durability and stability. This is important because most resins are acidic and prone to plaque, so they can cause some big problems for us over time.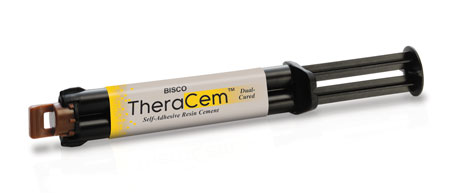 TheraCem is easy to clean up, as well, which is always a fine quality for cements. In the unlikely event that some were to get left behind, its high radiopacity makes it easy to see on a bitewing so that the remainder can be cleaned up. Because of its automix dual syringe, dispensing it is easy too. Without the need for an additional adhesive step, TheraCem is an easy-to-use cement that works well with most materials.
The shear bond strengths of TheraCem test well, showing increased measurements in comparison to other popular self-adhesive resin cements on the market. Of particular note is the excellent bond it can achieve to zirconia. At 26.8 MPa, TheraCem's zirconia bond should be an eye-opener! TheraCem isn't a one-trick pony, though. It works well with lithium disilicate and metal restorations too!
When you're looking for an everyday self-adhesive resin cement, TheraCem's ease of use, strong bonds to multiple materials, and ion release make it a solid choice. Being manufactured by Bisco firmly cements its qualifications as a great choice for zirconia because Bisco was the first company to produce a primer making it possible to bond to zirconia. Sharp single back up the middle for Bisco on TheraCem!
---
For the most current dental headlines, click here.

---