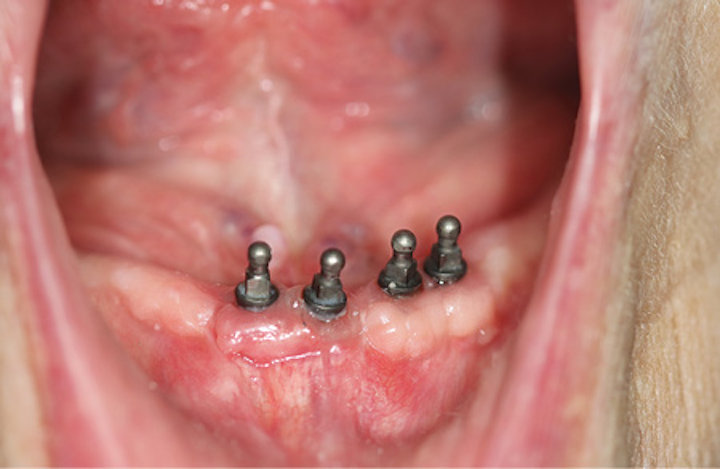 Chairside denture relining is a service that dentists may not be entirely comfortable with. Many prefer to have the laboratory fabricate and process the reline. This additional step can be a drawback for patients, who must go without their dentures while the lab processes the reline. In addition, materials needed for this procedure (e.g., impression material, bite registration) can add to expenses.
Perhaps one of simplest, most accurate techniques for denture relining is done chairside. The selection of materials for this is critical. There are a variety of materials that are ideal short-term solutions, such as tissue conditioners that include methyl methacrylate; and there are other materials for long-term care, such as acrylic and silicone that include methyl methacrylate, ethyl methacrylate, and silicone, among others.
Providing denture relines chairside can be a huge savings for clinicians, often reducing overhead costs by up to 90%. Time and skill are the only requirements; increasing skill decreases the time required, and a proficient clinician can effectively complete a denture reline rapidly and easily, provided the proper material is selected.
Clinically speaking, reline materials must be easy to handle, resistant to tearing and chipping, designed to provide long-lasting relief, outstandingly durable, highly resistant to stains, odors, and contamination, and offer excellent adhesion to the denture. The material should match the denture base color. A well-fitting denture will provide improved masticatory efficiency and mucosal health, relief from sharp ridges, tori pain, and sore spots.
With a simple procedure, the entire denture relining process can be completed in only one appointment and offer several years of satisfaction to the patient, with minimal degradation. Savings are gained when less material is used, and even mixing tip size can have a direct effect on material use and waste.
There are many reasons for relining a denture. A common need is often due to "gradual physiologic changes of the soft tissues as well as resorption of the underlying osseous structure [that] can cause the denture to lose its original stability and retention."1 In the past, lab-processed denture liners exhibited superior polymerization due to processing pressures and temperatures. However, current chairside reline materials have demonstrated properties that rival lab-processed relines.
Case report
This 77-year-old patient recently had her remaining lower anterior teeth extracted, making her fully edentulous. She had a history of rheumatoid arthritis with clawed hands, making manipulation and removal of the denture difficult. She had a full lower denture (opposing an existing complete upper denture) that provided poor retention due to the lack of posterior ridge height. In addition, the anterior mandible was poor in horizontal bone volume, eliminating the option to place traditionally sized implants without extensive bone grafting.
It was decided that mini-implants would be placed, and following a period of healing, the lower denture would be relined using a soft silicone material that would increase retention and provide a comfortable base against the tissues (figure 1). Four 2 mm by 10 mm Lew MDI collared o-ball endosseous titanium screw implants (Park Dental Research Corp.) were surgically placed. For cases in which a patient's manual dexterity is limited, typical retention between the o-balls and metal housing attachments may be too heavy for the patient to manipulate. The treatment opted for was a soft reline that would provide milder retention, while completely covering the implants.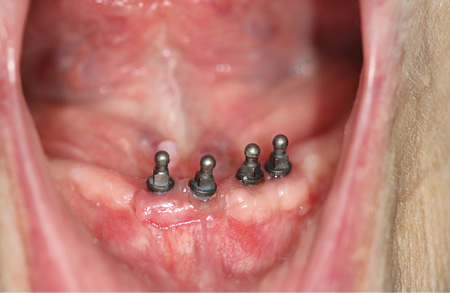 Figure 1: Mini-implants in the patient's mouth
After tissue healing, the denture base was modified by reducing the base by approximately 2 mm (figure 2) and creating an L-shaped lip around the denture border (figure 3). This step is critical and provides a sufficient amount of bulk at the denture borders, preventing peeling and loss of reline material. This was followed by air abrading the denture base using 50-micron aluminum oxide powder (figure 4). While abrading the denture base with burring is sufficient to maintain retention, air abrasion has been shown to increase retentive surface areas by 400%.2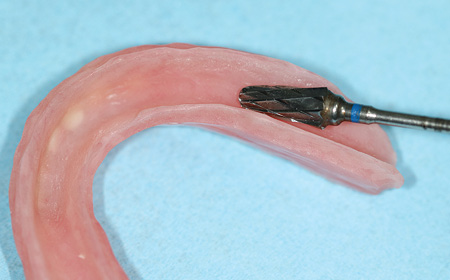 Figure 2: Reduction of the denture base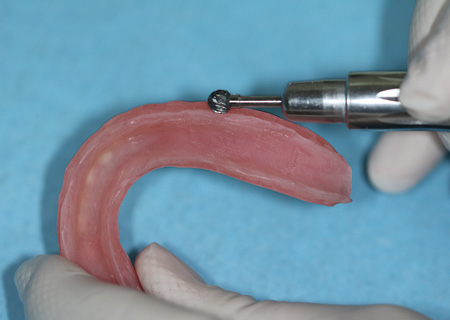 Figure 3: Creation of L-shaped lip
Figure 4: Air abrasion of denture base
After rinsing and drying, the areas receiving the reline were treated with several coats of silicone bonding agent (Sofreliner Tough Primer, Tokuyama Dental; figure 5).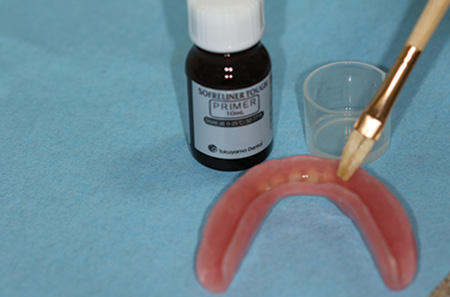 Figure 5: Application of Sofreliner Tough Primer silicone bonding agent
Once the bonding agent dried, a soft-silicone denture liner (Sofreliner Tough Paste Medium, Tokuyama Dental) was dispensed from an auto-mixing gun, first around the borders, then in the intaglio of the denture base itself (figures 6 and 7). The denture was inserted intraorally and border movements captured. After completely setting (five minutes), the denture was extracted from the mouth (figure 8) and excess reline material removed using a combination of lab burs (Sofreliner Tough M Shape Adjustment Points, Tokuyama Dental) and a blade (figure 9). The occlusion was adjusted and the patient was instructed to remove and insert the denture several times to ensure her ability to manipulate the unit (figure 10).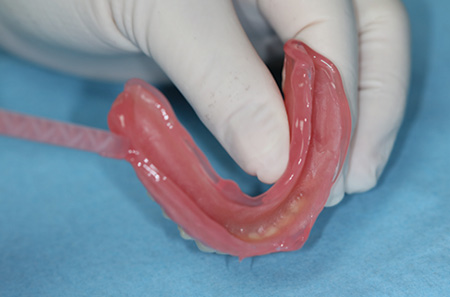 Figure 6: Application of liner to the denture border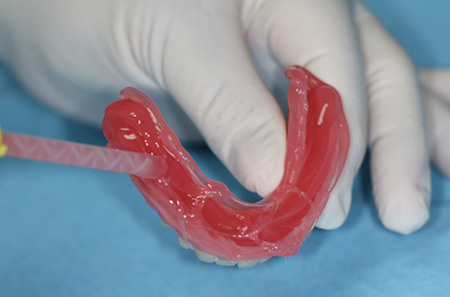 Figure 7: Application of liner in the intaglio of the denture base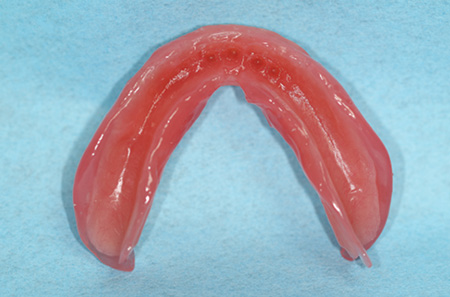 Figure 8: Denture after setting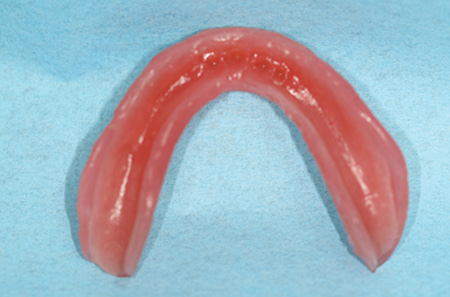 Figure 9: Denture after removal of excess material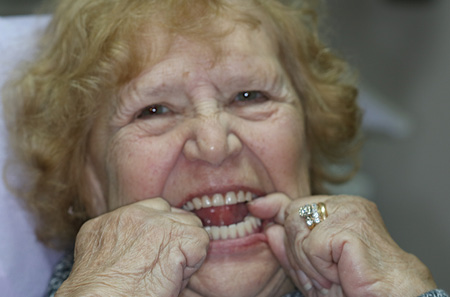 Figure 10: Patient testing denture retention and removal
Editor's note: This article is supported by Tokuyama Dental.
References
1. Leinfelder KF, Terry DA, Connelly ME. The art of denture relining. Inside Dentistry website. https://www.dentalaegis.com/id/2007/05/the-art-of-denture-relining. Published May 2007.
2. Intraoral & Extraoral Microabrasion. Danville Engineering & Materials Air Abrasion Technology. http://www.minimalinvasiv.de/data/Danville%20Katalog%20IDS%202015%20neu.pdf.
---

Ian Shuman, DDS, MAGD, AFAAID, maintains a full-time general, reconstructive, and esthetic dental practice in Pasadena, Maryland. Since 1995 Dr. Shuman has lectured and published on advanced, minimally invasive techniques. He has taught these procedures to thousands of dentists and developed many of the methods. Dr. Shuman has published numerous articles on topics including adhesive resin dentistry, minimally invasive restorative dentistry, cosmetic dentistry, and implant dentistry. He is a fellow of the Pierre Fauchard Academy.