Products for a great patient experience
All of us are interested in how to improve relationships with our patients and in how to get them to respond about their experiences with our office.
Sep 1st, 2009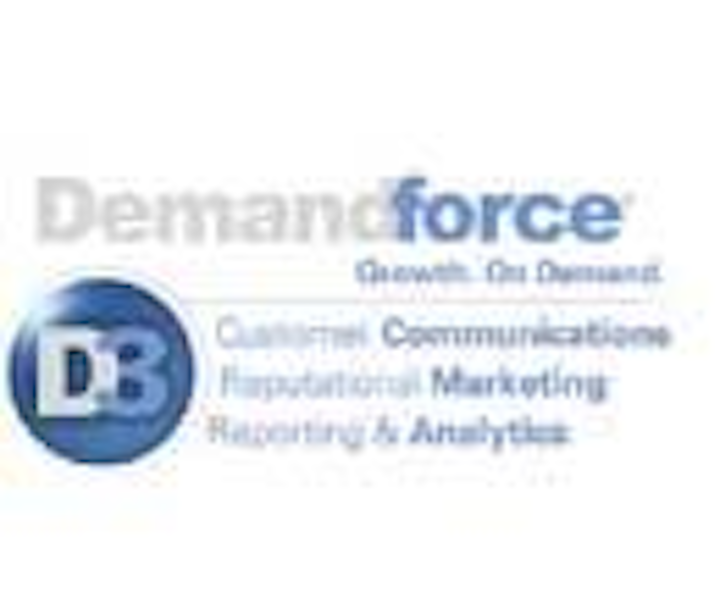 by Dr. Joe Blaes
Demandforce D3 – Communications, Marketing and Analytics from Demandforce — All of us are interested in how to improve relationships with our patients and in how to get them to respond about their experiences with our office. Did they relate to the team and the doctor? Did they encounter any problems before or during their visit? At the California Dental Association meeting in Anaheim this spring, I was introduced to a new concept in dentistry called Demandforce D3. This Internet–based product helps practices generate demand in three forceful ways: patient communications, reputational marketing, and reporting and analytics. About a week after learning about D3, I attended a symposium in Florida and heard from two regular Dental Economics® contributors about how their practices had experienced great success with Demandforce's solution. As dentists, we always look for the best technologies to give patients a great experience, make our jobs easier and more efficient, increase production, and improve the economics of the practice. After learning about the D3 product, you will understand how this comprehensive approach can positively affect the aspects I have just mentioned. Demandforce provides the tools to market your practice to its internal patient base in a way that's easy and convenient for patients and staff. The product's unique data integration with Google allows you to enhance your online reputation to market your practice to potential patients when they search for a dentist in your local area. Finally, the D3 program tracks and measures success with its technology so that you can see what's working well for your practice and where any potential problems may exist. The ability to track and measure results also ties into why you should try Demandforce. The company guarantees that you will generate $3 in value for every $1 you invest every month or your next month is free. I don't know of any other company that offers such a guarantee. This makes trying Demandforce essentially risk–free. You can learn more by reading Dr. Cynthia Brattesani's Focus On article, beginnning on page 84 of this issue. Also, be sure to watch a three–minute demo on the Internet at www.demandforce.com/df_dental/demo or give the company a call at (800) 246–9853.
OraVerse® from Novalar Pharmaceuticals — When was the last time you had a local anesthetic for a dental procedure, especially a mandibular block or an anterior infiltration? It's an awful feeling, isn't it? You cannot tell what you are doing with your lips or tongue. Waiting for that pins and needles feeling to go away is frustrating, particularly if you have another appointment. How many children have you seen the next day after a local with a tongue, lip, or cheek that is chewed up? We give anesthesia every day to patients and really don't even think about it. When was the last time you changed the way patients think about their dental visits? Now you can give them some new possibilities for visits that require anesthesia. By using the STA device from Milestone Scientific, I have eliminated fear of injection from my practice and now have a way to reverse the after effects of local anesthesia. OraVerse allows you to return patients to normal sensation and function in approximately half the time it took previously. It has been proven safe and effective for adults and children ages six and older and who weigh 33 pounds or more. This agent accelerates the reversal of the lingering soft tissue numbness with a vasoconstrictor available in the U.S. OraVerse rapidly restores normal function so patients can speak, smile, and drink normally in approximately half the time. It is easy to use and requires only a simple injection with a standard dental syringe or an STA device. I agree with the following quote from Stanley Malamed, DDS, "I anticipate a tremendous interest both from doctors and patients in this new product, OraVerse." This product is beneficial for offices that use local anesthetics and especially in offices that treat children. I use OraVerse when I finish prepping the tooth so that the reversal begins as we finish the appointment. By using this technique, most of my patients leave the office without the unwanted after effects of anesthesia. For more information on this new product, go to www.novalar.com.
Estelite® Sigma Quick from Tokuyama — I like dental companies that listen to dentists' needs as we try to produce the best dentistry possible for patients. Tokuyama has made the best anterior/posterior composite better by listening to dentists. Estelite® Sigma Quick offers the same exceptional characteristics of Estelite Sigma, including outstanding polishability, high–gloss retention over time, wide shade–matching range with a chameleon effect, high wear resistance, less wear to opposing teeth, excellent radiopacity, and minimal shrinkage. Newly released, Estelite® Sigma Quick is a 100% spherically filled universal composite that adds three new benefits. By utilizing a patented innovative initiator system, Radical Amplified Photopolymerization, Tokuyama has reduced the curing time by one–third when compared to Estelite Sigma. Using the same RAP system, the working time under the dental light has been increased to 90 seconds. Estelite® Sigma Quick also has three new shades: A5, OPA2 (opaque), and WE (white enamel), and a new bleach shade that brings the total to 20 shades. In addition to anterior and posterior restorations, Estelite® Sigma Quick is indicated for composite veneers, diastema closure, and composite or porcelain repair. Order from your dealer or contact www.tokuyama–us.com or call (877) 378–3548 for more information.
Expasyl™ Strawberry Gingival Retraction Paste from Kerr — Expasyl™, which comes in a new strawberry flavor, physically displaces tissue with little to no risk of rupturing the epithelial attachment so you can achieve excellent sulcular expansion. The presence of aluminum chloride controls bleeding and other fluids, leaving a dry sulcus ready for impression taking. Expasyl™ can be used for taking accurate impressions, seating of restorations, fitting rubber dams, and class II, III, and V restorations. It makes tissue management easier. Now you can eliminate the painful and lengthy application of placing packing cord with a safe, cost–effective product that's comfortable for your patient. Application is simple. Just extrude the material directly into the sulcus, and rinse and dry after two minutes. No additional steps are necessary. I have always tried to avoid getting this material on the patient's tongue because of the taste. Not to worry any more because Kerr has added a great strawberry flavor to the newest version of Expasyl™. You get the same great tissue management qualities — excellent hemostasis and atraumatic gingival retraction in a fraction of the time it takes to use cord — with a pleasant taste. You can get a high–value introductory kit that includes a lightweight ergonomic gun, new curved tips, and 60% more material than the original. Order from your dealer or visit www.kerrdental.com/expasyl for more information.
Oscillating Segment Discs for Interproximal Enamel Reduction by KOMET USA — In my practice, I have the need to "strip" or reduce interproximal enamel for a number of procedures. I have found that using a diamond abrasive strip is tedious, time consuming, can lead to soft tissue damage, and even a cut lip if I'm not extremely careful. "Stripping" is made easier with rotary diamond discs, but their use has always scared me because of the risk of damage to the soft tissue and tongue. Care must be taken to avoid the disc jamming and jumping off the tooth. KOMET has come to the rescue with its new Oscillating Segment Discs for Interproximal Enamel Reduction. The oscillating 60° segment disc has a radius of just 1.4 cm and a pivoting angle of 30°, making it perfect for use in narrow areas. The discs are coated on one or both sides and can remove between 0.2 and 0.5 mm of interproximal tooth as required. The learning curve with this system is short because it is an easy step–by–step progression that results in reliable, reproducible results. The operator and the patient have greater comfort during the enamel reduction. An important tip to minimize the risk of removing too much enamel is to measure the tooth width with a sliding caliper prior to using the OSD and during the enamel reduction. When finished, be sure to polish and apply fluoride to the reduced surface. I use the OSD in my porcelain veneer preparation technique as well. I have changed my veneer preparation to a three–quarter crown prep. The OSD easily makes that interproximal cut and removes the minimal amount of enamel. This leaves the margin on the lingual surface of the tooth where I can easily see and finish it after seating the veneer. The segmented discs are exclusively designed for use in the oscillating KOMET contra–angle OS–30 on a micromotor or air motor. To order or for more information, call KOMET at (888) 566–3883.
Soft–X™ Bite Wing Loops by ConFirm Monitoring Systems — Bitewing X–rays can be uncomfortable, particularly for patients with small mouths or bony tori. Soft–X™ soft foam loops cushion and protect the susceptible surfaces of the mouth during bitewing X–rays. Soft edges and corners comfortably cushion tissue to eliminate the pain of bitewing X–rays in seconds, for just pennies per patient. They are available to fit sizes O and 2 dental X–ray film for horizontal bitewings, and for size 2 vertical bitewings. They can be ordered from your dealer or contact www.confirmmonitoring.com for free samples and more information.