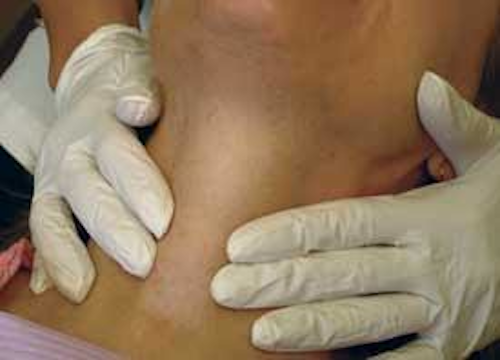 For more on this topic, go to www.dentaleconomics.com and search using the following key words: thyroid cancer, extraoral examination, intraoral examination, thyroid tumors, detection of abnormalities, Dianne Glasscoe–Watterson.
A thorough extraoral examination can lead to the detection of abnormalities in the throat area, including thyroid cancer. Dentists and dental hygienists are taught in school how to perform extraoral assessments, but how many actually include the extraoral exam in their protocol? Dental professionals can play an important role in detecting nodules and enlargement of the thyroid gland.
Dr. Monica Parham's practice is located in Germantown, Md. Dr. Parham has a heightened sense of importance of the extraoral examination. She has detected abnormal nodules in the throat area on five different patients. Upon referral, four of the abnormalities turned out to be thyroid cancer and one was a benign thyroid tumor.
The patients diagnosed with thyroid tumors from Dr. Parham's practice were all thin, healthy females. Four were ages 28 to 38, and one was in her 50s with a history of breast cancer. All had children; all were nonsmokers; none of the five women drank alcohol to excess. One was a pediatrician who had a complete physical examination two weeks prior to her dental exam, with nothing abnormal detected. Her thyroid cancer was an aggressive form that, had it not been detected early, could have resulted in death.
The thyroid examination should begin with the patient in a supine position and a visual inspection of the neck area to look for enlargement or asymmetry (Fig. 1). The clinician should then move to the 12 o'clock position and use both hands to conduct a bilateral tactile examination, working up both sides of the trachea to the angle of the jaw and lymph nodes, ending with the TMJ area (Fig. 2).
A thorough extraoral/intraoral examination is part of the standard of care that should not be neglected by dental professionals. Dental professionals can save lives through early detection screenings, such as thyroid examinations.
Dianne Glasscoe–Watterson, MBA, assists dental practices in achieving their highest potential through practical, effective, on–site consulting. Call (301) 874–5240 to discuss how your practice management challenges can be solved. Visit her Web site at www.professionaldentalmgmt.com or send her an e–mail to dglasscoe@northstate.net.