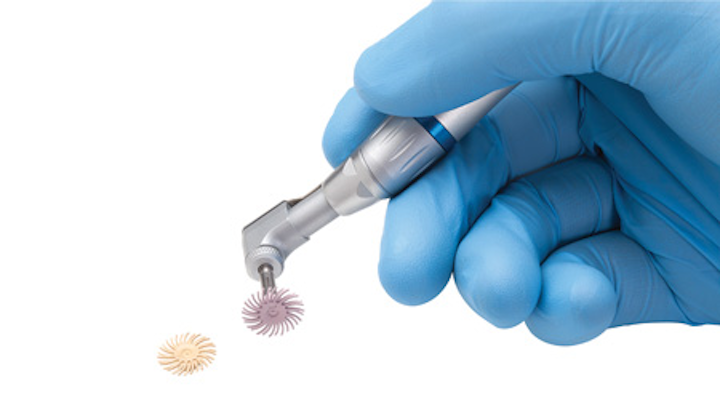 Joshua Austin, DDS, FAGD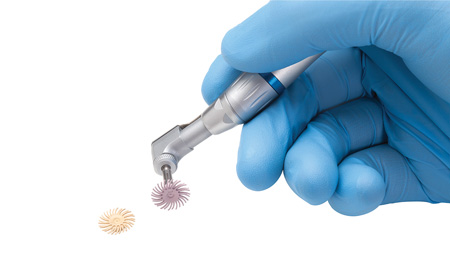 3M Sof-Lex Diamond polishing system
I recently heard a profound statement on the Dental Hacks podcast: A renowned dentist, accredited by the American Academy of Cosmetic Dentistry (AACD), said, "The vast majority of dentists don't know how to polish their restorations." The line hit me over the head with a thud. I mean, of course we know how to polish, right? Some deep introspection occurred. I tried to transport myself back to sophomore operative and listening to my mentor, Dr. James Summitt. What did I remember? Something about sequentially removing scratches, I think. After a few minutes of wracking my brain, I realized that this AACD-accredited superstar cosmetic dentist who said that dentists don't know how to polish was talking about me.
I'm not trying to shift the blame here, but it's no wonder that I don't know how to polish. We are constantly bombarded with a multitude of different products-discs, points, cups, pastes. Ceramics need different products than composites. Should we use multistep products or one-step products? How should we spend our money to best equip our practices? It's an endless dilemma with no universal answers.
I've been putting some thought into this, and I have come up with a couple of things that I will start to look at when purchasing polishing products. Simplicity is one. I am vigilant about simplifying my life-the more complexity we add, the more stress-so I want simple polishing products, but they have to work as well. With that said, I also need to see results.
The 3M Sof-Lex Diamond polishing system recently debuted, and it meets my two new polishing system requirements. It's simple, and it works. With two steps and a novel polisher shape, the Sof-Lex Diamond polishing system can give your anterior or posterior composites an enamel-like luster without requiring messy pastes or endless steps. After finishing and adjusting your composite restoration, start with the beige prepolishing spiral and apply medium pressure while keeping the spiral in motion over the restoration. This will remove large scratches and refine the shape of the restoration. Next, use the pink polishing spiral in the same fashion to add a high-gloss finish.
Sof-Lex Diamond polishing spirals should be used on the same kind of mandrel as traditional Sof-Lex discs with a latch-type low-speed handpiece. 3M recommends a speed of 15,000-20,000 rpm for maximal effect and minimal deformation. Sof-Lex Diamond polishing spirals are multiuse and can be cleaned and sterilized. The number of uses per spiral will vary based on how vigorously they're used.
I have used Sof-Lex Diamond for both anterior and posterior composite polishing, and it worked well for both applications. The spiral shape is excellent for polishing anatomical, rounded line angles without flattening them out, which works well on anterior teeth and also around the marginal ridges of posterior teeth. Earlier this morning, I repaired the palatal cusp of two maxillary premolars that had been chipped by a tongue piercing. It's an awkward area that traditional discs, cups, and points have a hard time reaching, but the spirals worked excellently to polish the entire restoration.
If you are interested in simplifying your composite polishing, the Sof-Lex Diamond polishing system can help you do that with only two steps required to effectively polish all of your composite restorations. Bloop double for 3M!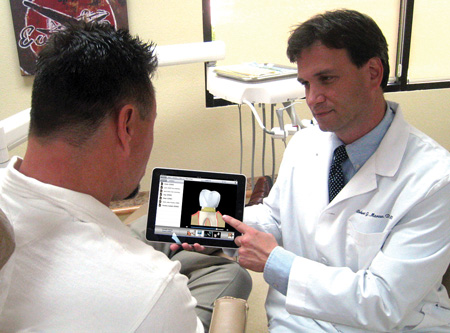 DDS GP iPad app by Kick Your Apps Inc.
Recently, I wrote an article highlighting some of the best mobile apps for use in the dental office. One of those apps was DDS GP. I have enjoyed using this app so much I felt it necessitated a full "Pearl." Let's start with some background info: DDS GP is an iPad app that will help you explain conditions and treatment to your patients, with sequential illustrations for everything from periodontal disease progression to the clinical steps involved in delivering a crown.
DDS GP has more than 200 different demonstrations, all beautifully illustrated, spanning a wide array of relevant topics. Need to show your patient what the process of surgically placing an implant is like? DDS GP does it. Want to warn your patients about the progression of decay over time? DDS GP does it. Everything is neatly organized, which makes for quick and easy navigation. You can draw on the illustrations with your finger if you need to highlight something or import patient photos to compare them to the illustrations. You can also print or e-mail a single illustration or series of illustrations, so your patient can reference the material at home, if needed.
When loaded on an office iPad, DDS GP could easily replace expensive server-based patient education systems. DDS GP is intuitive, and the staff can be using it proficiently in seconds. No lengthy training is required-it just works.
For $100 more, you can get DDS GP Yes!, which includes all of the content from the original DDS GP app, plus 37 audio tracks from Paul Homoly, DDS, CSP, designed to help train your staff on communicating treatment needs to patients. Dr. Homoly is an exceptional communicator, and I have always picked up a ton of wisdom on communication from attending his courses. Having some of his content available for staff training is extremely valuable.
In my office, we have an iPad Pro loaded with DDS GP that functions as our office's demonstration tool. When a patient has periodontal disease, one of my hygienists will grab the iPad Pro and show the patient the periodontal disease demonstration, followed by the scaling and root planing demonstration. When a patient comes in with a broken tooth, my assistant will show the patient the crown demonstration while waiting for me to get to the room. Since the demonstrations are so clear and concise (requiring only a minute or two), we rarely run into a logjam situation with multiple people needing it. Conceivably, you could have DDS GP loaded on multiple iPads in your office, all using the same iTunes App Store login combination, so just one purchase of DDS GP would cover multiple devices.
I have found that patients are very receptive to seeing illustrated demonstrations about their conditions and dental needs. Having effective, professional illustrations can help us show patients what they can't see, and that helps with case acceptance. DDS GP certainly isn't the first to market with these ideas, but by using an iPad, you can add this program to your practice easily and cost effectively. That sounds like a real winner to me. Hard-hit, line-drive double down the third-base line for DDS GP!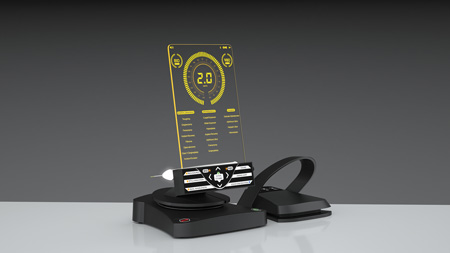 Gemini 810 + 980 soft-tissue laser by Ultradent Products Inc.
From anecdotal discussions with other dentists, I am finding that more and more dentists are using lasers in their practices. They might be going all-in, using hard- and soft-tissue lasers, or they might be arriving later to the party with soft-tissue diode lasers. It shouldn't be a surprise, really. As digital dentistry becomes more popular, soft-tissue diode lasers follow. If you are using a digital impression system, it's probably apparent to you how helpful a diode laser could be at capturing accurate, readable margins. In addition to troughing gingiva around finish lines, there are scores of other procedures that can be done with a great diode laser. Among the many products I have demoed while writing this column, the Gemini 810 + 980 soft-tissue diode laser from Ultradent Products Inc. is one of my favorites. It is truly a great diode laser.
There is a ton of diode lasers on the market, so what sets the Gemini apart from the others? First, there's the dual-wavelength technology. Operating at both 810 nm and 980 nm, the Gemini combines the two most popular wavelengths used in dental lasers. What this means to you is more power for smoother, faster cutting. The Gemini laser allows for single-wavelength usage at either 810 nm or 980 nm, but it should live on the dual-wavelength setting in your operatories.
Another differentiating factor offered by the Gemini is the jaw-droppingly cool electroluminescent display. It looks like it's straight out of Star Trek. You almost have to see it to believe it. On a piece of clear glass that projects above the laser base, the wavelength setting, percentage of battery charge remaining, power meter, and procedure settings are displayed with a bright orange light. There are 19 separate preset settings covering many different procedures, including everything from troughing to gingivectomy to cuspid exposure to sulcular debridement. The unit also has voice prompts, which help to get the laser up and cutting, and an illuminated tip, which increases visibility in the surgical site. It's extremely easy to read and use.
One feature I look for in a laser is portability-and by that, I don't just mean I want a laser that can be moved. I want a laser that is convenient and easy to move from room to room. The Gemini is just that. The rechargeable battery holds a 45-minute charge, so your assistant won't have to fiddle with a power adaptor. The foot pedal is cordless and Bluetooth-controlled, so the only cord that needs to be dealt with is the cord that connects the handpiece to the base. And the tips are preinitiated, so they are ready to use quickly. With all of these features combined, my assistant can have the Gemini in my hand in less than a minute.
When I have some gingiva I need to manicure, the Gemini laser is what I need. It has been a perfect fit for me and my practice. Home run for Ultradent!