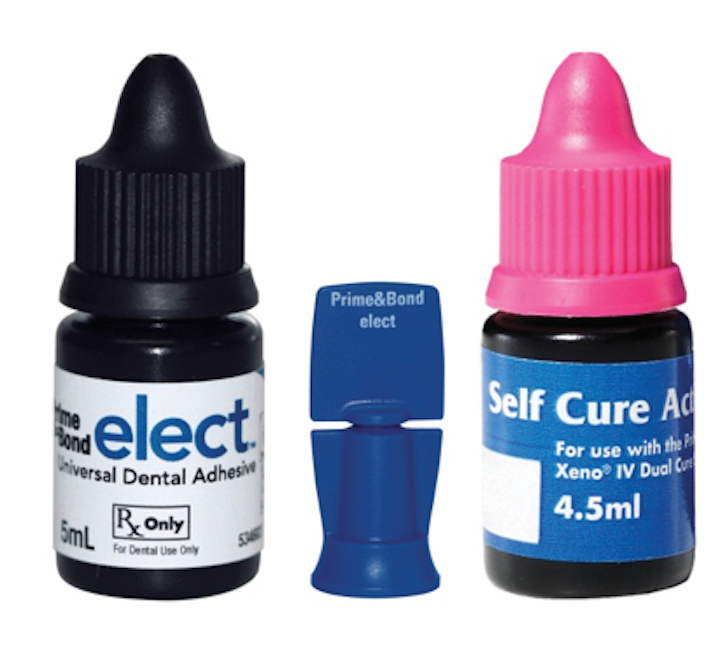 Jason Goodchild, DMD, explains how Prime&Bond Elect Universal Dental Adhesive from Dentsply Sirona functions as a one-bottle dental adhesive for total-etch, self-etch, and selective-etch techniques.

Since being described by Michael G. Buonocore in 1955, acid-etching techniques have made bonding to enamel successful.1 However, achieving consistent dentin bonding is more challenging due to factors such as microleakage, resin infiltration and penetration, hydration versus desiccation, and postoperative sensitivity. To mitigate these issues, clinicians' techniques for dentin bonding have evolved.
Clinicians are moving away from total-etch techniques involving the placement of 30%-40% phosphoric acid on both enamel and dentin surfaces (i.e., etch-and-rinse) and toward self-etch techniques in which phosphoric acid esters are contained within the bonding agent and no etchant gel is placed on the preparation.
Recently, a third bonding technique has emerged that allows for hybridization of the remaining dentin smear layer and includes phosphoric etching of exposed enamel to maximize bond strength and prevent marginal discoloration, while allowing clinicians to avoid overetching the dentin and the associated risk of sensitivity. The selective-etch technique is designed to harness the positive attributes of both techniques for improved clinical outcomes.
Prime&Bond Elect Universal Dental Adhesive (Dentsply Sirona) is designed to be a one-bottle dental adhesive, suitable for all three adhesive modes: total etch, self etch, and selective etch (figure 1). Formulated from 13 years of PENTA (i.e., the adhesive resin dipentaerythritol pentaacrylate monophosphate) technology from Prime&Bond NT, this bonding agent provides a micromechanical and chemical bond for long-term success. It is ideal in cases when the preparation is primarily in enamel and the total-etch technique is indicated; when the preparation has significant exposed dentin and a self-etch technique is warranted; and when the preparation contains both enamel and dentin indicating a selective-etch technique. Using a versatile bonding agent simplifies chairside decision making by allowing you to choose the best etching technique for the substrate you are bonding to while streamlining your adhesive inventory.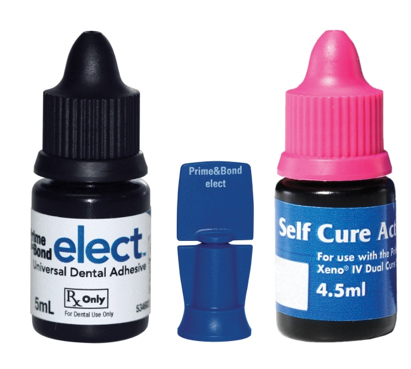 Figure 1: A screw-top bottle of Prime&Bond Elect (left), a unit dose of Prime&Bond Elect (center), and an optional Self-Cure Activator for use with dual-cure composites, in indirect applications, or in areas of limited light-curing access (right)
The following case study illustrates how Prime&Bond Elect was used with a selective-etch technique for optimal clinical results.
Case study
After completing the cavity preparation on tooth No. 29, rubber dam isolation was achieved to create an ideal working field for adhesive dentistry. Because the preparation extended into dentin but had exposed enamel margins, a selective-etch technique was chosen. Caulk 34% phosphoric acid was carefully applied to the enamel margins for 15 seconds (its thicker viscosity helps it stay where placed to prevent dripping onto unwanted areas), followed by water rinsing (figure 2).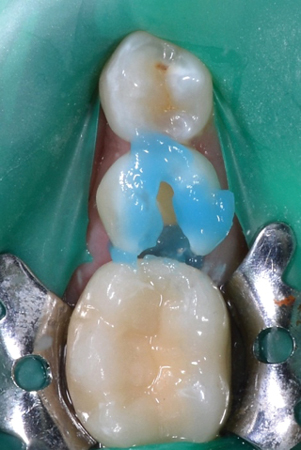 Figure 2: The selective-etch technique was used with 34% phosphoric acid applied for 15 seconds.
Prime&Bond Elect was generously applied to the entire cavity preparation, and the material was agitated for 20 seconds (figure 3). The excess solvent was removed by gently drying with clean, dry air for at least 5 seconds and light cured for 10 seconds with a dental curing light. The restorative materials were applied to complete the restoration (figure 4).
Figure 3: Prime&Bond Elect was applied to the entire preparation and agitated for 20 seconds.
Figure 4: The completed restoration on No. 29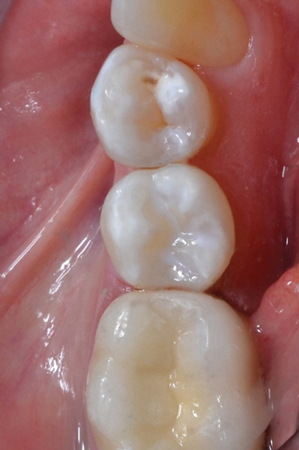 The final radiograph of No. 29's distal and occlusal surfaces shows no evidence of the adhesive layer, thanks to the low film thickness of Prime&Bond Elect, which helps to ensure excellent cavity adaptation and prevent black lines on radiographs that could be misdiagnosed as voids or recurrent caries (figure 5).
Figure 5: The final radiograph of the completed restoration on No. 29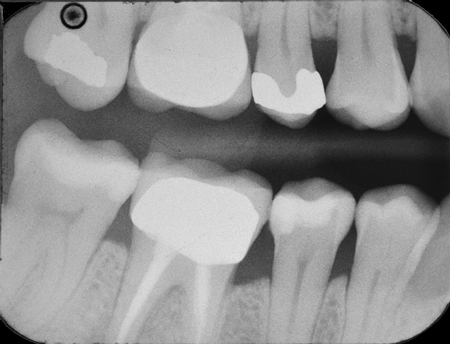 RELATED | Class II dental restorations: Work harder or work smarter
Reference
1. Buonocore MG. A simple method of increasing the adhesion of acrylic filling materials to enamel surfaces. J Dent Res. 1955;34(6):849-853.
---
Jason Goodchild, DMD, received his dental training at the University of Pennsylvania School of Dental Medicine, where he holds a faculty position as a clinical associate professor in the department of oral medicine and is currently associate professor and chair of the department of diagnostic sciences at Creighton University School of Dentistry. Dr. Goodchild is a research dentist at Dentsply Sirona Restorative, and he is involved in educating dentists about new materials and techniques to improve clinical practice. He has published numerous articles and lectures on a variety of topics, including treatment planning, treatment of medically complex patients, restorative dentistry, pharmacology, and emergency medicine in dentistry.