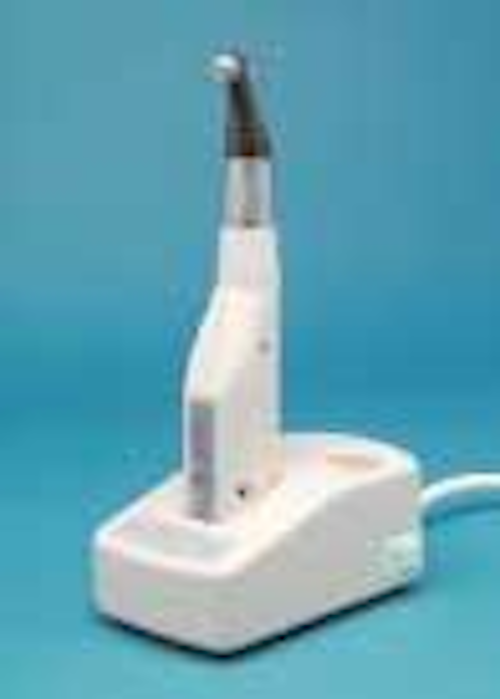 Quick, easy, and precise
By John W. Farah, DDS, PhD
The editors of THE DENTAL ADVISOR™ proudly bring you the "Shared Secrets" column. Every other month, we will feature dental products and equipment that have received top ratings in THE DENTAL ADVISOR™. Take your practice to the next level with the help of our "Shared Secrets."
Tri Auto ZX
J. Morita USA, Inc.
(800) 831.3222
www.jmoritausa.com
+ + + + + / 96%, Vol. 19-5
Editors Choice — Equipment
Tri Auto ZX is an excellent cordless, endodontic instrument that incorporates a rotary handpiece with an apex locator. It performs three distinct functions: measures the length of root canals using the apex locator, shapes and cleans canals while monitoring the file's position in the canal, and flares and prepares the upper portion of the canal with increased taper instruments. Rotation is 280 +/- 50 rpm, the recommended speed for nickel-titanium files. A reverse position switch on the handpiece, set at the desired working length, automatically stops the file and reverses the handpiece rotation. Rotation also is reversed automatically when too much pressure is applied to the file. Locating the apex is easy and accurate and attaching leads to files and patients is efficient.
Tri Auto ZX received high ratings for its success in combining numerous functions in one device.
LuxaCore Automix Dual
Zenith/DMG
(800) 662.6383
www.zenithdmg.com
+ + + + + / 97%, Vol. 19-5
LuxaCore Automix Dual is an excellent radiopaque, dual-cured, composite core material dispensed from automix cartridges. It is available in either a blue or natural (A3) color. It is compatible with two-bottle primer/adhesive bonding systems but should not be used with single-bottle bonding agents.
Clinicians are unanimous in their praise of the easy-to-use automix gun. They also find the direct application very useful. The working time of 90 seconds is adequate, as is the setting time of five minutes for self-curing or 40 seconds for light-curing. The set material cuts well and allows for quick and easy tooth preparation.
NUPRO
DENTSPLY Professional
800.800.7202
www.dentsply.com
+ + + + 1/2 / 93%, Vol. 19-5
NUPRO is a highly recommended prophy paste available in three new flavors: Zinnamon, Cookie Dough, and Razzberry. The complete line now includes 10 flavors available in fine, medium, and coarse grits.
NUPRO has a smooth consist-ency, very good stain removal capability and rinses well from the teeth. Patient response to the new flavors is very good, and hygienists appreciate having a selection of flavors to offer their patients.
Note: For information on the "Shared Secrets" lecture seminars or to subscribe, write THE DENTAL ADVISOR™, 3100 W. Liberty, Ann Arbor, MI 48103, by phone at (800) 347-1330, email: info@dentaladvisor.com, or visit www.dentaladvisor.com.
John W. Farah, DDS, PhD, an editor of THE.DENTAL.ADVISOR™, maintains a full-time dental practice in Ann Arbor, Mich., and lectures internationally on dental products, materials, and equipment. John M. Powers, PhD, an editor of THE.DENTAL.ADVISOR™, is a professor of restorative dentistry and biomaterials at UT Health Science Center at Houston. He also is director of the Houston Biomaterials Research Center.