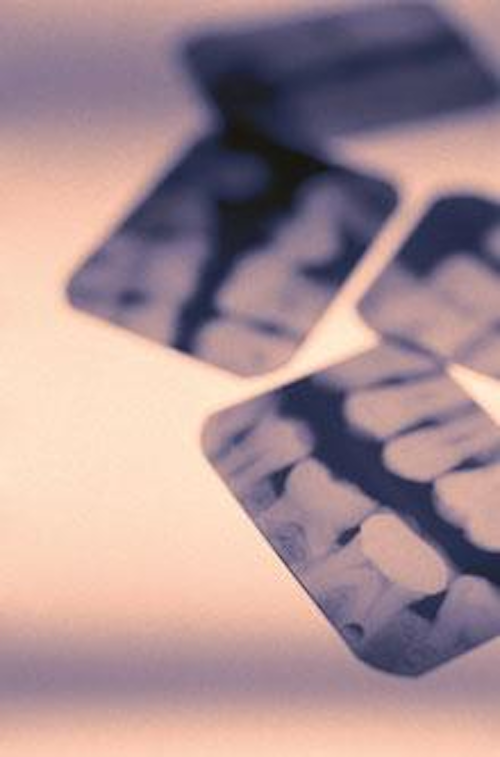 by Jeff Dalin, DDS
There's no reason not to use digital radiography in your practice. It's safe, easy, and more affordable than ever before!
Most of us are familiar with the features and benefits of digital radiography such as less radiation to your patients, instant on-screen images, rapid and superior diagnoses, image enhancement capabilities, improved patient education and acceptance of treatment, total elimination of darkrooms and its chemicals, easy image sharing with other dentists, improved efficiency, and cost savings.
Most of us also know many dentists who have been reluctant to make the switch from film to digital. Maybe you are one of these dentists! Given the proven advantages of digital radiography over film, it may be that myths surrounding digital technology are preventing some of us from bringing our practices into the 21st century.
Let me try to clear the air by dispelling the myths about this wonderful new technology.
1. Digital radiography equipment costs too much. One of the most commonly overlooked facts about film X-ray technology is that there are ongoing costs for consumable supplies, including film and processing chemicals. Another often overlooked cost of film X-rays is wasted staff time. Since taking and processing film X-rays eats up tremendous amounts of staff time (as much as 15 hours a week if your office takes 50 film X-rays daily), you may well be losing revenue to the tune of $10,000 per year by not converting to digital radiography. Those wasted hours your staff spends waiting for film X-rays to develop are costing you money and eroding staff morale. The bottom line: You can lease a digital X-ray system for $4,000 to $5,000 a year. You will more than make up that cost through the savings and increased revenues you realize by jettisoning your outmoded film X-ray equipment. Digital radiography is very affordable technology. Myth No. 1 is dead.
2. Digital radiography prices will drop in the next year or two. Costs for digital radiography have been falling steadily since it first appeared more than ten years ago. At that time, the cost to purchase a system was in some cases as high as $30,000. Today you can purchase a digital X-ray system from the leading vendors for about $12,000. Several vendors have commented to me that prices will not go down in the short term. More importantly, you need to consider the cost to benefit ratio. With the enormous increases in the features available with digital X-ray technology, combined with significant reductions in lease and purchase prices, there is no better time than the present to make the switch to digital radiography. Myth No. 2 is dead.
3. Digital sensors are uncomfortable for patients. Among the most important factors any dentist must consider is the comfort of his or her patients. A properly trained staff person can take any image with a sensor as easily as they can with film, without patient discomfort. Many of your patients complain about conventional film so you will find no difference in how your patients react once you change to digital radiography. Sensors have been made smaller, thinner, and some with rounded corners. Patients love digital radiography. They love seeing images of their teeth appear instantly on a computer monitor and love the reduced radiation exposure. Myth No. 3 is dead.
4. The image resolution of digital X-rays is not equal to that of film. Digital radiography, because it has the capability to enhance and enlarge images and to use color, brightness, and contrast to improve the "readability" of images, represents a tremendous advantage over film technology. Again, one key issue here is patient acceptance. And I can tell you that because I can enhance images and effectively use them to educate my patients about the need for treatment, I am actually gaining the advantage of much higher resolution — one of the primary reasons to switch from film to digital. Don't talk line pairs per millimeter to me. This is techno-jargon that I do not need to hear about. Myth No. 4 is dead.
5. My patients are used to film and will not accept digital technology. Once patients see the extraordinary digital images my system can produce, they are quickly won over. And they understand the benefits of reduced exposure to radiation which digital radiography offers. Myth No. 5 is dead.
6. Digital radiography technology is difficult to integrate with other existing technologies. The key to understanding why this need not be a concern is found in the term, "link." A link (sometimes called a bridge) is a small software program which enables systems from different manufacturers to work together. The best digital radiography systems allow you to seamlessly integrate their images and information with other systems on the market. Simply be sure that the system you choose can "link" among all the other digital radiography and practice management software on the market. The Dental Informatics Committee of the ADA has been working hard to develop uniform standards to permit the systems of different manufacturers to work together. The new buzzword for the future will be "interoperability." Myth No. 6 is dead.
7. Digital radiography equipment is too complicated for staff to use. In fact, one of the selling points of digital radiography is its ease of use. My dental hygienists and dental assistants could not be more pleased with our digital radiography system. They tell me repeatedly that our office could never ever go back to using film again. I have no doubt that you will hear comments like these when you convert to digital radiography. We typically spend less than 30 minutes training temporary or new employees in the basics of using our system. That fact is testimony to the ease-of-use of digital X-ray technology. Myth No. 7 is dead.
8. I won't be able to include digital X-rays when I submit electronic insurance claims. The fact is that digital radiography is the only technology that will enable you to take advantage of the tremendous improvements in efficiency associated with the electronic processing of insurance claims. The best systems will automatically organize digital X-ray image files so that they can be easily attached to electronically submitted claims. It is also now possible to include digital X-ray images and photographic images as part of electronic claims documents and in letters to patients and fellow practitioners, so that the images actually appear in the documents themselves. Myth No. 8 is dead.
9. Digital radiography makes dentists more susceptible to violations of HIPAA patient confidentiality standards. The Health Insurance Portability and Accountability Act (HIPAA) of 1996 spells out very clearly the guidelines for patient confidentiality where the transfer of digital, or computer-based, medical and dental records are concerned. One of the issues addressed was the fact that digitally encoded patient information, including X-rays, might inadvertently be shown on a computer monitor to people not authorized to view it.
Routine security procedures are all that are required to insure that HIPAA standards are met. Just as you would never show a patient's film X-rays to anyone besides the patient, you would also never display on a computer monitor the digital image of a patient's X-rays to anyone else. You merely need to keep your monitors out of the sight of your patients unless you are viewing their images. Common sense is enough to ensure you are never in violation of HIPAA standards. Myth No. 9 is dead.
10. I won't be able to write off expenses related to digital radiography lease or purchase because I've already used up my $25,000 Section 179 deduction. In case your accountant or attorney has not made you aware of this, let me be the first to inform you. The previously scheduled $25,000 deduction for Section 179 expenses has been significantly increased to $100,000 for 2003. If this is the only thing stopping you from going digital, this barrier has now been lifted. Myth No. 10 is dead.
Digital radiography can have a huge impact in all areas of a dental practice. You need to think about all of these different uses of this technology to prove its usefulness:
— Dental hygiene: Digital radiography will save your hygienist five to 10 minutes of developing time from conventional film. This will free that person up to provide more treatment or educate their patients.
— Emergency dentistry: How many times does a patient come into your office with vague symptoms? You take a radiograph in an area you suspect and find nothing out of the ordinary on that film. You then must start over by taking a second or third radiograph of other areas. Imagine the time saved when the image immediately appears on your computer monitor. Imagine the time lost when the conventional film does not get a complete view of the apices of the teeth or overlap has occurred. These frustrations disappear with digital technology.
— Endodontics: One area of frustration in performing endodontics is getting good quality radiographs in very short periods of time. Frequently multiple films are taken while determining canal location and lengths. You can imagine how much time you can save if these images appear immediately on a monitor. This often will save 10-20 minutes off of the length of an appointment.
— Crown and bridge: With digital radiography you will be able to check the fit of new crowns, bridges, posts, and implant impression copings and abutments. Conventional films are often omitted for the sake of time savings.
— Periodontics: With digital radiography and the ability to enlarge images and invert images, I have found it much easier to discuss bone levels with patients with periodontal problems. It is also easy to show progression of bone loss by showing a series of successive images on one screen at one time.
— Consultations: It is much easier to discuss diagnostic findings and case presentations when your patients are able to view and understand radiographic images. How many times have you found yourself holding a conventional film up to the light and asking the patient "if they see that dark area under an old restoration or at the end of the root of the tooth?" Of course your patient obediently nods his or her head affirmatively in order to please you ... but you know in their minds, they are saying to themselves that "they have no clue what you are showing them." When something is shown to them at 10 times the size of a conventional film, problems become much easier to visualize and explain. Your case acceptance rate will soar when this takes place.
Digital radiography is an awesome technology that helps us to deliver better and more complete treatment to our patients. After all, isn't this what you are truly searching for in your practice? Stop coming up with excuses ... stop listening to all of the myths that are floating around out there and block you from moving forward! 2003 needs to be the year that you add digital radiography to your practice.