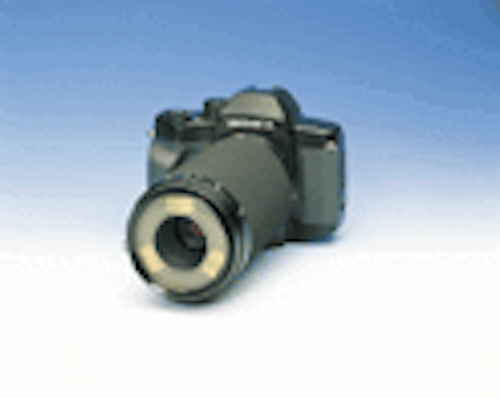 Joseph Blaes, DDS
Pearl #1 - Yashica Dental Eye III by Yashica Corporation. I have been using the Yashica Dental Eye since it first became available as the Dental Eye I years ago. If clinical photography is important to you, and you want a camera that you and your staff can easily pick up, turn on and operate, this one`s for you! We were amazed, because there was no learning curve to this camera. We unpacked it and immediately began shooting great slides. How many times have you left your camera on and put it away? The next time you use it there is no power because the batteries are dead. Not with this one! The power turns off in 30 seconds when no camera controls are used in order to conserve battery power. This camera is designed to give you the highest-quality photographs without a lot of complicated adjustments. The camera features auto film load and auto film advance, which helps when you are shooting a technique for a presentation. The Dental Eye III has a 100 mm macro lens and a built-in advanced flash system that results in much more detailed images. An LCD panel displays film counter and battery status. The viewfinder has been engineered to be brighter for easier focusing - a real plus. The automatic film rewinder operates at high speed, so there is no time wasted between loading rolls. It has a flash hot shoe that enables you to attach an optional external flash. The camera has a smaller, lighter body with an ergonomic rubberized grip, which makes it easy to hold without movement. Customer service is great! I once had a problem with my Dental Eye I. I sent the camera back, and they fixed it and returned it to me in less than a week. Call Yashica Corporation at (800) 526-0266.
Pearl #2 - Opalescence Tooth Whitening Family by Ultradent. The folks at Ultradent have come up with a great combination of tooth-whitening products that cover all the bases. There is Opalescence 10 percent that comes in a number of flavors and is applied in a custom tray for daytime or overnight bleaching, which generally takes about one to two weeks to complete. The new Opalescence F comes in a 15 percent and a 20 percent carbamide peroxide formulation with fluoride release and a tasty melon flavor. Both of these products come in a sticky, thick gel that stays on the teeth where it belongs, and both have a 20 percent water content to minimize tooth dehydration. I recently bleached my teeth with the Opalescence F 20 percent and was able to finish the process in about five days. The material was easy to dispense and did not squeeze out of the tray or burn the tissue. I hate some of the flavors used in bleaching materials, but this one has a good taste. The other products in the group are Opalescence Quick, a 35 percent carbamide peroxide designed to be used at the dental office, but the patient sits in the waiting room rather than the operatory. Recommended treatment time is 30 minutes to two hours. Opalescence Xtra is a 35 percent hydrogen peroxide, chairside power bleach, which is light-activated. You can order everything you need for tooth-whitening from Ultradent, including Sof-Tray Sheets, LC Block-Out Resin, Pocket Tray Cases, a patient-education video and marketing materials. For your sensitivity cases, use Flor-Opal, a sustained-release fluoride "sticky" gel designed to be used in the bleaching tray. It works great! Call (800) 552-5512 to place your order.
Pearl #3 - The Tri Auto-ZX by J. Morita. Imagine an endodontic handpiece that also will locate the apex. Then imagine that it is cordless, and you have the new Tri Auto-ZX from the people who brought you the highly successful and accurate Root-ZX apex finder. This low-speed endodontic handpiece, when combined with the Root-ZX, enables the clinician to monitor the root canal electronically before, during and after instrumentation. This handpiece has three automatic functions that are significant improvements and which eliminate the need for a foot control. First, the handpiece automatically starts when the file enters the canal and stops when the file is removed. Second, the handpiece automatically stops and reverses the rotation of the nickel titanium file when too much pressure is applied. And third, the handpiece automatically stops and reverses the rotation of the file when the tip reaches a distance from the apex that has been preset by the clinician. An LED control panel on the handpiece monitors the position of the file tip during root-canal shaping and cleaning. The handpiece will shut off automatically after three minutes if not in use to conserve battery power. Call J. Morita at (800) 752-9729 for more details.
Pearl #4 - "Enhance Your Smile" by The Seltzer Institute. My good friend, Steve Seltzer, has put together a great booklet that you can customize for your own office on "Cosmetics in Dentistry." If you have a cosmetic practice or if you are contemplating adding cosmetics to your practice, take a look at this booklet. Steve has done a fine job of covering all the procedures and materials in a very slick-looking, appealing style that will attract and educate your patients. This becomes both a brochure and consumer`s guide and certainly will help build your cosmetic practice. This booklet can accelerate recognition, instill confidence, stimulate interest and motivate people to ask you about cosmetic dentistry. Call Steve at (800) 229-8967, Ext. 103.
Dr. Blaes has a general practice in the St. Louis area. He is known for his expertise in dental materials and techniques and his innovative systems designs. He writes and lectures on "How To Increase Productivity and Profitability." He may be reached at (314) 434-6808.
Pearl 1
Pearl 2
Pearl 3
Pearl 4