3M Xerostomia Relief Spray
Most of the difficult high-caries-risk patients in my office have something in common: xerostomia. Xerostomia affects millions of Americans every day. It wreaks havoc on our patients' mouths and lives. It also wreaks havoc on our dentistry.
In my practice, we fight to find xerostomia solutions for patients almost every day. No two patients will have the same needs, so we need to have an array of solutions. 3M Oral Care's new Xerostomia Relief Spray is an excellent addition to your arsenal of weapons to treat dry mouth.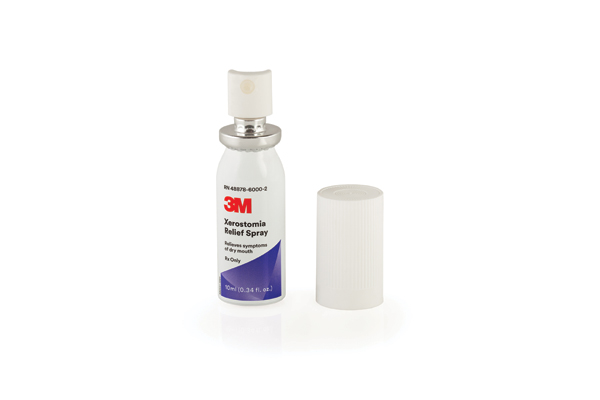 Xerostomia Relief Spray is convenient and discreet. Packaged in a small, durable vial, Xerostomia Relief Spray is easy for your patients to have on their person at all times. With a couple of quick sprays, they will experience xerostomia relief for up to four hours. The spray quickly coats the oral mucosa, tongue, and throat for maximum relief. This is a prescription product, so you will need to write a prescription for the patient. In one clinical study, 92% of xerostomic patients saw an improvement of their dry mouth symptoms while using Xerostomia Relief Spray.1
When combined with other 3M preventive products, such as Vanish fluoride varnish, Clinpro 5000, and TheraMints, Xerostomia Relief Spray can be an integral part of a patient's therapeutic regimen. Given the ease of use and the effectiveness, compliance should not be an issue. It is recommended that patients use two sprays three to four times a day, although it can be used as often as needed. Used as recommended, the 10 mL vial should be a one-month supply.
To order Xerostomia Relief Spray for a patient, simply download a prescription form from the 3M website and fill it out. Send that in to Transition Pharmacy, and they will take care of the rest. The Xerostomia Relief Spray will be delivered directly to the patient.
In-field base hit for 3M Xerostomia Relief Spray!
Reference
1. Mouly S, Orler JB, Tillet Y, et al. Efficacy of a new oral lubricant solution in the management of psychotropic drug-induced xerostomia. J Clin Psychopharmacol. 2007;27(5):437-443.
GC Pliers by GC America
Between assisting in college, dental school, and various associateships, I have seen a lot of tray setups. Almost every fixed prosthodontics insert tray I have seen has had the exact same stuff on it.
Among the instruments on every crown insert tray I have ever worked on is a pair of hemostats. For some reason, it has been decided that hemostats are the instrument of choice for removing provisionals. I have to be honest here . . . that was a dumb decision.
Hemostats are horrible for removing crowns. They don't grip crowns well with the teeth on their working surfaces. They can easily break provisionals. They can also potentially damage some porcelain restorations. Hemostats belong on a surgery tray, not on an insert tray. Replace the hemostats with a set of GC Pliers. Once you do, you will never want to pick up a set of hemostats again.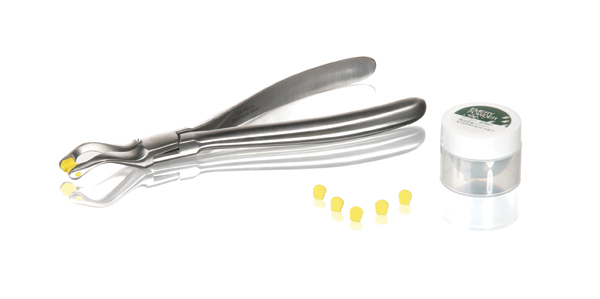 GC Pliers are well-constructed stainless steel forceps designed to easily remove and handle indirect restorations. The working ends are rasped, so they grab onto restorations well. But it doesn't end there—a package of rubber tips is included with the GC Pliers. These yellow rubber tips snap onto the working ends of the pliers and give some cushion and grip to them. In addition, a small jar of emery powder is included.
In my practice, we use the bare, rasped ends for everyday removal of provisional restorations. They grip well and rarely cause a fracture in the provisional. If we used a more resilient provisional cement, such as polycarboxylate, or if we are having trouble getting the provisional off, we throw on the rubber pads. We also use these rubber pads if we need to remove a temporarily cemented permanent restoration. The pads help protect the ceramic from scratching and damage. The final level of grip we can utilize is the emery powder. By dipping the yellow rubber tips into the emery powder, we can get a really good grip on a restoration. This is rarely needed, but it is nice to have the emery powder when we really need it.
The GC Pliers make our crown inserts easier. We break fewer provisionals. We fight with fewer provisionals. In the instances we need to cement a ceramic restoration provisionally, we don't have to worry about damaging it when we take it off. Sometimes we use them to insert or remove posts. Sometimes we use them to insert or remove implant abutments. We literally use the GC Pliers all the time.
It's time to retire the hemostats. You won't be sorry to see them go. Line-drive single up the middle for GC America's amazing pliers!
Activa Bioactive Restorative
by Pulpdent
Dentistry is hard. I feel like I have opened with that same line in probably a dozen Pearls, but the fact remains true. Dentistry is a really difficult profession. We restorative dentists are asked to do so much for our patients. Our restorations are asked to succeed in the toughest of conditions. We fill dark, wet, bacteria-filled holes with materials that don't like moisture, require light to cure, and attract biofilm like a magnet. It is no wonder that direct restorations fail seven to 12 years after placement. When they do, we feel bad about ourselves and beat ourselves up. What else was going to happen? The oral environment is a cruel place.
The answer to these problems could be amalgam, but we all know that amalgam has left the stage and will never return for an encore. Dentistry as an industry has known for decades that traditional resin composites alone would not be able to adequately replace amalgam, but we have yet to deliver other reliable options. I have often wondered what material would help us with the challenging needs we have for direct restorations. I may have found an answer in Activa Bioactive Restorative by Pulpdent.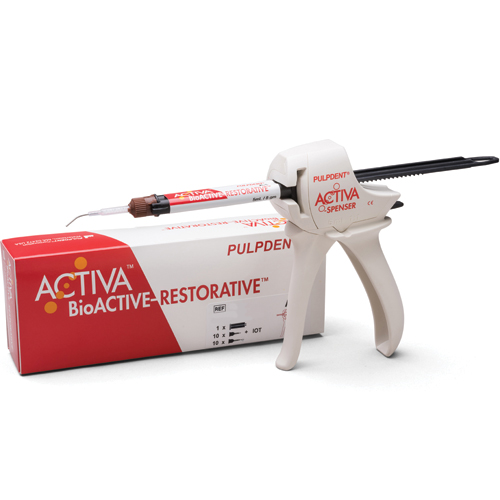 When I first heard the name Activa a few years ago, I assumed we were talking about yogurt and just let it go in one ear and out the other. However, recently a colleague was talking about Activa and told me I needed to pay attention. I ordered some to try the next day and have been very impressed with it. There are several products in the Activa line, but this will just cover the restorative material.
From a nomenclature perspective, Activa is a compomer material that is deemed to be bioactive. "Bioactivity" is obviously one of the biggest buzzwords in all of dentistry. According to dental materials wizard Jack Ferracane, PhD, of Oregon Health & Science University, a bioactive material must interact in a positive way with its environment. Activa aims to do that by releasing and recharging calcium, phosphate, and fluoride ions. The purpose of this is to reduce microleakage by forming a layer of apatite between the material and the tooth. If we inhibit microleakage, we promote success of the restoration.
Activa is delivered similarly to resin composites. Etch and bond with your adhesive of choice, then place Activa like you would place resin composite. Activa has a viscosity similar to a thicker flowable composite. It runs, but it's not too thin. Data shows wear resistance, compressive strength, and flexural strength similar to resin composites.
Feel free to put this on occlusal surfaces. You could also use this as a liner and cap it with a traditional composite, if you wanted to. According to Pulpdent, 10% of Activa users do just that. I have been using it in all situations—Class I, Class II, and Class V. I have also used it as a core buildup material. Its dual-cure properties help for that application. Four shades are available for Activa Restorative (A1, A2, A3, A3.5). It's an esthetic material for posteriors. I have used it in the anterior, but only for lesions that did not break through the facial enamel. I have no clinical experience restoring facial surfaces of anterior teeth with Activa, so your mileage may vary for that application.
For the past six months, I have had great clinical results with Activa. I understand that six months is not 16 years, but during this time, I have had little to no sensitivity, no debonds, and no fractures of the Activa. I have used Activa in many different situations and have had nothing but success so far. I love the idea of using a material that fights microleakage and provides a positive benefit to the tooth I am restoring. Bioactivity will continue to grow and evolve as dentistry moves forward. Activa can bring bioactivity into your practice today. Two-run home run for Activa and Pulpdent!