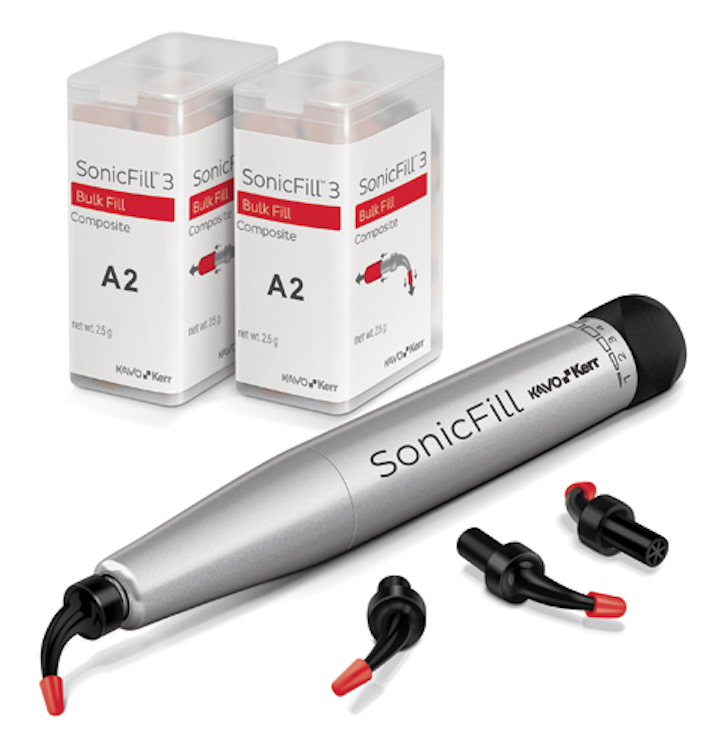 SonicFill 3 composite system by KaVo Kerr
Have you ever been at a dental meeting and seen a new product that you wish you would have come up with? That's how I feel about SonicFill. Several years ago, I was at Chicago Midwinter, and I saw KaVo Kerr's SonicFill for the first time. I immediately thought, "Hey, I had that idea!" Well, I had at least a rudimentary version of it. I have always thought that a device to help us inject composite into a preparation with uniform air-driven hydraulic pressure would be a good thing. Since its debut, KaVo Kerr has continued the innovation with SonicFill, making it one of the most popular posterior resin composite solutions in dentistry.
SonicFill 3 is the newest iteration of resin composite material made for the SonicFill handpiece. The great news is that any SonicFill handpiece will work with this material. No new hardware is required. SonicFill 3 composite material is a true bulk-fill material. With a 5 mm depth of cure, you will be able to use a single-increment approach for most restorations. In the event that a preparation is deeper than 5 mm, you will need a second increment. KaVo Kerr has found a great combination of monomers that reduce polymerization shrinkage to a minimal amount, so you can trust that everything will fully cure.
KaVo Kerr has improved its SonicFill material in a couple of different ways. This generation of composite has better adaptation and handling compared to previous versions. What sets this composite apart is its almost bipolar nature. As the handpiece is activated and sonic energy is applied to it, the material behaves like a flowable composite. This is where the better adaptation comes into play. The material fills in all the nooks and crannies of the prep. As soon as the sonic energy is no longer applied, the material handles more like a sculptable composite. This is where the better handling comes into play. Now that the nooks and crannies are filled, you can sculpt the material for the occlusal anatomy and shape you need.
The best part about SonicFill is what your restorations look like on bitewings in recall. Seeing densely filled restorations with no air or voids on a radiograph is great. I like that KaVo Kerr has established a pattern of continuously innovating and improving its SonicFill materials. That gives me reassurance that the equipment I invested in will continue to be relevant and pay dividends. SonicFill 3 is comparable in price to previous iterations and is available from all the same places. Double to the right field corner for KaVo Kerr and SonicFill 3!
CoMax composite dispenser by AdDent
I have always been an advocate for investing in quality for products you use every day. That might be the perfect pair of comfortable, stylish dress shoes, the perfect navy sports coat, or even a great television set that you settle down in front of in the evenings. I have no problem investing in things I use every day. The same goes for the dental practice. There are things we use daily, and there are things we use maybe just a few times each year. Find bargains on the products you use sporadically. For those that you use daily, get stuff you like.
Recently I found myself annoyed with many of the composite guns in my practice. Most of them were freebies from dental meetings. All of them were made of cheap-feeling, flimsy plastic and did not securely hold a compule of composite. After being annoyed and frustrated somewhere around 1,000 times, I decided to invest in a quality composite dispenser. The CoMax from AdDent was the one I chose.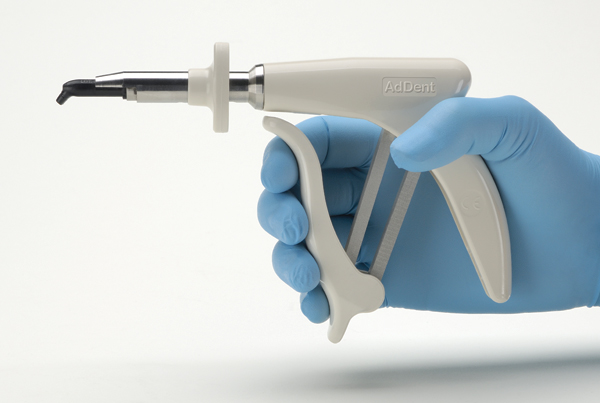 The CoMax composite dispenser is the polar opposite of the crappy plastic giveaway dispensers. The first thing you will notice is how solid the CoMax feels in your hands. It has a comfortable, reassuring weight to it. This is not to say that it feels heavy—but more like it is well constructed and durable.
One of my main annoyances with all the other composite guns in my office was how easily a compule of composite would fall out or lodge itself in an unusable position. The plunger on most plastic composite guns doesn't actually hold the composite in place. On the CoMax, the compule is held firmly in place with no way to wiggle or fall out. With a quick pull on the neck, the spent compule can be removed and replaced with a fresh one. The mechanism for this is well designed, easy to use, and secure. It can even be done with one hand.
The trigger on the CoMax is designed to allow for easier dispensing and is very ergonomic. It also allows you to fully express the entire contents of a compule. Many of the lower-quality dispensers tend to bottom out and leave unused material in the compule. Composite is expensive! I don't love the idea of throwing a lot of it away.
This dispenser is fully autoclavable, and quite frankly, it can take a beating. Instead of having 10 plastic dispensers, we have four CoMax dispensers. They have held up immaculately in spite of heavy use, and they show zero signs of wear and tear.
I didn't know how much I needed a quality composite dispensing gun. It was not until I used a CoMax that I knew what a difference it could make. Give a CoMax a try and you won't go back. Line-drive single to left field for AdDent!
Bluephase G4 LED curing light by Ivoclar Vivadent
I have a confession to make. It weighs heavy on my heart. It hurts to admit this to a public audience, but confession is the first step to healing. I have committed a great sin. Sometimes I text and drive. I know—it is awful. I shouldn't do it. I have tried to quit, and nothing seems to work. Since I know myself too well, I decided to look into other options to try and atone for this.
I started looking for a new vehicle that would at least make it somewhat safer for me to do what I knew I would do anyway. I ended up getting a 2018 model SUV that has several safety features. It has Apple CarPlay, so I can text with my voice. It has a pre-sense feature that alerts me and stops the car to avoid collisions. It also has a lane-assist feature that vibrates the steering wheel and beeps if I start drifting out of my lane. All of these features have made me a better and safer driver, while giving me safe access to my phone.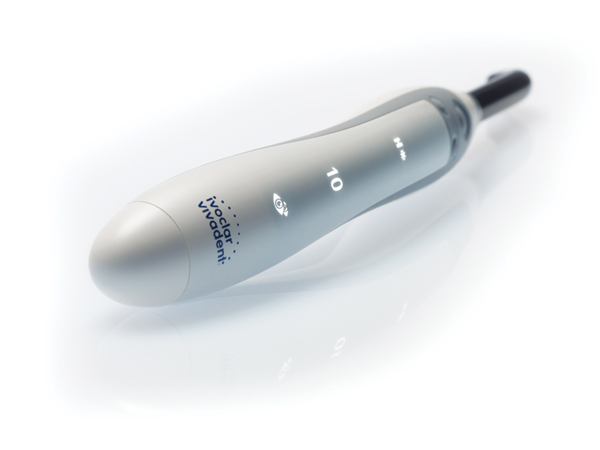 Wouldn't it be cool if this kind of technology could be incorporated into dentistry? Some of it already has been. The Bluephase G4 curing light is the newest curing light from Ivoclar Vivadent. Polyvision, its equivalent of the lane-assist feature, ensures good curing at all times. Polyvision makes sure you are curing effectively and alerts you if it detects a deviation.
We know that modern bonded materials need to have the curing light held as close to them as possible to get a full cure. Unfortunately, sometimes we get a bit lazy or distracted and end up drifting away from the area we are curing. Polyvision can help us overcome this. First, it vibrates to alert you if the head of the curing light starts to drift away from the tooth. Then it automatically extends the cure time by 10%. If the Bluephase G4 drifts far enough from the tooth, the light will turn off, forcing you to cure the tooth again. Genius! Insufficient curing leads to failure in restorations. We should be taking these kinds of precautions to make sure we are properly curing our restorations.
The Bluephase G4 has an output of approximately 1,200 mW/cm2, which is sufficient to cure all types of restorative material on the market today. It has a broad spectrum of light as well, which is necessary for a curing light in 2019. The 10 mm light guide allows a whole tooth to be cured in one shot, which is an improvement over smaller light guides on previous models. The Bluephase G4 also has excellent ergonomics and feels great in the hand.
Just like staying alert while driving, we need to stay alert while curing. Curing is a vital step in the restorative process, and drifting even a couple of millimeters off the tooth will affect the long-term stability of the restoration. Now, let me text Chris Salierno about how great this curing light is on my way home from the office. Solo home run for Ivoclar Vivadent on the Bluephase G4 curing light!