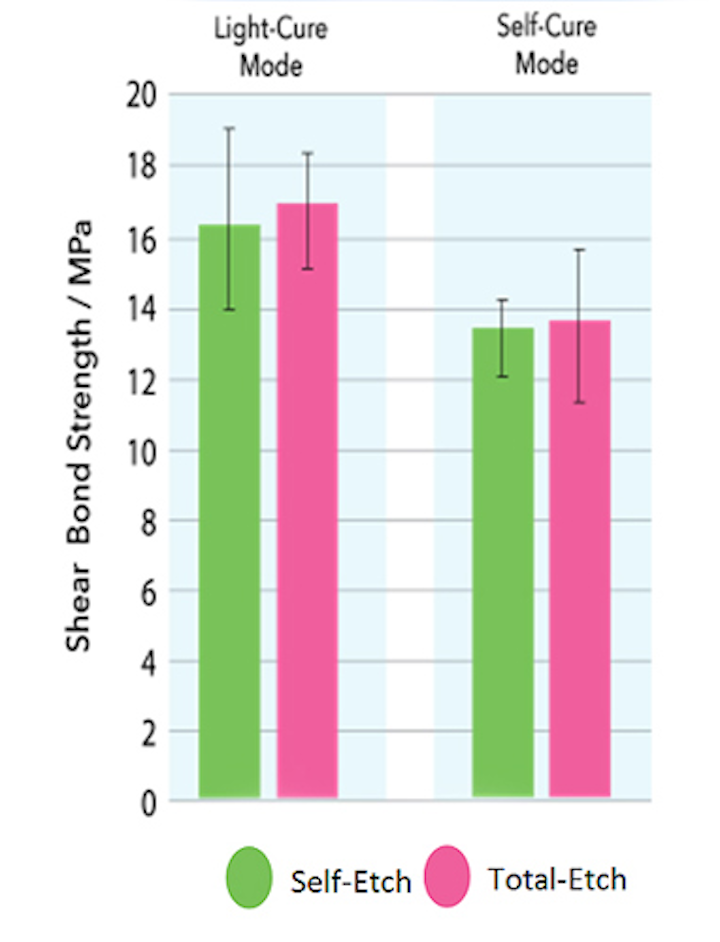 Dental materials have shifted over the past decade from what had traditionally been used for many years. Metal-based restorations are declining in use and being replaced by ceramics and resins for fixed-prosthetic applications. Additionally, when restoring endodontically treated teeth, metal-based posts (cast and prefabricated) have predominantly been replaced by fiber-based posts. This shift in materials has created some challenges with luting the post or restoration to the tooth structure. What was used in the past is contraindicated with these newer materials. Some clinical applications require bonding the restorative material to the tooth. This cannot be achieved with traditional cements, such as zinc polycarboxylate, zinc phosphate, and zinc oxide eugenol (ZOE). These cements do work well with metal, but they do not achieve an adhesive bond to the crown or tooth structure that is found with resin-based cements.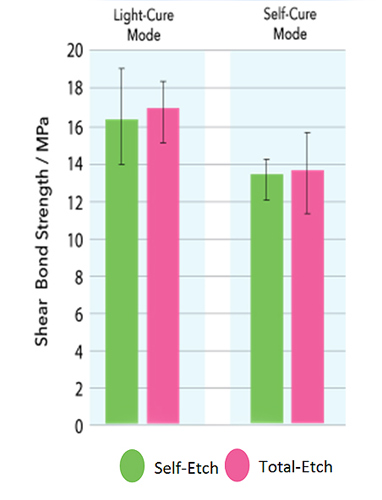 Figure 1: EsteCem II Shear bond strength to dentin comparing light-cure to self-cure modes (Kurokawa, Miyazaki, et al. Nihon University, The 145th Meeting of the Japanese Society of Conservative Dentistry, 2016)
Dual-cure resin cements have become the go-to, as they work with multiple substrates and allow one to limit how many different materials are needed to provide restorative care. The key to using this type of cement is moisture control. Whereas traditional cements and glass ionomers will tolerate some residual fluid on the preparation, resin cements—as with all bonding procedures—require a relatively dry field to adhere properly. We do not want the tooth desiccated, but no pooled moisture is ideal to achieve the desired adhesion. An additional benefit to this class of cements is their dual curability. This quality allows us to light cure what can be visualized (crown margins), and the resin cement that is not accessible to the light will undergo self-cure, ensuring that no cement is left uncured.
This is particularly important in two commonly encountered clinical situations. When metal- or zirconia-based restorations are being luted, no light can penetrate the majority of the restoration (metal-based crowns), or light levels may not be adequate to fully cure a light-curable-only resin (zirconia crowns). Also, when luting a post into an endodontically treated tooth, light will not be able to reach any resin below 4 mm to 5 mm from the top of the visible tooth. This will potentially cause the post/core to dislodge under function, because the apical portion was not cured.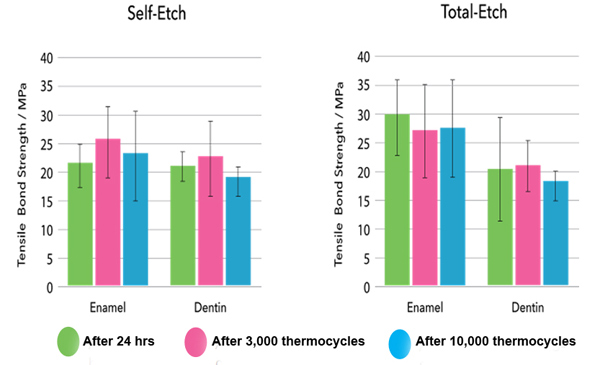 Figure 2: EsteCem II comparison of tensile strength of self-etch versus total-etch on enamel and dentin over periods of time (Data courtesy of Tokuyama R&D)
Dual-cure resin cements allow the practitioner to light-cure the occlusion and the margins that are accessible to the light, while also allowing the remaining cement to self-cure. I am currently using EsteCem II (Tokuyama Dental America, Inc.) in my practice, as it exemplifies the key features I'll be discussing. The cement demonstrates similar shear bond strengths in self-cure and light-cure mode (figure 1). The nearly equal bond strength allows flexibility between light permissible (lithium disilicate) and nonlight permissible (zirconia) restoratives as previously mentioned.
When we compare self-etch versus total-etch with regard to tensile strength over time (thermocycling), we find that there is some difference in the results for these two techniques on enamel and dentin (figure 2). Etching only affects adhesion to enamel, increasing it to provide a better bond. Under a self-etch technique, we observe similar tensile strength between enamel and dentin, but with thermocycling a drop in tensile bond strength is not observed. When a total-etch technique is used, as is expected, we observe a higher tensile strength on enamel with no changes on dentin compared to a self-etch technique. Again, thermocycling did not lower the tensile strength observed initially after bonding, which has been reported in other resin cements. It is accepted that adhesive resin cements bond well to tooth structure; the question is, how well do they adhere to various restorative materials?

EsteCem II may be light-cured at the margins for 2–4 seconds (left). Then, an instrument is used to remove marginal excess resin cement (middle) and allow the cement under the crown to self-cure to complete the restoration insertion.
When luting a post into an endodontically treated tooth during restoration, a universal bonding agent (Tokuyama Universal Bond, Tokuyama Dental America, Inc.) is applied with a microbrush to the post (fiber or metal) in place of a fibrous or metal primer. Then, using intracanal tips, the resin cement can be injected immediately into the post preparation, and the post is seated. When a core resin is also needed to complete the core buildup, it is recommended that it be injected around the coronal portion of the post immediately following post insertion to allow the materials to cure together. This intermixes the interface between the resin cement and core resin to achieve a stronger bond than may result if the resin cement were cured prior to placement of the core resin.
One of the most aggravating issues we deal with clinically is marginal staining due to beverages and foods that our patients consume. Staining can change beautiful restorations that patients are very happy with into ones they complain are "getting dark by the gums." I recommend a highly hydrophobic resin, such as EsteCem II, that does not contain a hydrophilic acidic monomer. This hydrophobicity provides low water absorption with less risk of marginal discoloration, making it stain-resistant and having minimal color shift over time. This compares favorably to self-adhesive resin cements that can contain hydrophilic acidic monomers throughout the entire cement layer 50 µm to 150 µm, increasing susceptibility to marginal discoloration (figures 3 and 4).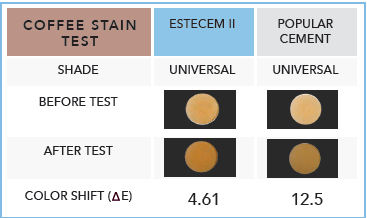 Figure 3: Marginal staining comparison due to coffee consumption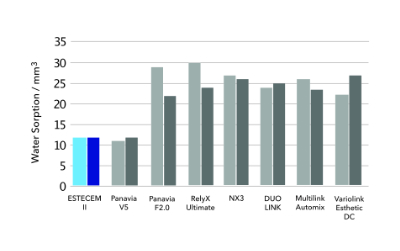 Figure 4: EsteCem II's low water absorption makes it more stain-resistant with minimal color shift over time.


Another feature of modern resin cements is their shade options. A brown shade works well when luting to darker teeth if the restoration is slightly too "bright" to match the adjacent teeth and the crown/veneer material has some translucency. A more clear shade is well suited when luting veneers and no color change is desired with the adjacent teeth, allowing the tooth's natural color to transmit through the veneer for a better blend. The author recommends use of a more white opaque when luting fiber posts, as this allows better visualization between the fiber post, resin, and dentin of the root should endodontic re-treatment be necessary in the future or the post need to be replaced. Additionally, in patients with thin gingival biotypes who are having a dark endodontically treated root restored, a white opaque helps neutralize the dark root from showing through the thin gingiva at the cervical subgingivally.