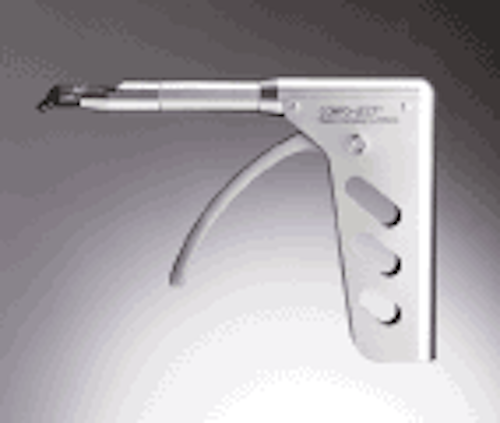 Pearl 1
COMPO-JECT™ by Clinician's Choice. Finally, a dispensing gun for composite unit-dose compules that really works! We use unit-dose compules because they're efficient, and cleanup is a cinch. But you've probably never thought much about your dispensing gun. After all, a gun is a gun ellipse isn't it? If that's the case, then why do you have to spend so much money replacing cracked, broken plastic dispensing guns?
Let's face it - plastic dispensing guns are not durable. Most are too big and bulky to fit into your hand correctly, and they are not designed well enough to secure the compule in place. These guns also force the compule tip downward during extrusion, requiring you to readjust your hand and arm angles during material placement.
Peter Jordan, the talented Canadian from Clinician's Choice, has developed the COMPO-JECT™ to solve your gun problems. COMPO-JECT™ is a unique, lightweight, metal compule dispensing gun designed for all brands of composite compules. Its ideal design allows for a comfortable grip, regardless of hand size. The gun has a locking mechanism to prevent inadvertent dislodging of the compule and a smooth, effortless trigger mechanism that helps maintain control of the compule tip during dispensing. You will be amazed at how easy it is to load and unload and how smooth the operation is.
Since the COMPO-JECT™ is all-metal, it can be sterilized with your other instruments - a great im provement in the infection-control process. This will be the last compule dispensing gun you will have to buy because it is guaranteed. If you don't like it, Clinician's Choice will buy it back. How can you lose? Another piece of plastic bites the dust!
To order a COMPO-JECT™, contact Clinician's Choice at (800) 265-3444.
Pearl 2
The V-Chair™ by DentalEZ®. With a focus on ergonomics, DentalEZ® has added another versatile chair to its product line - the V-Chair™. This new, split-back chair is flexible in design and was developed to accommodate general and pediatric dentistry, endodontics, and oral surgery.
The V-Chair™, like its sister the J-Chair®, comes equipped with the exclusive DentalEZ® seat tilt. Other dental chairs have a coordinated movement between the back and the seat that complicates the positioning of dentist and patient. The V-Chair™, however, features a unique tilt that provides optimal ergonomics for both the dentist and the patient. The chair was designed to increase efficiency for all types of dentistry, allowing flexibility of patient placement. This ensures the most comfortable working position for the patient and the dental team.
The back, seat, and base positions adjust independently, allowing precise placement of the patient. Consequently, eye, back, and neck strain are virtually eliminated, even after long procedures. A reclining chair arm and sling holds the patient's arms in proper position for better operator access. The contoured design of the V-Chair™ eliminates all obstructions from the operator's thighs and knees, allowing for a more ergonomically correct position. You can easily get your knees under the chair and be close to the operating field.
The V-Chair™ provides all of the benefits of the J-Chair® and allows the dentist to choose from a magnetic catcher's mitt, a magnetic neck support, or a double articulating headrest. The J-Chair® and V-Chair™ each have three independent movements: base up/down, back up/down, and seat tilt. The flexibility allows the dentist to position the patient in the precise position necessary to access the oral cavity without sacrificing patient comfort.
For more information on the V-Chair™ and the DentalEZ® brand, visit www.dentalez.com, call (866) DTE-INFO, or contact your DentalEZ® dealer.
Pearl 3
The Breath Wand™ OOLITT® Elite Tongue Cleaner by OOLITT® Advantage. Research shows that daily tongue cleansing is important to maintain a healthy, clean, fresh mouth. Regular cleansing can significantly reduce plaque-causing bacteria and the sources of bad breath. If your office espouses these principles and is actively engaged in recommending tongue cleansing, why not offer the best in tongue cleansers? OOLITT® is a small company that developed the original tongue cleanser.
OOLITT's® design features an adjustable, comfortable handle. The ripple edge on one side of the OOLITT® Breath Wand™ has been designed for effective cleansing. Most patients do not use a tongue cleanser because it makes them gag, but the Breath Wand™ adapts to the contours of the tongue and minimizes the gag reflex. This cleanser is suitable for adults and children, and it is ideal for smokers. Elderly patients love it because it actually increases their taste acuity.
For more information or to order, contact OOLITT® at (813) 931-0390. You will love talking to Deepty Patel!
Pearl 4
Lead-Free X-ray Apron from Clive Craig. Are you tired of lugging around a heavy lead apron? Do your patients com plain when you cover them with it? Do you have prob lems with it staying where you put it? Does it slide off halfway through the exam?
The innovators at Clive Craig have come up with an answer to these problems - an X-ray apron with a high-tech, nontoxic alloy that offers protection equal to .3 mm of lead sheeting. The apron is much lighter than traditional leaded aprons (it weighs less than four pounds) for added patient comfort and ease of handling. The gray vinyl front is durable and easy to clean, while the Scotch-guarded, lilac, corduroy backing prevents it from slipping off.
To order, call (800) 833-8267 or visit www.clivecraig.com.
Pearl Updates -
A new Composi-Tight Gold™ Sectional Matrix System from Garrison Dental Solutions is designed to make achieving broad, natural, posterior composite contacts even easier. All of the features that made Composi-Tight so effective remain, but now the G-Rings® are even stronger and more resilient. The new oval wire design provides extra strength with less opportunity for permanent deformation, and it produces more separating pressure and tighter contacts. The bands have been redesigned to wrap around the tooth for wider embrasures; this also prevents displacement during wedging and ring placement. Call (888) 437-0032 or visit www.garrisondental.com.
Panavia F Resin Cement from Kuraray America, Inc., is now available in a light shade that corresponds to the Vita bleach white shade guide. It is also available in C (tooth color), white (standard white), and opaque.
This dual-cure adhesive resin system can be used to bond to dentin and enamel. Use it for nonmetal crowns, inlays, onlays, and porcelain veneers.
Order from your dealer. For more details, call (800) 879-1676 or visit www.kurarayamerica.com.
Dr. Blaes has a general practice in the St. Louis area. He is known for his expertise in dental materials and techniques and his innovative systems designs. He writes and lectures on "How To Increase Productivity and Profitability." Dr. Blaes is a member of the American Academy of Dental Practice Administration. He may be reached at joeb@pennwell.com.