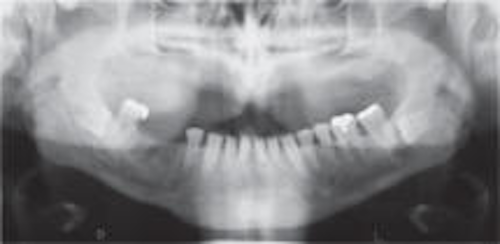 Improve patient care and boost your bottom line
by Aaron Cohen, DDS
In my 31 years of general dentistry, I often considered purchasing a panoramic X-ray unit. However, my office is small. For years, I reasoned that my practice's space constraints outweighed the potential benefits of offering extraoral X-ray exams to my patients.
About a year ago, something happened that changed my mind. I had referred a new patient to an oral surgeon, requesting an evaluation for the removal of impacted mandibular third molars. When the oral surgeon took an extraoral panoramic film, he discovered a significant radiolucent lesion, a 2.5 cm odontogenic keratocyst involving the ramus. It had been there for a long time, but the intraoral radiographic exams that had been performed in the past had missed it.
The lesson was clear: To provide the very best diagnostic care to my patients, I needed to offer routine panoramic X-rays. My experience since has confirmed that panoramic exams are critical to patient dental care. In addition, in my case, purchasing a state-of-the-art panoramic X-ray machine benefited my practice's bottom line. In fact, the system paid for itself in less than a year.
The equipment
After evaluating available panoramic X-ray machines, I selected a leading manufacturer's unit, configured without the cephalometric attachment. This unit provides a number of valuable functions. For example, its focal trough is adjustable. This area of the image, which follows the shape of the arch, is the region that is in focus on the film. Because it is adjustable, my X-rays show sharp, anatomical detail regardless of the size of the patient or width of the patient's mouth. In addition, I purchased the unit with automatic exposure control. This software adjusts the exposure automatically throughout the radiographic exam to give the best possible contrast and density. The unit's beam generator also is designed to generate undistorted images that are anatomically accurate. Because of the machine's small footprint, I was able to install it in a small room that had formerly been used for storage.
I also evaluated a number of extraoral radiographic films and chose Kodak Ektavision G Extraoral Imaging Dental Film. This high-contrast film provides excellent detail of bony anatomy, making it ideal for the type of screening my practice now supports.
I use a film duplicator to make copies of the films for referrals. I also recommend a quality automatic processor so that films can be developed quickly.
Improved X-ray screening
Panoramic X-rays provide overall diagnostic information on a dental patient. They also provide views of numerous structures, giving additional information that supplements individual periapical films. As a result, dentists who use panoramic systems can screen patients for both radiolucent and radiopaque lesions of the jaw, neck, and sinuses. Panoramic exams also are important for adolescent patients, since removing impacted or partially erupted third molars on younger patients lowers the risk of complications. Finally, the exams are useful in treatment-planning. For example, panoramic X-rays show whether there is sufficient vertical height in the maxilla or mandible, whether sinus lift procedures should be considered, or whether augmentation of bone would be required.
Today, I utilize panoramic exams routinely. Typically, my routine screening exams include a panoramic exam plus four bitewings. I perform these exams, along with a complete diagnostic examination and oral cancer screening, on all new and existing patients, following the guidelines for periodic radiographic screening exams recommended by the American Dental Association. In some cases, it is necessary to take additional periapical and bitewing X-rays to support diagnosis and treatment-planning. For example, tooth decay between teeth can be seen more clearly on intraoral films.
When my hygienist introduces the panoramic exam to my patients, they learn that the X-ray is taken outside of the mouth and that it shows the structure of the jaws, teeth, and sinuses. The hygienist explains that the X-ray can detect cysts, abscesses, tumors, impacted teeth, bone loss, and other problems that conventional intraoral X-rays may not reveal. In some cases, calcifications of the carotid artery can be seen. We also explain to our patients the benefit of reduced radiation that they receive with the panoramic exam.
We develop our X-rays during our patients' appointments and review the results with them immediately.
I have found that the process favorably impresses my patients. They appreciate that my practice offers state-of-the-art technology and that we care enough about them to screen for nondental-related pathology. Patients whose X-rays are normal often thank us for the screening. When we do find pathology, we refer the patient to a specialist for immediate evaluation.
Managing equipment costs
Recently, I performed an exam on a new patient and discovered a large cyst. It obviously had been there for a long time, but could not be clearly visualized with routine intraoral X-rays. Removing this lesion will require extensive surgery. Had it been detected sooner, treatment would be far less traumatic to the patient.
In this case, the cyst looked benign. The pathology report will determine the actual diagnosis. The possibility exists, of course, that a future patient could present with a malignant lesion. Detecting an aggressive tumor early could save a patient's life. Detecting calcifications of the carotid artery could also help a patient avert an impending stroke.
The benefits of extraoral X-ray exams, in terms of patient care, are clear. But what about the costs to the practice?
In my case, I quickly discovered that the costs were hardly prohibitive. With the help of my practice's accountant, I was able to easily finance the purchase of a new panoramic X-ray system. The unit I bought, for example, permits me to offer exams to patients in wheelchairs. This can entitle dentists to a tax credit under the Disabled Access Tax Credit provision of the federal tax code (consult your accountant). I also deducted another portion of the unit's cost as a business expense. Combined, these two deductions can reduce the actual purchase cost of the machine by about half. The balance of the cost was quickly recaptured in panoramic radiographic billings. As a result, I was able to pay for the system in about nine months.
I have found that most insurance companies will reimburse for panoramic X-rays. Many also will reimburse for the additional four bitewings that I recommend for my patients.
Installing a panoramic X-ray machine has changed the way I practice dentistry. I spent some time reviewing dental anatomy and oral pathology. I refreshed my understanding of the anatomy of the head and neck associated with the structures revealed on panoramic films.
However, once I had incorporated the panoramic exam into my practice, I began to pick up pathology right away that I would have missed otherwise. I have become a better dentist — and my patients are receiving better care.
(Note: Kodak and Ektavision are trademarks of Eastman Kodak Company.)