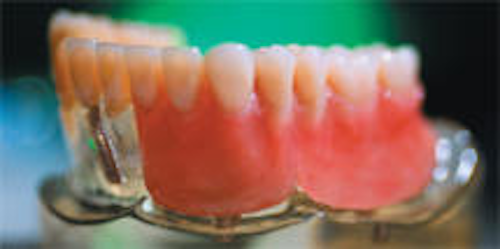 The past, present, and future of implant dentistry.
by Jean A. Sagara
Implant dentistry: The promise
The enormous growth of implant dentistry in the United States, predicted by the Wall Street Journal and other respected market sources early in the 1980s, has never been realized. Industry insiders estimate the current domestic implant market to be between 220 and 250 million dollars at the manufacturer's level. This translates to between 750 and 950 million dollars at the patient level when the dentists' fees are included.
Significantly, experts calculate that less than three percent of the market's potential has been achieved. While no precise data exist to support the claim, the findings were based on an informal analysis which considered the number of treatment options that might have had an alternative implant strategy applied.
We will examine the reasons for the disappointing growth in implant dentistry, and describe the factors that underwrite success in the view of restoring dentists and lab technicians who appreciate the benefits of it. Also, we will take a brief look at a new form of laboratory communication based on Web technology.
Why has the promise been unfulfilled?
Currently, somewhere between 15,000 and 20,000 general dentists do implants, but the 80/20 rule applies — the majority of work is done only by the few. Most dentists suggest that the reasons are not mysterious.
The stakes are high for the general dentist. First, implants are a more complex treatment modality. Second, the costs are great. Third, the effort to become skilled with ongoing training can be too difficult. Some dentists with whom we spoke were unabashed about their early and easy intimidation. "There is a fine line," one colleague acknowledged, "between wanting or needing guidance, and actually admitting that you don't know something as well as someone else might."
Dr. Charles Barotz, DDS, a successful restorative dentist from Denver, Colo., makes the case for the effort involved. In his opinion "... an essential prerequisite for implant dentistry is the desire." He went on to say, "I learned implants 10 years ago ... I started with a three-day weekend course, followed by a mini-residency at Creighton, followed by symposiums, hands-on surgical assisting ... and whatever continuing education I could find. I also have utilized manufacturer's representatives and labs for information." His commitment is revealing and illustrates what a general dentist must undertake to acquire the expertise for implant dentistry. It is not for the faint of heart.
The role of dental schools
Until just recently, dental schools in the United States have chosen not to make a significant investment to integrate implant dentistry into their curriculum. Dr. Robert Chapman, head of restorative dentistry at Tufts University School of Dental Medicine, explained that the schools only provide the graduating general practitioner with an overview of implant dentistry and a limited clinical experience. "There are so many systems, components, and techniques associated with implant dentistry that the general dentist is better off relying upon training programs from implant companies, continuing-education seminars, or even presentations at major dental meetings."
It seems to be a matter of priorities. Neither dental schools nor faculties have the resources to teach implant dentistry with any depth at that stage of education.
This may be changing, however, with implant education now being incorporated into the basic curricula in a growing number of schools. Despite this fact, it will take some time to determine if these changes will have an impact on the perception of implant dentistry as a standard of care.
Costs can act as a disincentive
In addition to the lack of primary education and training, another negative can be cost. A single tooth implant may generate lab costs that vary from $175 to $900. For the patient, that single tooth replacement can cost upwards of $3,500; an overdenture with four attachments could reach between $9,000 and $13,000.
The long-term benefits of implant dentistry are not easily weighed against the short-term costs.Therefore, these are big stakes, particularly when one recognizes that there is no insurance benefit for the implant itself. It largely is a private-pay procedure, thus further limiting the patients who might elect this treatment.
In addition, not only must the patient be willing to undertake this longer and more costly procedure, the dentist must be willing as well. He or she must be confident about the outcome. Many are not, or they learn painful lessons that discourage further efforts. Charles D. Samaras, DMD, a private practitioner and director of practice management at Tufts University, said, "Many dentists don't understand how expensive lab costs are for implant prosthesis, and they do not factor that into their fee. Oftentimes, they do their first case at break-even." This can be perceived either as a good learning experience or as a limiting factor. (Note: We were advised that both the cost factors and treatment times have been significantly reduced by some implant systems.)
Unintended consequences
In the face of these inhibiting factors, many general dentists select an alternative treatment even when implant dentistry may be a preferable and more conservative treatment for tooth replacements. The dentist is predictably human and selects treatment options that are familiar in terms of case-planning and cost-management. For example, preparing a natural tooth to be an abutment for a fixed bridge shortens the life of the abutment tooth rather than prolonging it. Moreover, fixed bridges have a limited useful life; replacement bridges further compromise abutment teeth. The process of preparing or repreparing abutment teeth often requires root canals and additional restorative procedures, such as post-and-cores. The process itself often can result in the premature loss of teeth, according to experts.
The value of case-planning
Proper communications and case-planning between the restoring dentist, the oral surgeon, and the dental laboratory prior to case presentation and implant placement will provide the dentist with the tools to make the treatment modality personally and financially rewarding.
We spoke with David Block, owner of Aesthetic Porcelain Studios. He says that all phases of case-planning are important and the dentists do formal case-planning on "... about 30 percent of the cases, depending on the degree of difficulty." He explains, "We require communication on all implant cases, regardless of the degree of difficulty." He points out that the lab may suggest an alternative to the doctor, such as in the case of a severe angulation problem. Dr. Samaras agrees.

Dr. John Hackbarth from Texas City, Tex., asserts, "Communication with the lab during prosthesis fabrication is paramount to ensure the best result." He tells us that he has been doing implants for 14 of the 25 years he has been in practice. He works very closely with his laboratory, Root Labs, in Leewood, Kan.

Dr. Hackbarth begins "... with a detailed script, followed by a pre-op model. Often, he [the lab technician] then sends a pre-op wax-up for fixed work." He discusses the case with his technician, developing "... a good understanding of what is needed and wanted."
It seems evident that good implant planning and case communication among team members is central to a successful outcome. Inadequate planning can expose the restoring dentist to a clinical and financial liability. This can discourage efforts in pursuing an area of dentistry that should play a major part in future practices.
Will the future be different?
Bill Ryan is president of the U.S. subsidiary of Straumann, AG. Ryan assures us that implant systems are becoming easier to use and that restorations are presenting fewer and fewer complications. He is encouraged by the number of recent graduates who show significant interest in implant dentistry. Moreover, he shares the sentiments expressed by dentists and laboratory leaders, quoted above, that restorative dentists can make implant dentistry a personally and financially rewarding experience through proper planning with the team of surgical and laboratory experts.
In particular, Mr. Ryan is encouraged by improvements in laboratory communications, notably Web-enabled laboratory scripting such as Dentist Rx Online™, developed by Transcend, Inc. These online workflows facilitate accuracy while providing images that may enhance the information being shared between dentists and laboratories. Arnold Rosen, DDS, founder of Transcend, Inc., and a practicing maxillofacial prosthodontist, naturally has been using his own product to do implant case-planning. While not offering us a totally unbiased view, Dr. Rosen nevertheless asserts that the product enhances collaboration, improves the exchange of "info-imaging," and offers discrete problem resolution. Case-planning in real-time facilitates team communication, and may go a long way toward optimizing outcomes. A few images from the Dentist Rx Online™ product are shown below to illustrate its use. This information can be shared via private networks between the dentist, surgeon, and lab technician.
Options, outcomes, and opportunities
Whether a dentist adopts an Internet strategy for communicating online or relies on more traditional means, the benefits from dynamic case-planning and full communication throughout the treatment cycle are self-evident to all who make this specialty an area of expertise. In the future, many believe that implant dentistry will attract growing numbers of graduates who will pursue more specialized areas of clinical care. One current statistic reveals that 42 percent of Americans older than 65 are totally edentulous, and more than 40 million Americans older than 55 have lost some or all of their teeth. Implants are substitutes for natural tooth roots and give replacement teeth a more stable base. This means that dentures and bridgework can be more functional for these older persons. As more consumers learn about implants and demand this treatment option, the challenge for the practitioner will be to develop a corresponding competency. Restoring dentists can only succeed, however, if they commit to a "best practices" philosophy. This means taking the initiative for ongoing education, being smart about cost management, and enjoining the collaborative energies of colleagues whose skills complement the process and outcome. This trio of restoring dentist, surgeon, and laboratory expert is the team that will make success happen, case after case after case. With implant dentistry, as almost nowhere else, outcomes will inevitably impact incomes.
In our next article in this series, we will explore in greater depth the dynamics of our changing patient population and how that will likely stimulate many dentists to reconsider a commitment to implant dentistry.