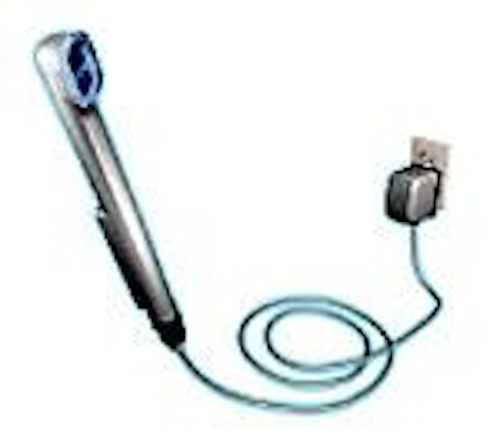 Joseph Blaes, DDS
Pearl 1 - UltraLume™ 2 LED by Ultradent.
The hot news in adhesive dentistry today is the introduction of lightweight, cordless LED curing lights. Not to be outdone, Ultradent has introduced its own LED curing light, the UltraLume 2 LED. At first look, it has some definite advantages and one apparent disadvantage. This light has a cord! Let's look at the advantages first. The LED lights are mounted in the tip of this curing light at an angle designed to aim the beam of light and produce an oval footprint that matches the shape of the tooth better than other lights. This tends to eliminate multiple curing cycles. The design of the light's head is flat, rather than curved, allowing easier access to posterior teeth. All controls are conveniently located on the handpiece, which makes it simple to operate. The wavelength of the light closely matches common photo initiators. Like other LEDs, there is no need for a noisy fan because of the lack of heat produced by the light. The depth of cure to be equal to the halogen lights in my office. The expected life of the bulbs is 5,000 hours, so you save money on bulb replacement and light guides. UltraLume comes with nifty disposable covers that protect the tip during the curing process.
So, we are back to that one disadvantage - the cord. Well, on closer evaluation, maybe this isn't so bad after all. The lightweight cord is simply attached to a plug. There is no unit. All you have to do is plug into an outlet. No batteries running low while you cure that set of veneers. This is a great curing light! It has a little brother called UltraLume 1 LED that has just one LED light. So you have a choice.
To order, call Ultradent at (800) 552-5512. Visit www.ultradent.com for more information.
Pearl 2 - Aelite™ LS from Bisco.
For years, one of the major problems with composites was that they shrink. Composite shrinkage is thought to be the cause of a lot of problems, such as postoperative sensitivity, loss of adhesion, white line, pulpal irritation, and more that I either don't understand or haven't experienced. Manufacturers have been trying to come up with materials that shrink less ... but the ultimate composite is one with no shrinkage! Bisco's new product, Aelite LS comes closer than any other composite on the market at 1.4 percent polymerization shrinkage. Aelite LS is indicated for use in Class I and II posterior restorations or as a core buildup material. It comes in six shades in syringes or unit-dose compules. This is an easy-to-handle composite that does not stick to your instruments. You will not have to change your technique to introduce this posterior composite into your practice. Once you begin using Aelite LS, you will notice that many of the problems you experience with other composites are gone. To order, call Bisco at (800) BIS-DENT, or visit www.bisco.com for more information.
Pearl 3 - LuxaCore® Dual in Smartmix™ Dispensing Syringes by Zenith/DMG.
One way to increase your practice's production is to be come more efficient with your systems. The folks at Zenith/DMG have done that for you with a new dispensing system for their Reality five-star-rated buildup material called LuxaCore Dual. Smartmix is an innovative, hand-held, double-barreled syringe that gets rid of the bulky cartridge gun and makes mixing and dispensing simple and faster. The syringe's small size allows easy access into the mouth. You can place material precisely with less waste using the small mixing tips. I saw this system last year at the IDS show in Germany and couldn't wait for it to be introduced in the United States. LuxaCore Dual is a tough composite that cuts like dentin. It has a good viscosity for placing core buildups. I like this material because it is dual-cured; you can place it without worrying about layering. If you want to speed up the cure, simply light-cure it and start cutting. LuxaCore Dual in the new Smartmix dispensing system comes in three shades: natural (A3), white for aesthetic anterior buildups, and a blue shade if you like contrast. This material also has earned a five-star-plus rating from The Dental Advisor.
Two other nifty Zenith/DMG products come in the Smartmix handheld syringe: TempoCem® NE and PermaCem Dual dental cements. These two materials will simplify your temporary and permanent cementing needs.
To order any Zenith/DMG products, call your dental dealer or visit www.zenithdmg.com for more information.
Pearl 4 - Hemaseal & Cide Desensitizer from Advantage Dental Products.
It is a common problem: Patients have pain after a restoration or crown be cause the dentin tubules were neither disinfected nor properly wetted, sealed, and bonded. You redo the work at no charge, yet they speak negatively about the0 experience. Well, Advantage Dental has a solution for you! Use Hemaseal & Cide for total elimination of postoperative sensitivity. The secret is a combination of Chlorhexidine (an excellent antimicrobial), Hema, and water. Chlorhexidine kills the bugs, and Hema helps seal the dentinal tubules to create a stronger bond with your adhesive of choice.
If you have sensitivity problems, I urge you to try this product. It comes with a money-back guarantee if you are not satisfied. Please call your local dealer to order Hemaseal & Cide. For additional information, call Advantage Dental Products at (800) 388-6319, or visit www.advantagedental inc.com.
Dr. Blaes has a general practice in the St. Louis area. He is known for his expertise in dental materials and techniques and his innovative systems designs. He writes and lectures on "How To Increase Productivity and Profitability." Dr. Blaes is a member of the American Academy of Dental Practice Administration. He may be reached at joeb@pennwell.com.