What do you mean you dont need an intraoral camera?
After one year, an intraoral camera has brought a huge return on investment in the author`s practice.
Jan 1st, 1997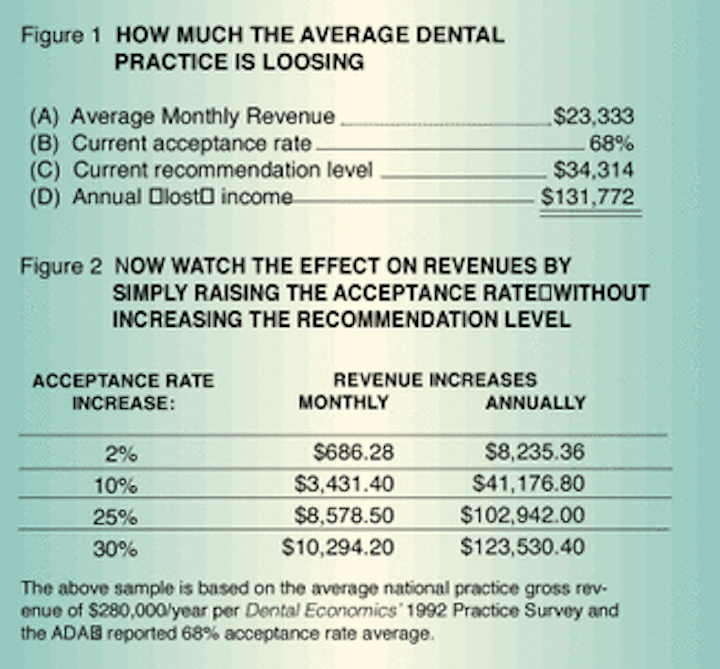 After one year, an intraoral camera has brought a huge return on investment in the author`s practice.
William W. Oakes, DDS
The verdict is in on intraoral cameras. Yes, they are worth the modest investment and, yes, they do increase the quality and profitability of one`s dental practice!
I saw my first intraoral camera back in 1987 at a seminar presented by Dr. Ralph Duffin of Hemet, California. He described with passion how this $35,000 piece of new technology had elevated his practice to $90,000 per month.
At the end of the day, I was really convinced that I needed a camera for my dental practice, but there was no way I was going to pay $35,000 for one.
Since I had been heavily involved in electronics in high school, I decided to design a less expensive camera system that would accomplish the same benefits that Dr. Duffin described in his seminar. I developed a lower-priced system and went "on the road" lecturing about and selling a more affordable camera.
After using the camera for just one year in my own dental practice, my gross income increased by over $200,000! For you math majors out there, you can calculate that this is a huge return on investment!
When I would relate my own experience to other doctors, there was initially a lot of skepticism. Adding to my frustration was the fact that many practice-management gurus and dental newsletters didn`t believe in the value of the intraoral camera at this time. Some would say, "I don`t believe you; you`re just hawking your cameras!"
Let me relate to you a couple of stories to illustrate my point. Many dentists feel that they are great salesmen and that their patients trust them so much that they`ll agree to almost any dental treatment (within reason). Dr. Howard Farran was one of those who didn`t believe in the value of intraoral cameras. So I decided to conduct a little experiment. I sent Howard a free camera to use in his practice for a couple of weeks.
When he called back in a few weeks, he was so excited I suggested he take 5 mg. of Valium! Howard now has $80,000 worth of cameras in his office and has three TV monitors in each operatory!
A popular dental newsletter expressed a similar view: "If a patient trusts you enough, he/she will allow you to do it! An intraoral camera is a waste of money!"
In the months following this editorial opinion, this newsletter was bombarded with letters from angry camera owners. But one doctor supported the editor`s view. He wrote, "The newsletter told us to consider how many whatevers will I have to do to pay for this new thing and over how long of a period of time?"
This concern is easily addressed. Most intraoral camera users find that the camera pays for itself in two months or less. As Dr. Omer Reeds says, "It`s a shame when you don`t know what you don`t know!"
Here`s what Henry Ford had to say about needed new technology: "If you need a product but don`t buy it, you ultimately pay for it...but don`t have it!" (As far as I know, Henry made more money in business than any dental seminar guru or dental newsletter publisher.)
But if you still don`t believe me, talk to your colleagues who have intraoral cameras or attend some of the fine courses out there on cameras, or order Dr. Gordon Christensen`s tape on intraoral cameras. The answers are out there if you seek them.
Now, for some facts gleaned from Dental Economics` August 1995 survey:
1. Intraoral cameras are here to stay. A trend is developing where, each year, more and more doctors are buying cameras.
2. 30 percent of practitioners already have cameras and 53 percent are considering purchasing one.
3. There are many repeat buyers as doctors are upgrading their current systems.
4. Intraoral camera use has quadrupled since 1992!
5. In practices that routinely use intraoral cameras, cosmetic acceptance rate is up 73 percent and restorative acceptance rate is up 95 percent.
Doctors who really know the numbers of their practice are rapidly seeing the effect of the intraoral camera on their "bottom line."
For example, Figure 1 shows a practice doing $23,333 per month with a 68 percent acceptance rate (ADA average). This practice is recommending $34,314 and losing $10,981 a month ($34,314 - $23,333) or $131,772 per year (12 x $10,981).
Or, looking at it another way, slight increases in acceptance rate have a dramatic effect on practice revenues. (Figure 2)
I have in my files the P&L statement of a doctor in Massachusetts, who bought an intraoral camera in late 1991. Before the camera, his 1991 net was $320,231. With the camera, his 1992 net was $520,921. That`s $200,690 more in net income!
But, even given all this information, some doubters remain. For example, one doctor at my seminar said, "How do you know if more patients said yes because of the video camera than would have said yes without it?"
To answer this question, you have to use monitors. By that, I mean keep track of all recommended treatment in your office and, after several months, calculate the amount that gets accepted and done. We use the Specific Treatment Presentation Form and the Case Presentation Monitor (Figures 3 & 4).
In my personal situation, case acceptance was 72 percent before the camera and 90 percent plus after it. If you feel your present acceptance rate is better than my initial 72 percent, I challenge you to keep this record for three months in your "camera-less" office and see what your true percentage of case acceptance is.
Here`s a true story from my own practice. Our printer broke and had to be repaired. By the time we had our camera system up and running again, almost a month had passed. While "camera-less," we produced $10,000 below our usual monthly total. With the return of the camera, we had a record-breaking month!
Another issue is intraoral camera abuse. Several articles on this topic have appeared in the literature. The most common story is that dentists are crowning every tooth that has a fracture or craze line.
Most ethical dentists I know certainly would not crown a cracked tooth unless it was symptomatic. But when an insurance company refuses to pay for a crown on a symptomatic, cracked tooth, what better way to win your case than with an intraoral photo of the crack that you have stained pre-operatively.
Yet another statement that irritates me is that "the intraoral camera is just a toy." This type of comment typically comes from a "low-tech" dentist who doesn`t wear loupes, and who would be surprised to view his/her dentistry under the 25-50x magnification of an intraoral camera. The camera probably is one of the best diagnostic tools in the office. Teeth that you`re presently "watching" either have defects or early decay that you are missing in your "camera-less exams." It`s hard to convince some doctors of this fact, however, because they`re still dipping their X-rays by hand and wouldn`t be caught dead with a computer in the office.
Any dentist practicing without an intraoral camera is at a serious competitive disadvantage. An intraoral camera will improve the quality of your dentistry and will put fun back into it. It is the wisest, most cost-effective investment you can make in your practice.
So why don`t you have an intraoral camera?
The author practices in New Albany, Indiana. He is editor of The Profitable Dentist newsletter and has authored five dental books. He founded the Oral-Vision camera company and guided it to sales of nearly $10 million per year before selling the company. He currently lectures on intraoral cameras and other high-tech advances in dentistry. For information and dates on his lectures, call (800) 800-9511.