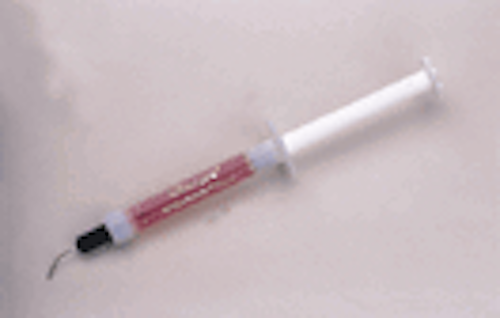 Joseph Blaes, DDS
Pearl #1 - Ultracare Topical Anesthetic from Ultradent. I have been using Ultradent products since Dr. Dan Fischer introduced his first line of syringes and tips. I have been using Ultradent products for so long that I have forgotten to include them in "Pearls." The Ultracare topical anesthetic is one of these products. We have used it as a topical before giving anesthesia. The combination of a pleasant taste and smell, rapid onset andgreat effectiveness makes it the topical of choice in my office. But that is only one use of Ultracare! My hygienists would not practice without it, even though they are licensed to give local anesthetic in Missouri. The packaging is why they like it so much. Ultracare is packaged in single-dose 1.2 cc syringes with White Mini tips that allow you to place the topical in and around the gingival sulcular tissues during root-planing and scaling procedures. It gives great anesthesia in a very specific area. My hygienists find that this is all they need to complete most procedures comfortably for the patient. It also eliminates all those Q-tips full of topical that usually are found in the hygiene treatment room after a periodontal-therapy procedure. The single-dose syringes also are great when a patient returns and needs only some site-specific therapy. You can put the topical right where you want it. Give Ultradent a call today at (800) 552-5512 and order some for your office.
Pearl #2 - Three-Way Trays from Sultan Dental Products. If you are using triple trays in your impression or bite-registration techniques, give Sultan`s new Three-Way Trays a try. They come in Anterior, Posterior, Quadrant and, my favorite, the "Sideless." The plastic frames are more rigid than most, so this should improve the accuracy of your impressions. Sultan has incorporated a nifty feature into its trays - an identification label is attached permanently to the tray handle so the impression will not get lost at the lab. Call your dealer to order Sultan`s Three-Way Trays.
Pearl #3 - The Tidi Prophy and Knee-Length Bib. Probably no one knows who decided that the standard bib size should be 13" x 18", but it hardly protects anybody from anything. I have seen stains on men`s shirt collars and women`s blouses more times than I like to remember. I tried several different approaches to avoid this. The beauty shop cover-up that attaches at the neck has problems as it gets stained and dirty, and the plastic cover-ups give your patients a steam bath while they are with you. Initially, nobody in the dental field could help. Nobody made a bib larger than 13" x 18". I looked over on the medical side and found several manufacturers that made large bibs for nursing homes that worked quite well. Then Tidi came to dentistry with an oversized bib with a contour neck that provides full coverage through the shoulders and arms. The bib is a poly-tissue construction for moisture protection and to keep the bib from shifting on the patient. It provides ample coverage for any patient. Have you ever thought that a standard-sized bib looked like a postage stamp on some people? The Tidi bib provides for maximum coverage in the shoulder and neck areas. It comes in two sizes: the waist-length prophy bib at 29" x 21" that I use for hygiene appointments and short operative appointments, and the knee-length size at 29" x 42" that I use for all crown and bridge procedures. Protect your patients with a bib that really protects instead of the ridiculous 13" x 18" standard bib. Order from your dealer or call Tidi Brand at (800) 521-1314 for additional information.
Pearl #4 - Instant Hot Water Faucet by Sears. If you are using materials that require a water bath or hot water, then you should consider installing an Instant Hot Water faucet. This is a faucet like the ones you see in the hotels for making instant coffee in the room. The Temp Tabs or Thermo Trays that I mentioned in last September`s "Pearls" will soften very quickly in water from this faucet. There are several places that you could buy one of these - a plumbing-supply company, a plumber or you could go to Sears like I did. They have two models, one for less than a $100 and the other for about $140. Installation is simple. I did it myself in about 15 minutes, and now I have 180-degree water on tap.
Pearl #5 - Jumbo Syringe System by Centrix. The people at Centrix have come up with a great one this time. Now, there is finally a syringe on the market that`s ideal for those viscous, hard-to-squeeze impression materials like Polygel, Impregum and other monophase formulas. The disposable Jumbo tube and plug cartridge holds up to seven times the volume of the standard needle tubes. That is about 1.5 mm of material. This allows you to syringe precisely around several teeth. The 18-gauge needle tip reaches deep down into the sulcus to reduce voids and capture the finest details. Another plus is no more tired hands. A new leverage design allows you to place extremely thick and viscous materials without strain and hand-cramping. The Jumbo tube is easy to load. It can be backloaded off a mixing pad directly from a Pentamix unit or from an automix cartridge. The tube and plug are fully disposable so you eliminate cleanups and cross-contamination. This is definitely a big timesaver. Call Centrix Direct at (800) 235-5862 to order or for more information.
Dr. Blaes has a general practice in the St. Louis area. He is known for his expertise in dental materials and techniques and his innovative systems designs. He writes and lectures on "How To Increase Productivity and Profitability." He may be reached at (314) 434-6808.
Pearl 1
Pearl 2