Rebilda Post GT bundled glass fiber–reinforced resin posts by Voco
Have a conversation with the endodontist you refer to. If he or she keeps abreast of the literature, you will learn that dentists historically placed too many posts. The posts were also probably too aggressive. Big, active metal posts really do only one thing: crack roots. Our post philosophy has changed over the past 15 years. Now, fewer posts are indicated, and the ones that are placed should be smaller fiber posts.
Voco has released a fiber post system that could help us prevent root fractures while helping retain our core buildups. That's the epitome of what a post should do!
Rebilda Post GT started with a novel idea: what if a single fiber post were actually made of multiple smaller fibers? That's what sets this product apart.
There are four different sizes of posts in the kit, each wrapped with a color-coded sleeve. The blue sleeve is 0.8 mm thick and consists of four smaller fibers. The red sleeve is 1.0 mm thick and has six fibers. The green sleeve measures 1.2 mm and has nine fibers. The big, bad black sleeve is 1.4 mm thick with 12 fibers. As these posts are cemented, the sleeves are removed, and all those skinny post fibers spread out for maximum retention of the core buildup. This is a neat idea that is well executed in the Rebilda Post GT kit.
The kit has everything you need for a post and core procedure. The first step is to remove gutta percha in the canal. This can be done with a Gates Glidden drill, a Peeso reamer, or your rotary instrument of choice. Be sure to remove only the gutta percha and not any dentin from the walls of the canal. The radicular dentin is important to the long-term prognosis of the tooth. Leave 5 mm of gutta percha apical to your canal preparation. Select the post that fits snugly but passively in the canal. Now it's time to bond those little buggers in there.
Voco provides pictorial instructions for the bonding process, which is nice. One step you might not be used to is cleaning the canal with alcohol and drying it well before starting the bonding process. You also need to clean the post with alcohol and use a ceramic silane primer on it. Other than that, the bonding process is typical.
Once the post is inserted into the canal loaded with Rebilda DC buildup material, the sleeve is removed, the individual fiber posts spread out, and the Rebilda DC composite is cured. Then you can add to the core and work the buildup material into this spread-out network of mini fiber posts. This network of small posts will retain the core without causing undue stress to the root.
I applaud Voco for this novel product. The idea of multiple small, skinny fibers making up a single packaged post and spreading out for increased core retention is unique and perfectly serves the purpose of the post—to retain a core without cracking a root. I have found my new go-to post system for teeth that need significant core retention!
Triple down the line for Voco!
Scotchbond Universal and Filtek Supreme Ultra, a universal adhesive and universal composite by 3M Oral Care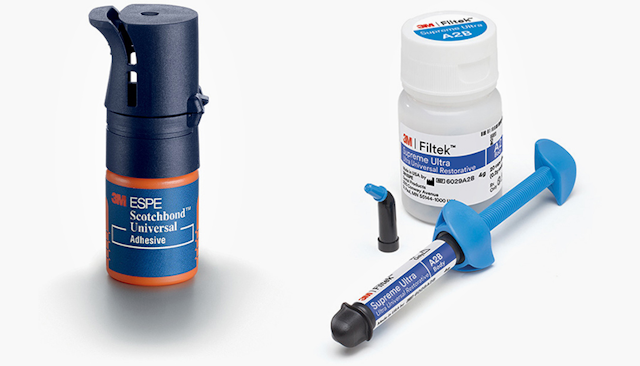 Peanut butter and grape jelly, wine and cheese, the Captain and Tennille—these are some of the greatest duos of all time, things that were made to go together. Scotchbond Universal and Filtek Supreme Ultra from 3M Oral Care are another great duo that should be counted among those all-timers. These two products work together to give dentists restorative options that are predictable and reliable.
Scotchbond Universal is an all-around workhorse universal adhesive that can become the only dentin bonding agent you need in your office. Scotchbond Universal offers flexibility because you can use it on any dental surface with any etching technique and in both direct and indirect situations.
It can be used with self-etch, total-etch, or selective-etch techniques. My preference is selective etch because it allows me to etch the enamel without damaging the dentin for strong and long-lasting bonds to both dentin and enamel. From a materials selection standpoint, Scotchbond Universal bonds well to everything—from composite to lithium disilicate, to zirconia, to metal.
The universal composite Filtek Supreme Ultra can be used in any class of restoration. In my practice, I use it mainly in the anterior, as I tend to use bulk-fill resin composites in the posterior. I love Filtek Supreme Ultra in the anterior because of its 36 shade options in four different opacities.
By using all the different shade choices in the dentin, body, enamel, and translucent opacities, I can restore almost any tooth esthetically. The Shade Selector Wheel that accompanies the Master's Kit is invaluable for using all the available shades and opacities to get the best possible results.
Filtek Supreme Ultra also has tremendous strength and wear resistance and amazing polish retention. This material has everything I need in an esthetic universal composite.
Using these two products together makes a ton of sense. Add Filtek One Bulk Fill composite in the posterior to cover your other direct restoration needs. Just like the Captain and Tennille sang, "Love will keep us together," my love for Scotchbond Universal and Filtek Supreme Ultra will keep us together for years to come. Double to left field for 3M Oral Care!
IPS e.max ZirCAD zirconium oxide ceramic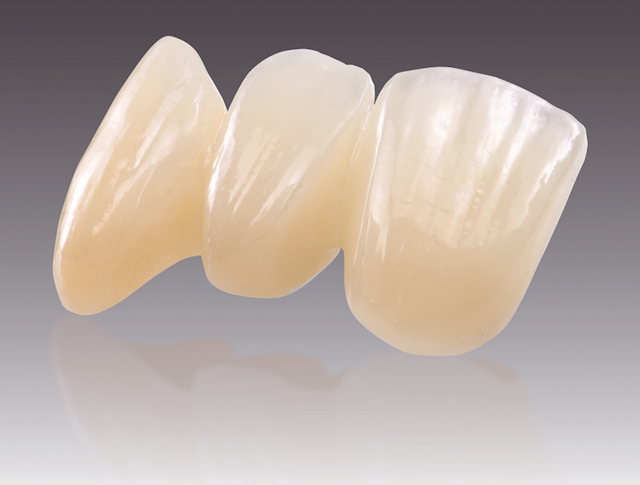 In the grand scheme of things, it wasn't all that long ago that Ivoclar Vivadent changed the game with IPS e.max. Cosmetic dentistry became monolithic, a departure from the days of layered restorations. The monolithic era continues to this day; however, zirconia consumes a huge portion of the market.
When zirconia came on the scene, we all immediately knew the limitations. Early iterations of zirconia were a shade of white that I don't think exists in nature, much less in teeth. They were white, but they were ugly.
Over the years, things have improved. Zirconia looks better now than it did then. The emergence of translucent products has stepped up zirconia's game. That game improves to this day, and one of the original players in the monolithic esthetic ceramics game is back on the scene. Ivoclar has brought translucent zirconia into its IPS e.max family of products with ZirCAD.
IPS e.max ZirCAD has options for a wide array of indications with its four different zirconia discs: MT (medium translucency), LT (low translucency), MO (medium opacity), and MT Multi (medium translucency multi). The MT Multi is a new line of discs that really opens up the esthetic options.
The IPS e.max ZirCAD MT Multi is a polychromatic zirconia that Ivoclar claims "is the most esthetic, high-strength multitranslucent zirconia on the market, offering up to 30% higher flexural strength and 50% higher fracture toughness compared to other common translucent zirconia materials."1 This means that this preshaded medium translucency zirconia material was designed to be the ideal zirconia choice for cases in which high mechanical stability and natural esthetics are of the utmost importance. That is the making for a killer material.
There are some multi zirconia discs on the market that only change shading with pigments. The composition of IPS e.max ZirCAD MT Multi evolves from medium translucency to high translucency, just as we observe naturally from dentin to enamel. The fact that this change happens in the disc, via an actual change in translucency without pigments, creates a more natural, lustrous result and allows for efficient production of restorations in the A to D shades without further characterization or staining.
After reading all about it, I had to give this stuff a try. I worked with famed ceramist Matt Roberts, CDT, on a tough case—a single central incisor on a patient with parafunctional habits. Mr. Roberts nailed the case using IPS e.max ZirCAD. Granted, he probably would have nailed the case using any material, but I sleep well knowing this material has the strength to function well in the patient's mouth. Line-drive double to the power alley for Ivoclar!
Reference
1. IPS e.max ZirCAD. Ivoclar Vivadent website. https://www.ivoclarvivadent.us/explore/ips-emax-zircad-laboratory. Accessed January 29, 2018.