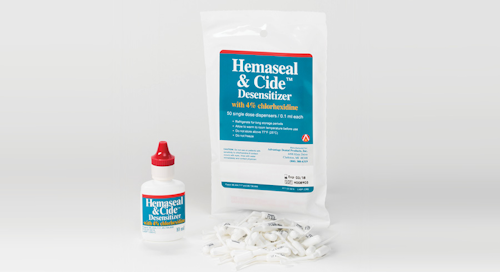 Howard S. Glazer, DDS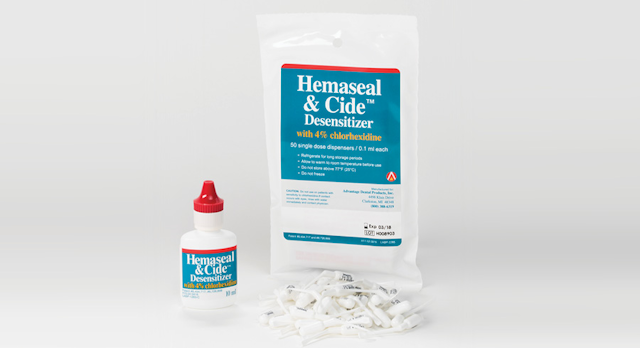 Hemaseal & Cide Desensitizer from Advantage Dental Products
I like products that are easy to use and better for the patient, such as this "old friend," Hemaseal & Cide Desensitizer. This is a two-in-one product: an antimicrobial desensitizing agent and a cleansing agent. But those are just two uses for this trusted product.
When it was tested against eight other leading desensitizing agents—including Gluma, which was introduced by Heraeus Kulzer 20-plus years ago and assumed by many to be the best desensitizing agent ever—it proved to be more effective than the others.1 As an added bonus, it was the only agent to improve the bond strength of self-etch products, due in part to the 4% chlorhexidine in the solution, which improves bond strength in the long and short term.1 And, compared to glutaraldehyde, chlorhexidine is kinder to the soft tissue.
Research dating back to 20052 shows additional benefits to chlorhexidine. By preventing enzyme activity that can break down dentin bonds, specifically matrix metalloproteinases (MMP), chlorhexidine prolongs the dentin bond.2 Another study showed very little microleakage at the ceramic-to-dentin interface.3 This is good news in light of the increase in the popularity of ceramic restorations. In short, you just might call Hemaseal & Cide the "under armor" for the ultimate protection of all of your restorations, both composites and crowns.
Estelite Bulk Fill Flow composite by Tokuyama Dental America
It seems that nearly every day another bulk-fill composite is introduced, whether as a packable or a flowable resin. So what made me stop to give this one a look and try it on several cases? For one, it carried Tokuyama's Estelite name, and I have high regard for Estelite Sigma Quick, a great packable composite resin.
This new bulk-fill flowable composite is based on Tokuyama's supranano technology with 200-nanometer particles. This spherical filler technology allows for strength and durability. In fact, the manufacturer reports that the compressive strength is approximately 50% higher than other bulk-fill flowables. I also liked the esthetics since I didn't find that I needed a capping layer over the material. This flowable can be placed in 4 mm increments, and like all other flowables, it adapts nicely to the cavity walls.
But perhaps a key factor to consider in choosing this product is the ability of the material, due to the supranano spherical filler technology, to provide a natural look to the restoration by diffusing and refracting light. When you first place Estelite Bulk Fill Flow, it will appear translucent, but once it has been light cured, it will become more opaque and blend to a more natural-looking restoration. This is accomplished with only five shades: A1, A2, A3, B1, and Universal.
Couple this with Tokuyama's very good seventh-generation bonding agent, Bond Force, and you'll have a simple and fast method for achieving a highly esthetic and strong bulk-filled restoration.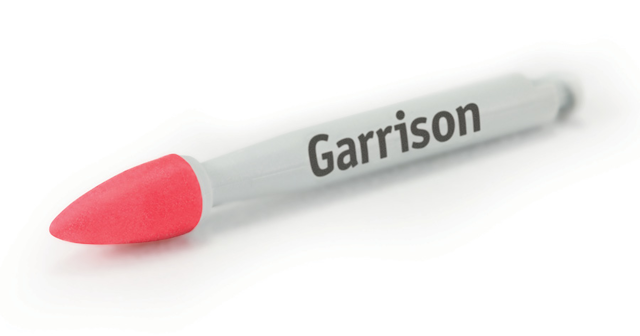 Rally Composite Mini-Polishers by Garrison Dental Solutions
When I hear the word "rally," I think of motocross and participants on motorcycles jumping over bumps, small cliffs, and rough road. As a driver, it is imperative to manage those hurdles for a smooth ride and a fast pace to cross over the finish line. The same analogy can be applied to the new Rally Composite Mini-Polishers from Garrison Dental Solutions.
These mini-polishers are diamond-impregnated and bring any composite to a lustrous glossy finish in a fast and efficient manner. I would suggest trying the full kit since it has both the cup and point polishers in all grits: coarse (blue), medium (red), and fine (white). You get a total of 60 pieces (10 of each), and you can reorder as needed in 30-piece increments for the blue and red and 15-piece increments for the white.
Unit dosing is always my preference, and with these single-use cups and points, you always get a fresh polisher that has not been blunted by prior use. They do not seem to disintegrate or crumble as you use them.
Since they are already diamond-impregnated, you don't have to use any additional pastes to bring up a luster that will last for quite some time. These are ready to use in any latch-type slow-speed handpiece since they do not require a separate mandrel. No snapping on, no additional pastes, no autoclaving—that's the kind of "no fuss, no muss" product I like!
ReferenceS
1. Clinicians Research Associates Inc. Desensitizer use with restorative procedures. CRA Newsletter. 2002;26(8):1-4.
2. Hebling J, Pashley DH, Tjäderhane L, Tay FR. Chlorhexidine arrests subclinical degradation of dentin hybrid layers in vivo. J Dent Res. 2005;84(8):741-746.
3. Celik EU, Kumbaraci N, Cal E, Turkun M. Influence of two desensitizer agents on the microleakage of adhesively luted ceramic inlays. Eur J Dent. 2011;5(1):77-83.
---
Howard S. Glazer, DDS, FAGD, FACD, FICD, FASDA, FAAFS, is a fellow and past president of the Academy of General Dentistry, an attending dentist at Englewood Hospital, and the deputy chief forensic dental consultant to the Office of Chief Medical Examiner for the city of New York. He lectures internationally on dental materials, cosmetic dentistry, forensic dentistry, and patient management. He maintains a general practice in Fort Lee, New Jersey.