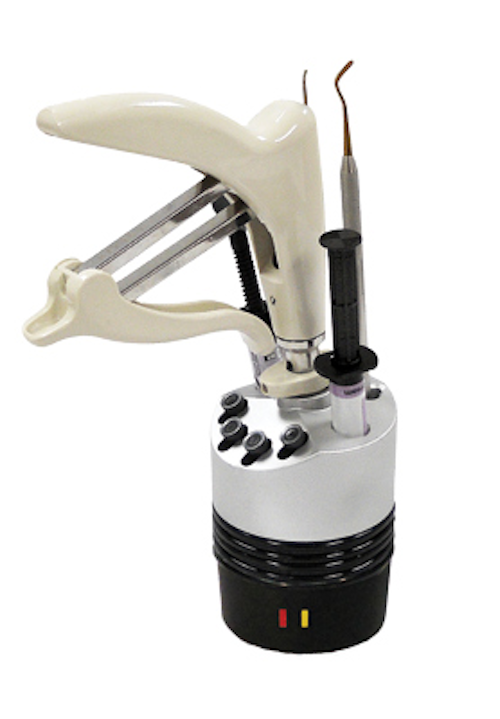 Calset Warmer composite warmer by AdDent
To warm or not to warm? This is a question I often get during my lectures. I must say that I do find that warming can be quite helpful at times, and the research is there to show its advantages.1 A primary advantage to warming a packable composite is increased flow, which allows the material to better adapt to the anatomy of the cavity preparation, thus eliminating any potential gaps. Consequently, there is a reduced chance of microleakage, which reduces the risk of secondary decay and sensitivity.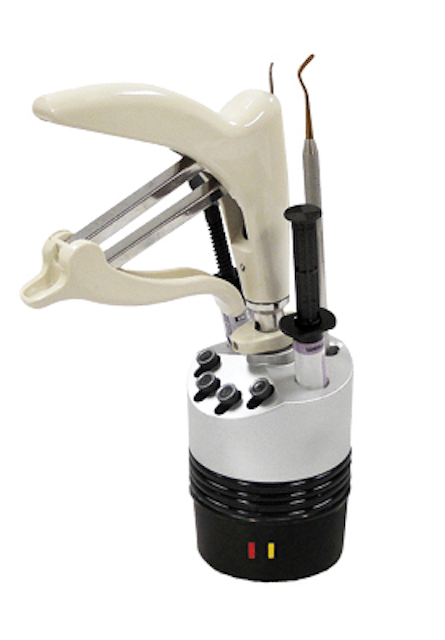 AdDent's Calset Warmer is designed for thermal-assisted polymerization, and its unique design handles syringes as well as unit-dose capsules. The unit should be prewarmed for about 15 minutes. It will then heat the composite in about three to four minutes to 98°F, 130°F, or 155°F, depending on the operator's choice of desired flow. This versatile device can be used with different dispenser guns. It can even warm two composite placement instruments. You can also use it for warming anesthetic cartridges.
The manufacturer claims that the composite warmer can help shorten photo-curing time by about 80% and reduce shrinkage stress. AdDent is also the manufacturer of the CoMax composite dispenser gun, which I find to be the absolute best dispensing device on the market. Easy delivery and increased protection against microleakage make this a terrific device for placing composite restorations.
Reference
1. Trujillo M, Newman SM, Stansbury JW. Use of near-IR to monitor the influence of external heating on dental composite photopolymerization. Dent Mater. 2003;20(8):766-777.
Clip Flow flowable provisional filling material by Voco
It has been a long time since I was in dental school, but I remember when we had to use a form of hard white gutta percha, Temporary Stopping, that came in long, narrow sticks. We heated and molded it into our preparations. It was relatively easy to remove when it was time to insert the final restoration. Today, we deal in a world of light-cured, easy-to-use materials that afford us better esthetics and easier handling.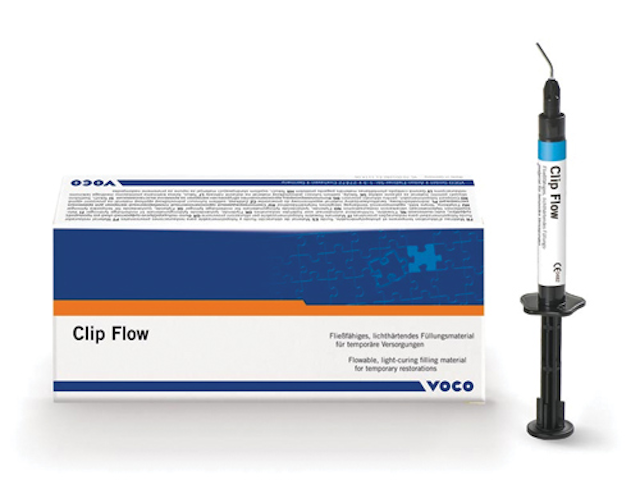 Voco has introduced the Clip lineup of temporary light-cured materials, which are available in caps or syringes. Clip is an ideal material for creating one-piece temporaries for inlays and onlays. It seals well, doesn't stick to your instrument, and is flexible after photo curing, regardless of whether you use an LED or halogen light. I like it because you can generally remove it in one piece and eliminate the drill, which could alter your preparation.
Clip Flow, which is more flowable than Clip, is a good material for a temporary filling after an endodontic procedure. It can also be used as a block-out resin prior to impression taking, as well as hold any mylar matrices in a temporarily "fixed" position during placement of Class IIIs and IVs. You can also use it to seal the opening of implant screws. These are two versatile products that allow for a variety of functional uses in restorative procedures.