Pearls for Your Practice
Joshua Austin, DDS, MAGD, reviews Hu-Friedy's Black Line rubber-dam clamps, Voco's Meron Plus QM paste-to-paste resin-modified glass ionomer cement, and Shofu's EyeSpecial C-III digital dental camera.
Dec 1st, 2018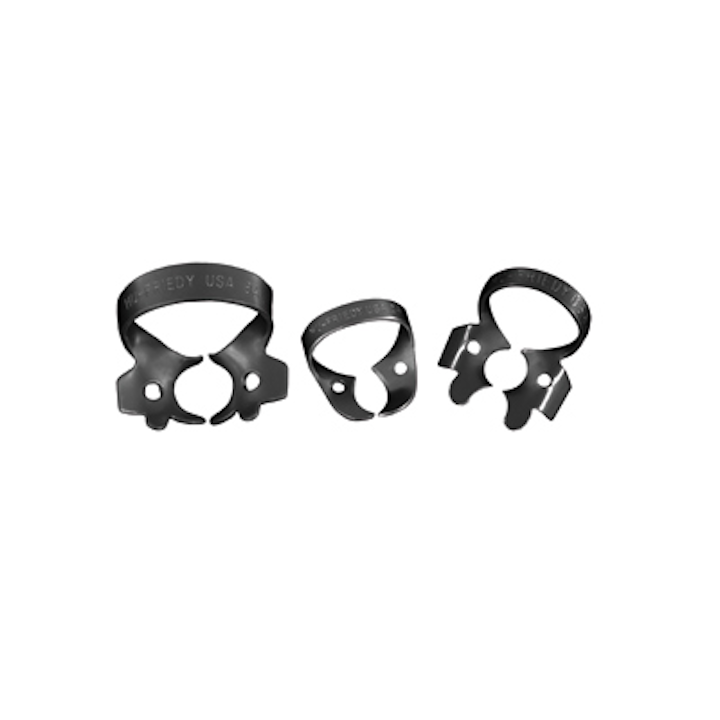 Hu-Friedy Black Line rubber-dam clamps
When I lecture about restorative dentistry, nothing generates more eye rolls from the audience than talking about rubber dams. We get it—rubber dams are good—yet no matter how well we know this, the vast majority of dentists in the United States do not use them. I asked my friends and fellow restorative dentistry lecturers Bill Robbins, DDS, and Rob Ritter, DMD, why. Here are their thoughts.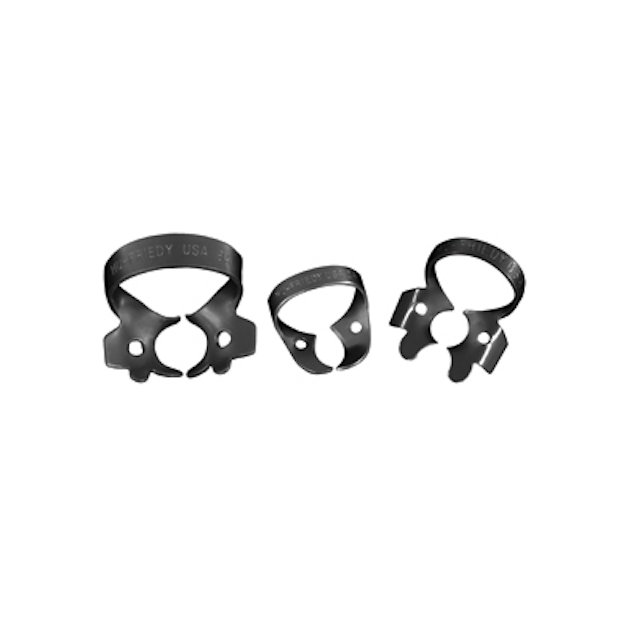 JA: Why do so many dentists have disdain for the rubber dam?
RR: Dental school. Period.
BR: Yes, it definitely starts with dental school. Faculty aren't always the best with the rubber dam, and they impose some strict standards for it. It is difficult to place a rubber dam without an assistant, and many times rank beginner students are expected to place one that isolates more than half of an arch by themselves. It is unrealistic.
RR: Placing a rubber dam is a miserable experience for students, so as soon as they graduate, they never want to use one again. There are ways to do it much more simply that can make your dentistry faster and better.
BR: I am good with the rubber dam because I understand clamps and I know what to use and when. That is a huge part of it. That makes it much easier for me. Resistance to using a rubber dam gets blamed on patients, but it is clearly in the mind of the dentist.
So there you go—dental school ruins rubber dams for us. If we learn to use clamps and take a simpler approach, our lives will be easier. When Dr. Robbins mentioned clamps, I went looking for the best rubber-dam clamps I could find. I turned to a logical place when looking for the best of instruments: Hu-Friedy.
Hu-Friedy recently expanded its Black Line of instruments to include rubber-dam clamps, and the clamps are the best in their class. The Black Line features a whopping total of 48 clamps. I had no idea that 48 different rubber-dam clamps existed!
Three qualities set Black Line clamps apart from others. First, they are made of "satin steel," which resists corrosion and has good metal memory and flexibility. Having a clamp that is flexible and won't shoot off of the tooth is an advantage. These Black Line clamps are easy to put on the tooth, and they grab ahold of it. They have a great feel.
Second, the dark clamp has a much better contrast against the white tooth, helping you visualize where to apply the clamp. Third, the matte finish causes less light reflection and glare from your headlamp or overhead light.
Success in restorative dentistry often hinges on isolation. Having good-quality clamps that make applying a rubber dam easier means you are more likely to actually use a rubber dam. For our patients, that is priceless. I have found that I am using rubber dams more often because of these clamps. Line-drive base hit up the middle for Hu-Friedy on these Black Line rubber-dam clamps!
Meron Plus QM paste-to-paste resin-modified glass ionomer cement by Voco
Recently, I was looking at some photos of my dad's dental office from the '70s. In the lab, there were some case pans that had gold castings in them. In contrast, yesterday I bonded in three all-ceramic crowns and did seven resin composite restorations. In my dad's practice, nothing was bonded. In my practice, pretty much everything is bonded. That may sound great, but bonding is tedious, frustrating, and technique sensitive.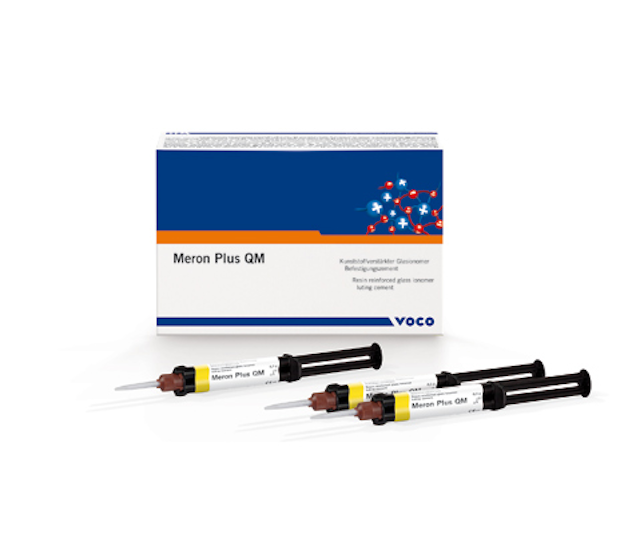 Sometimes I yearn for a world where I could lute restorations instead of bonding them. But guess what? We can do that! Luting works well with all-ceramic crowns, provided we pick the right cases.
Voco recently debuted a new luting agent that has some real advantages and might rekindle your love affair with luting. Meron Plus QM is a resin-reinforced glass ionomer cement. It is only available in an automix syringe, which provides a simple, consistent homogenous mix. This product offers us all the advantages of using a glass ionomer luting agent: simplicity, self-adhesion without a primer, and continuous fluoride release. Voco has given Meron Plus QM the added benefit of particularly strong adhesion.
With a shear bond strength of 11.3 MPa, Meron Plus QM beats the leading resin-modified glass ionomer cements on the market. It also has the lowest water solubility, which means less washout over time and long-term security for your restorations.
Meron Plus QM gives us some curing options as well. You can elect to self-cure it purely and get two minutes of extra oral processing time. Once the gel phase is reached, Meron Plus QM cleans up quickly and easily. You also can use a curing light to tack cure the Meron Plus QM, so there is no waiting time after insertion. A five-second tack cure will allow you to clean up the excess material immediately.
I use Meron Plus QM with lithium disilicate and zirconia all the time. If the restoration is at least 1.5 mm thick and has 3 mm or more of vertical walls, I use Meron Plus QM to lute the restoration.
Replacing any amount of bonding with luting makes my life easier. I have fallen in love with luting all over again! Give it a try, and you will remember why luting is so great. It simplifies our lives. Ground-rule double for Voco and Meron Plus QM!
EyeSpecial C-III digital dental camera from Shofu Dental
I am no photographer, but I am a camera snob. My mentors and the dentists I admire have led me to believe that DSLR cameras are almost required to be a good dentist. None of them would actually say that, though. That is my cognitive bias saying that. Of course, you don't need a DSLR camera to be a good dentist; however, I do feel that photographing our work and our cases makes us better dentists.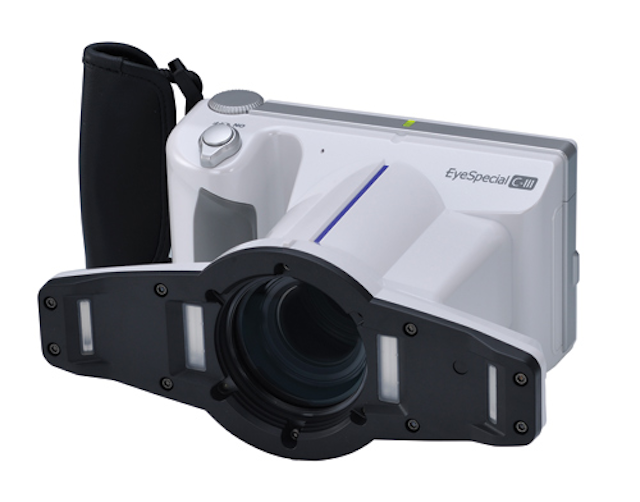 Intraoral cameras work well for a few teeth, but they don't do well at capturing full smiles, portraits, profiles, or full arches. We need a different camera for those purposes. But DSLR cameras can be cumbersome. If you delegate photography to a team member, especially a female with smaller hands, a DSLR might be challenging for that person to handle. Shofu Dental has considered these problems, and its EyeSpecial C-III attempts to simplify your photography system.
The EyeSpecial C-III is a point-and-shoot camera that has been modified inside and out for dentistry. On the outside, it has a special shell with an appropriately sized lens and macro multiflash. The flash and lens were specifically designed for optimal dental photos. The outer casing is a resilient plastic, made to absorb some shock and hold up to regular usage. A large LCD touch screen on the back serves as a viewfinder, a navigator, and a mode selector. The camera has several physical buttons on the back for making selections, a turn knob for changing the depth of field, and a physical on-off switch.
Although the physical parts of the camera are important, the inside is where the EyeSpecial C-III really sets itself apart. The EyeSpecial C-III has software loaded on it that makes taking dental photographs much simpler. There are eight built-in modes that have all the variables set to get the ideal image. Just select the correct mode for the photo you are taking, and you will be likely to get a great shot.
The three modes you will use most often are Standard, Face, and Mirror. Other modes include Surgery, Low-Glare, Whitening, Tele-Macro, and Isolate Shade. Changing modes is as simple as touching the LCD screen. Having these built-in modes makes it easy to switch between taking different types of photos without having to be Ansel Adams. No need to fiddle with the ISO or f-stop. The Mirror mode even automatically flips the image to the proper orientation. Super convenient!
So far, I have been very impressed with the image quality that can be achieved with the EyeSpecial C-III. I take a lot of photos in my practice. Recently, I have used the EyeSpecial C-III as much as I have used my DSLR setup. When sorting through photos on my computer, I usually cannot tell the difference. I even projected a few shots taken with the EyeSpecial C-III during a lecture, and the quality was clear.
My team also enjoys the EyeSpecial C-III. They watched a couple of YouTube videos and were rolling with it. They enjoy how much lighter it is compared to my DSLR setup, and they also enjoy not having to squint to look through a viewfinder.
I probably wouldn't submit for an American Academy of Cosmetic Dentistry accreditation with the EyeSpecial C-III, but for pretty much any other dental photography indication, I think it is a great tool that is convenient and easy to use. Solo home run to left field for Shofu!