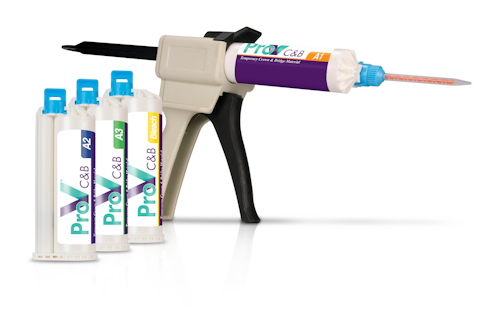 Pro-V C&B temporary crown and bridge material by Bisco
Pro-V C&B temporary crown and bridge material is the latest addition to Bisco's fine line of products. This material has a unique proprietary composition of a multifunctional acrylic composite resin that produces a provisional restoration that is strong and durable with great esthetics, mimicking natural teeth. 
This is a self-curing and fast-setting automix (uses a 10:1 dispenser) material, requiring only four minutes from start to final set. Please note that when using this material over restorations that are compomers, glass ionomer, resin-modified glass ionomer, or composite, you must coat those surfaces with petroleum-based jelly, such as Vaseline, to ensure easy removal. 
I like the translucency, opalescence, and fluorescence that make the material appear quite natural and blend with adjacent dentition. This is valuable anywhere in the arch but perhaps more so in the anterior esthetic zone. Pro-V C&B is available in four shades: A1, A2, A3, and Bleach. 
Pro-V C&B's compressive and flexural strength are quite high, and it is suitable for long-term temporaries (i.e., four-plus weeks). Pro-V C&B trims easily, can be used with flowable resin, and has a natural luster once cured, so minimal time is needed to polish the restoration. Perhaps Bisco's now-familiar security blanket ad used for TheraCal should include a Pro-V C&B temporary crown on the top of the tooth!
---
Tornado S by Bien-Air Dental
Handpieces are probably among the top five items we depend on in daily practice. Without them, we would be like our ancestral Neanderthals who used stones and crude devices to chip away at and carve hard structures. How fortunate we are today to have electric and air-driven handpieces to efficiently remove decay and prepare teeth for restoration. 
Bien-Air Dental has long been a leader in this field, providing us with precise, ergonomically designed instruments to complete our tasks in a faster, easier, and more accurate fashion. While I rely heavily on Bien-Air's Optima MX electric motor system, I also use air-driven handpieces, such as the Tornado LK. Needless to say, I was excited to try the Tornado S with its smaller head size. This handpiece is every bit as good as the Tornado LK. 
The Tornado S provides 24 watts of power with Bien-Air's proprietary "steady torque" technology in a sealed head, making it very powerful. This handpiece does not sacrifice any of the features we depend on, such as a "cool touch" head with a push-button chuck, four-port water spray, and ceramic ball bearings. It is a very quiet handpiece. 
Undoubtedly, you need this handpiece for instances, beyond treating young children, when a handpiece with a larger head will not allow for an adequately visible and controlled operative field. The nonslip, lightweight, and ergonomically balanced design is another advantage to this handpiece. Once again, Bien-Air has provided us with a resource that allows us to provide comfortable, efficient, and optimal care for our patients.
---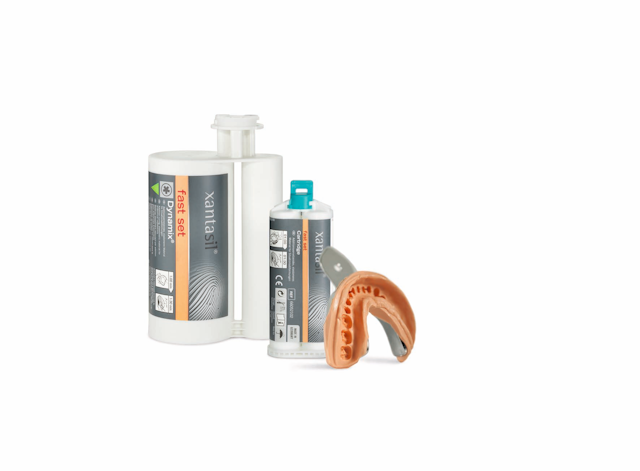 Xantasil Alginate Substitute by Kulzer
Sure, mixing a water-powder version is less expensive—but at what cost? Does it mean you need your assistant to leave your side to mix it immediately or wrap it in a moist towel until he or she can pour it later during so-called free time, lunch time, or after work? Are you risking distortion and the ability to have a second or third pour without distortion? If this rings true, then Kulzer's Xantasil Alginate Substitute is something you need. 
This product eliminates the time-crunch element and provides a precise impression with remarkable long-term dimensional stability of up to several weeks. Your patients will like this elastomeric material because of its quick setting time and because it doesn't require multiple impressions. 
You will like the bulk-mix delivery system using the Dynamix machine and 380 mL cartridges (two per package) that offer the precise amount of material you need and therefore reduce waste. Whether using the Dynamix dispenser or the handheld dispensing gun with 50 mL cartridges (six per package), you will have easy cleanup, less waste, and a perfect homogeneous mix every time. 
This is a medium-body material with a wide variety of applications, including diagnostic models, orthodontic impressions, occlusal guards, and even impressions for removable prostheses. Xantasil is a versatile, simple, and highly useful alginate substitute.