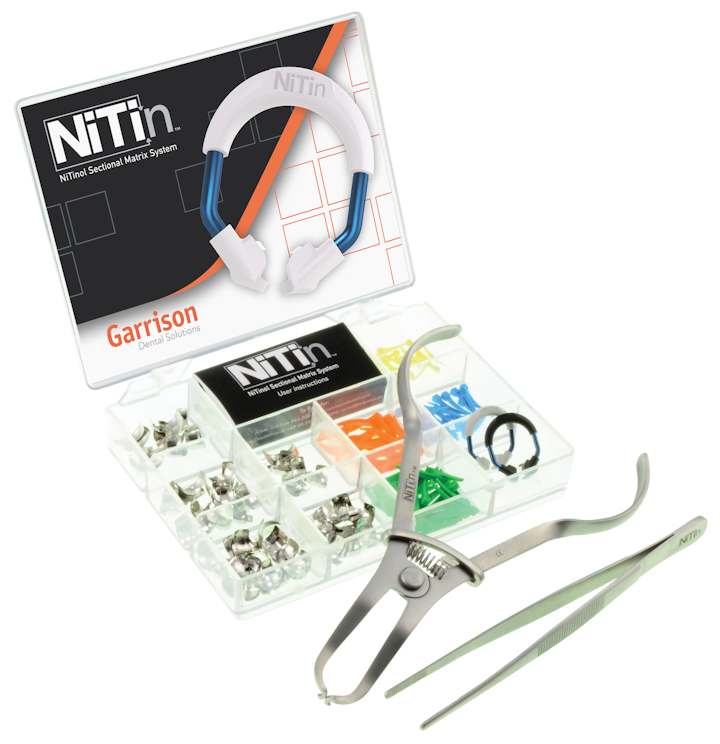 NiTin Sectional Matrix System from Garrison Dental Solutions
I was recently thinking back to my dental school training in resin composites. I graduated from dental school in the mid-2000s. There were definitely dental schools at that time that did not teach posterior composites to their students. I felt lucky to go to a school that was more progressive and made posterior composites a regular part of our curriculum. 
Despite being a more progressive school, when we restored class II lesions with resin composites, we typically used Tofflemire matrix bands. While those work well for amalgam, they just don't have the same effect with resin composite. When we restore posterior interproximal caries with composite, we must use a sectional matrix system. This is the only way to get a consistent firm contact. The NiTin Sectional Matrix System from Garrison Dental Solutions is a great choice for these types of situations in your practice. 
What sets the NiTin Sectional Matrix System apart from other sectional matrix kits is value. The NiTin system is the most cost-effective kit in the Garrison catalog. Sectional matrix systems are a must, but the costs can add up. I think about this every time I drop a wedge, bend a matrix, or break a ring. Having a kit that won't break the bank is a real help for my overhead. Now just because this kit is more cost effective, it doesn't mean that Garrison cheaped out on us! As the name implies, the rings of the NiTin system's rings are made from drawn-wire Nitinol. Nitinol produces a ring with spring and effective separating forces, even after hundreds of uses. It is this separating force that is vital for achieving great interproximal contacts. In addition to making it easier to create ideal contacts, the NiTin rings will work well for a long period of time, thanks to the longevity of the Nitinol metal and polyetheretherketone plastic. The NiTin kit comes with a standard ring and a long-armed ring, both of which will bring value in various restorative situations.
In addition to the rings, the NiTin kit comes with 100 assorted matrices. The matrices are shaped with ideal anatomy to help recreate perfectly contoured contacts. Wedges are part of the kit as well. The G-Wedge is anatomically shaped to reduce trauma to interdental tissue while firmly hugging the tooth and matrix. Throw in a great set of ring-placement forceps and matrix forceps, and the kit provides every piece you need to take your class II restorations to the next level. 
A quality matrix system can make the day easier. That makes it valuable to me. When you can get the same effects for a lower cost, that makes the value increase even more. That is what Garrison has done with the NiTin Sectional Matrix System. Double into the right center-field gap for Garrison Dental Solutions!
---
3s PowerCure System by Ivoclar Vivadent
My treatment operatory has an entire wall of windows that face out toward a nice wooded area. We are on the second floor, so the view of a beautiful blue sky with a vibrant green tree line in the distance is a really nice sight. I know because I look out of those windows every time I cure any adhesive, composite, or cement in my office. In 2019, nearly every procedure I do is an adhesive procedure. That means I spend lots of time staring out the window while light curing. I need to prepare to look out that window less because of the 3s PowerCure System by Ivoclar Vivadent. 
3s PowerCure is a system of products for direct restorative dentistry that, when used together, can make you more efficient than ever before. The 3s PowerCure System consists of four components: a curing light, an adhesive, a composite, and a flowable composite. When used together, your curing time per step can be cut down to three seconds. Three seconds! 
The first component is the Bluephase PowerCure curing light. This high-output curing light is equipped with Polyvision technology and has four modes: High power mode (1,200 mW/cm2), Turbo mode (2,000 mW/cm2), 3s mode (3,000 mW/cm2), and PreCure mode (950 mW/cm2) for pre-curing cements. The 3s mode is what you will use (in conjunction with the other components of the 3s PowerCure System) to achieve three-second cure times. Just like the Bluephase G4, the Bluephase PowerCure has the "lane-assist" feature to make sure you don't drift off the tooth you are trying to cure. Ingenious. The Bluephase PowerCure has high output, a broad spectrum, and features that make it one of the best on the market. By giving you the ability to cure in three seconds, it will be a behemoth tool for efficiency in your practice.
The bonding agent of the system is the Adhese Universal VivaPen, which I have covered previously in this column. This is one of my favorite delivery systems in all of dentistry. My composite of choice for the 3s PowerCure System is Tetric PowerFill and Tetric PowerFlow. These products are similar to the Tetric EvoCeram Bulk Fill and Tetric EvoFlow Bulk Fill materials I've covered in the past, except these have been perfected for Bluephase PowerCure's three-second cure. All of the products in the Tetric line of composites, including these new iterations, exhibit wonderful properties (handling, esthetics, polishability, low shrinkage). When using Tetric PowerFill and Tetric PowerFlow, you can cure up to 4 mm increments with the three-second Bluephase PowerCure. That makes my jaw drop in excitement. 
I honestly do not remember the last time an insurance company raised my reimbursement rates, yet my expenses go up every year. We must all continually work smarter in order to keep our practices going. The 3s PowerCure System from Ivoclar Vivadent will help you do that. It will make your direct restoration procedures significantly more efficient and predictable. It will make three the magic number in your practice. Three-run home run for the 3s PowerCure System by Ivoclar Vivadent!
---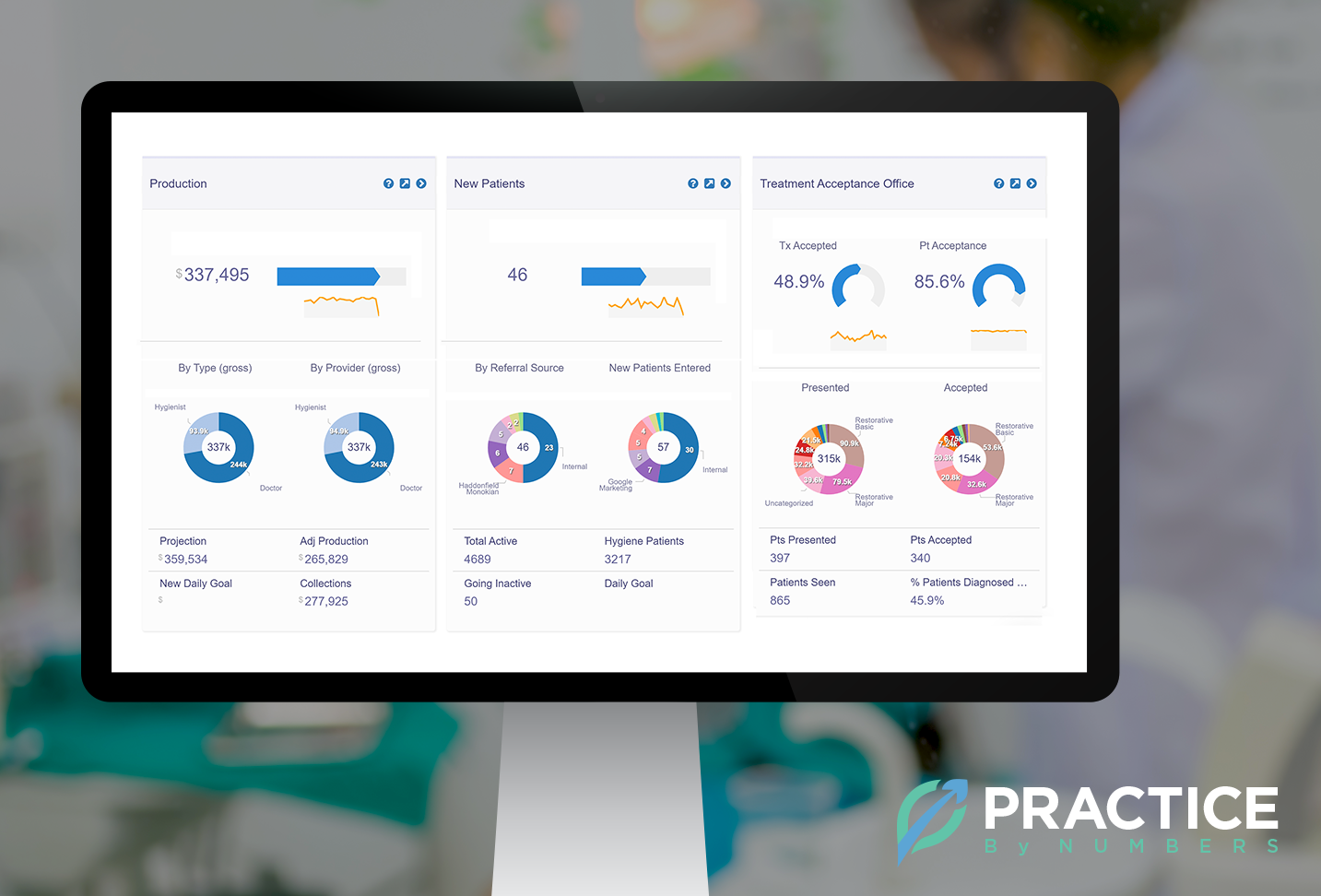 Practice by Numbers
Anyone who has read this column before or knows me personally knows that baseball is something I have loved my entire life and is a big part of my life. Unfortunately, my Texas Rangers have had a rather forgettable sub .500 season. But I still watch every game. One of the reasons I love baseball so much is analytics. Baseball, with its series of one-on-one matchups, lends itself incredibly well to statistical analysis. The last 20 years have seen something called the analytics movement in the game. So much so, that Brad Pitt made a movie called Moneyball about it in 2011. The same thing is happening to dental practices. While it remains to be seen if a movie will be made about it, the analytics movement in dentistry is well under way. 
Software plug-ins such as Practice by Numbers brought on the analytics movement in dentistry. Practice by Numbers interfaces with the most popular dental software systems to give you a dashboard containing all the key performance indicators you need to better manage your practice. Most of the statistics that are vital to your practice are handled clumsily by your dental software system. The numbers you need to know daily, weekly, and monthly are in your practice software—but they are buried deep in some report. Practice by Numbers brings the key data points of your practice out of the depths of your software system and onto an easy-to-read dashboard.
One great example of this is the PracticeIQ section of the Practice by Numbers software. One of its many features is tracking important hygiene department metrics. Off the top of your head, can you tell me which of your hygienists is most successful at preappointing patients? I know I couldn't. But PracticeIQ in Practice be Numbers can! It can track more than 300 key performance indicators just by a simple integration with your practice software. You can even integrate QuickBooks Online into PracticeIQ and get even more robust information.
RevenueIQ is another part of the Practice by Numbers suite. It helps you find opportunities for production already sitting in your existing patient charts. Many of our patients have services that aren't completed. RevenueIQ finds those charts and gives you the ability to get those treatments completed. 
PhoneIQ is an add-on to the Practice by Numbers system that integrates with your phone system and allows you to track call data, such as the number of missed calls and common times for them. Were those calls returned in a timely manner? PhoneIQ can tell you and help you unlock hidden production and profit in your practice. 
We need to be better at analytics as dentists. We need to learn how to play Moneyball in our practices. Practice by Numbers can help you do that. I can't wait for Brad Pitt to play the role of me when they make a movie about Practice by Numbers. Triple into the left-field corner for Practice by Numbers!