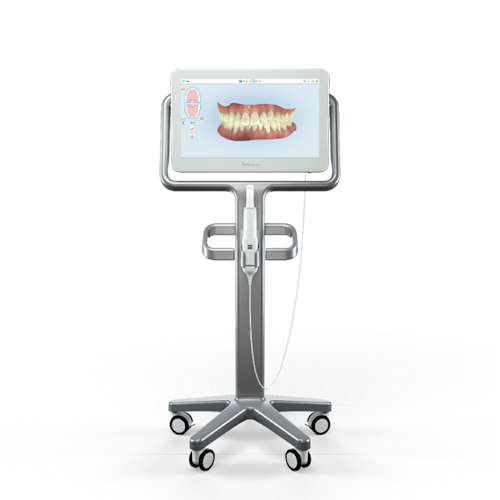 The market for intraoral scanners is evolving quickly. This one is powder-free, but it doesn't work with a lot of clear aligner systems. That one is more expensive, but the speed is worth it. How do we keep track of it all?
The CS 3600 from Carestream Dental
Creating a buyer's guide is an exercise in futility; product specs change frequently. But our goal is to at least identify some of the biggest players in the space and present the information that is relevant. No buyer's guide is meant to make your choice crystal clear. I firmly believe the best way to select a technology, especially one that will replace a common procedure such as impression taking, is to go to a trade show and try them out yourself. Scan some typodonts, play around with the software, and talk to the vendors face-to-face. You may even get a better price than what's listed here.
So, I hope this guide to intraoral scanners will be just that—a guide (table 1). Your practice and your specific clinical needs are more important than price and product specs.
Cost of model

Annual cost
(including subscription fees, etc.)

Clear aligner compatibility

Export file formats

Additional features of note

3M True Definition Scanner (3M Oral Care)

$16,995

Consult with a 3M representative

• Invisalign (with advanced data plan)

• Open STL files for participating companies (with advanced data plan)

STL

Powder scans only

Aadva IOS (GC America)

$16,000

$1,000 per year with first year free

Open STL files for participating companies

STL, PLY

• Compact, small handpiece sensor

• Cart format (for easy office-to-office transfer)

• Large precision GUI (graphic user interface) screen

• USB backup, transfer, and storage capabilities

Cost of model

Annual cost
(including subscription fees, etc.)

Clear aligner compatibility

Export file formats

Additional features of note

CS 3600 (Carestream Dental)

Consult with a Carestream representative

Consult with a Carestream representative

• 3M Clarity

• ClearCorrect

• Eon

• eXceed

• SureSmile

STL, PLY

• Multiple bite capture option

• Hybrid scan (merges in vivo scans with impression scans)

iTero Element 2 (Align Technology)

$32,000

Varies

• ClearCorrect

• Invisalign

STL

• Complete orthodontic and restorative workflows

• Invisalign outcome simulator

• TimeLapse technology

• Viewer tool

• 3-D Invisalign progress assessment

• Occlusogram

Medit i500 (Medit)

Consult with a Medit representative

Consult with a Medit representative

Consult with a Medit representative

STL, PLY, OBJ

Consult with a Medit representative

Planmeca Emerald (E4D Technologies)

$26,429

None

• 3M

• Accusmile (Forestadent)

• ClearCorrect

• Elemetrix (SureSmile)

• eXceed

• EZ-Align (DynaFlex)

• Insignia (Ormco)

• Orchestrate 3D

• Orthocaps

• Panthera Dental

• SLX Clear Aligner (Henry Schein Orthodontics)

STL, PLY

• Ultralightweight (9.1 ounces)

• Full-arch image capture (<45 seconds)

• Dual-button hands-free operation

• Autoclavable scanner tips

• Antifogging, heated scanning tips

• SlimLine scanning tip for pediatric/smaller patients

• USB 3.0 portable plug-and-play connectivity

• Five-year total-care warranty

Trios 4 (3Shape)

Consult with a 3Shape representative

Consult with a 3Shape representative

3Shape Clear Aligner Studio (for in-house fabrication)

STL

Caries diagnosis via transillumination tip