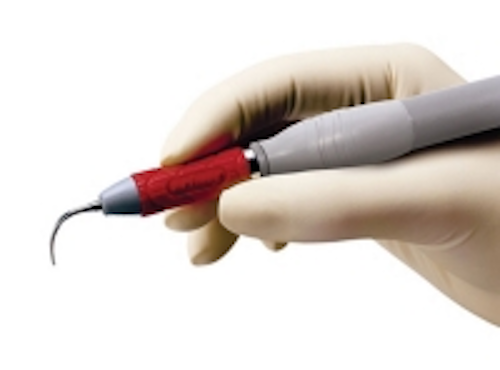 Dr. Joe Blaes
SWERV3™ from Hu-Friedy – In light of advances in ultrasonic technology, power scaling instruments are now indicated for the removal of all types of deposits and biofilm, and should be considered to have a primary role
in periodontal debridement. The new Hu-Friedy SWERV3 magnetostrictive ultrasonic scaler offers finely tuned electronics, delivers a full range of power for superior efficacy, provides unrivaled patient comfort, and enables superior clinician comfort. SWERV3 is also compatible with the inserts produced by all major magnetostrictive scaling unit manufacturers. The light-weight and well-balanced handpiece features a unique "comfort zone" grip that reduces muscle strain and enhances clinician comfort during use. The ergonomic design provides a secure, comfortable, relaxed grip. In addition, this design reduces finger pinching, which also leads to greater operator comfort. The finely tuned electronics of SWERV3 allow for smooth, quiet vibration, which enhances patient comfort and ensures a better chairside experience. The SWERV3 magnetostrictive ultrasonic scaler has the full range of power settings needed to deliver superior clinical results and unrivaled patient comfort. Selecting the proper setting is simple for each clinical indication and patient. Digital controls enable the dental professional to adjust the power setting in subtle increments to facilitate periodontal debridement at the lowest possible power. This wide range of power settings facilitates the safe and effective removal of subgingival plaque, calculus, and harmful endotoxins from the root surfaces. Ultrasonic instruments such as SWERV3 have also demonstrated a beneficial lavage effect that dislodges plaque and other surface irritants slightly beyond the reach of the instrument tip through a "cavitational" effect. For ideal chairside ergonomics, the cord of SWERV3 should be wrapped around the arm of the dental professional. The design of SWERV3 decreases the torque on the cord and allows for better adaptation of Hu-Friedy Swivel™ Inserts, which also increase rotational control and encourage a lighter grasp. Order from your dealer or visit www.SWERV3.com for more information.
---
2pro™ Total Access Disposable Prophy Angles from Premier Dental Products Company – So what is so exciting about a new disposable prophy angle? Almost every company sells them but these angles are unique and innovative, which is what I have come to expect from the folks at Premier. 2pro cleans and polishes all tooth surfaces with its unique cup and tip design. Use the cup to polish all tooth surfaces, and then without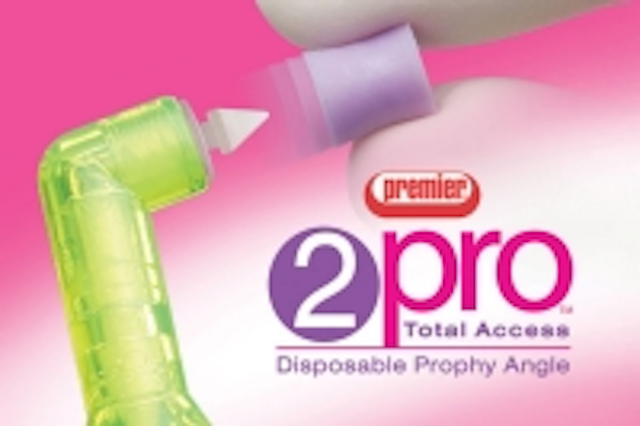 changing angles simply remove the cup and use the tip to clean those inaccessible areas like the gingival and proximal areas, occlusal surfaces, veneer margins and around implants, orthodontic brackets and furcations. 2pro features a patented dual-action cup and tip design to guarantee total access to all tooth surfaces. It runs smoothly and quietly with no freeze-ups and less heat build-up due to the patented gearless design. 2pro's ergonomic (100°) design allows you to conveniently reach all areas of the mouth with even easier access to the lingual area. It is well constructed and easily attaches to the handpiece. 2pro is latex free and comes in bags of 144 disposable angles in either soft or firm in a short cup or soft or firm in a long cup. I know you will enjoy the convenience of this great new disposable angle. Order from your dealer or visit www.premusa.com for more information.
---
MI Paste Plus™ System from GC America – Most of the advertising for this great product has been directed at hygienists, so you may not have heard about it. MI Paste™ was first introduced by GC in 2003.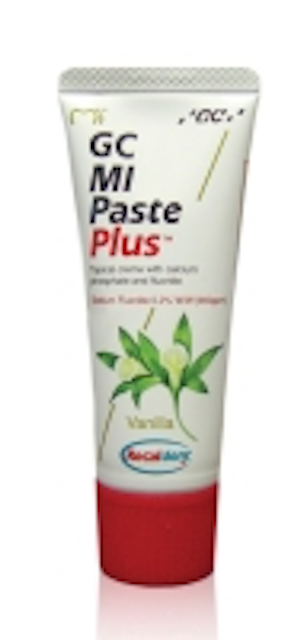 This is the first product for professional use to contain Recaldent™ (CPP-ACP), which is a special milk-derived protein that can help provide important minerals such as calcium and phosphate which are required for healthy teeth. MI Paste Plus™ (introduced in 2007) adds fluoride to that mix to give you the correct bio available ratio of 5 - calcium, 3 - phosphate, and 1 - fluoride for enamel strengthening. I have been using MI Paste and now MI Paste Plus since its introduction and have found it to be great for hypersensitivity after bleaching, or even better during the bleaching process because then patients never experience sensitivity. My hygienist often has patients use it for sensitive dentin in gingival erosion areas. Are you looking for something for those white spots on anterior teeth or the decalcification spots after orthodontics? MI Paste Plus will recalcify and strengthen the enamel in those areas. There are 45 clinical and in situ trials and over 100 publications that substantiate the benefits of Recaldent (CPP-ACP). MI Paste Plus is a great adjunct to minimum intervention dentistry methods that emphasize identification and prevention, because it helps to treat so many indications. GC provides many promotional materials to help you explain the benefits of treatment to your patients. They are all a valuable way to begin discussing treatment and how MI Paste Plus can improve their oral health and how it can help them develop stronger, healthier teeth. Order from your dealer and go to www.gcamerica.com for more information.
---
Vanish™ XT Extended Contact Varnish from 3M ESPE – My hygienist Karen and I were tired of dealing with sensitive teeth. Sometimes a patient would be unable to allow me to do a restorative procedure because of a sensitive tooth in another area of the mouth. Karen deals with it much more than I do, and we both have tried a lot of different treatments for sensitivity. But I could not find a product that worked all the time until I was sent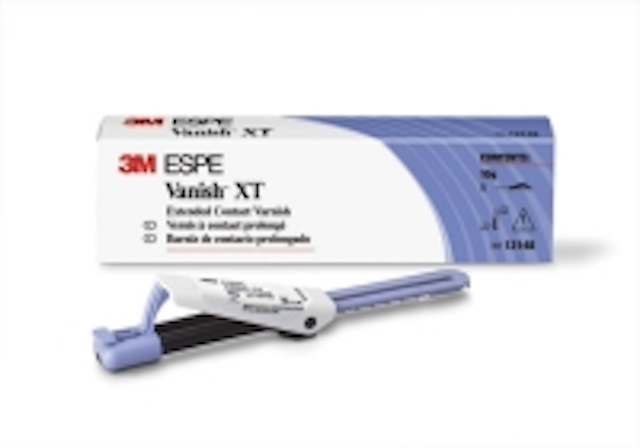 some Vanish XT to evaluate. Now we have the answer. Vanish XT is a site-specific, light-cured, durable, fluoride-releasing coating that provides an immediate layer of protection to relieve dentinal hypersensitivity. It is a resin-modified glass ionomer that delivers fluoride, calcium, and phosphate. It protects exposed, sensitive root surfaces, especially newly cleaned surfaces following scaling and root planning. Vanish XT varnish remains on the tooth for six months or longer and is moisture tolerant so there is no need to dry or pre-treat the root surface. It does not require the use of a rubber dam, but Karen is already using an Isolite so the site is isolated. The "XT" in the product name reflects the long-lasting durability with fluoride release. Occluding dentinal tubules in-office provide immediate relief from pain associated with the movement of fluid through open tubules. So, this solves Karen's and my problems, and Karen's problems with sensitivity. In addition to creating a protective layer on exposed dentin, Vanish XT varnish has been shown to both penetrate and seal tubules. It also protects the tooth surface from acid attack. In vitro tests demonstrate that the coating creates a barrier against demineralization and acid erosion, provides protection beyond the coating, and helps repair demineralized enamel adjacent to the coating. Vanish XT varnish contains fluoride and is "recharged" by fluoride toothpaste. So your patients not only get the protection of a physical barrier, they get the benefit of long-term fluoride delivery. Order from your dealer or visit www.3MESPE.com/preventivecare for more information.
More DE Articles