Don't be a sheep
Sheep aren't the smartest animals; they have a strong instinct to follow the sheep in front of them.
Sep 1st, 2010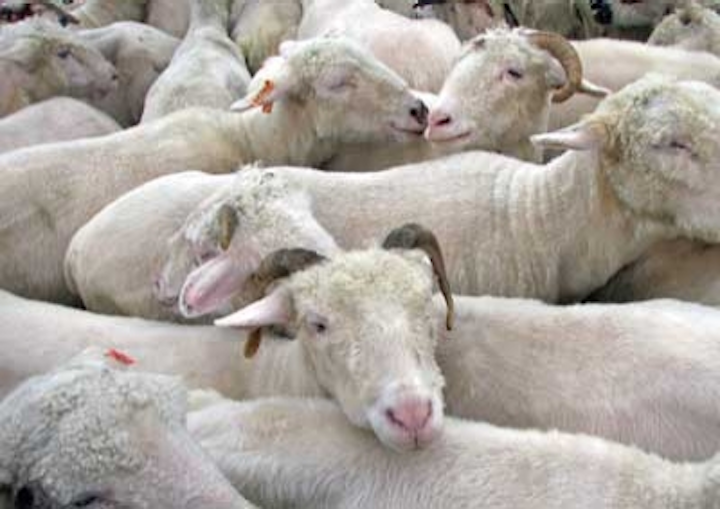 By L. Don Wilson, DMD
For more on this topic, go to www.dentaleconomics.com and search using the following key words: sheep, differentiation, lasers in dentistry, perio therapy, restorations, Dr. L. Don Wilson.
Sheep aren't the smartest animals; they have a strong instinct to follow the sheep in front of them. When one sheep decides to go somewhere, the rest of the flock usually follows, even if it is not the best decision. For example, sheep will follow each other to slaughter. Even from birth, lambs are conditioned to follow the older members of the flock. This instinct is hard-wired. It is not something they think about.
Sheep are gregarious. They usually stay together while grazing. They are social animals that like to maintain a visual link to each other at all times. It's the sheep's flocking instinct that allows sheep herders to look after and move large numbers of sheep and lambs. I guess the old saying, "Unless you are the lead sheep, the view never changes" is true.
Do dentists and sheep have anything in common? Let's try to answer that question from a career perspective. Your special day finally arrives – graduation from dental school. Today you are a doctor, and this is the pinnacle of your career to date. Every effort has led to this moment. Mission accomplished! But perhaps we should more appropriately say at graduation, "Mission just begun."
What did you do the day after graduation? Can you even remember? You held the degree and license to do the thing you always dreamed of – practice dentistry. You would think the next day you got up before dawn eager to start drilling and filling. But sadly, most of us can't remember.
Let's face it. Completing our studies didn't make us masters of dentistry; it only gave us a license to learn. Upon entering private practice, we were set to learn from "day first" to "day last." I can honestly say that after 32 years in private practice, not a day has gone by that I have not learned something new from the day's experiences.
In dental school, we students stayed pretty much together, like sheep. Oh, there was first in the class and last in the class, but we were all called doctor. We all studied for the same exams, did the same lab work, and completed the same procedures chairside to obtain our degrees. The separation or differentiation from our peers came after graduation as our practices developed and took on their own personalities. Or did they? Perhaps we become like sheep after we graduate and try only to follow the practice in front of us.
It's all about differentiation
What makes a dental practice successful in any type of economy? Good quality dentistry is essential, of course. You must have quality dentistry in your head and your hands, but what about the rest of the story? If we look exactly like the other sheep, what will cause patients to drive past the other dentists right to our door?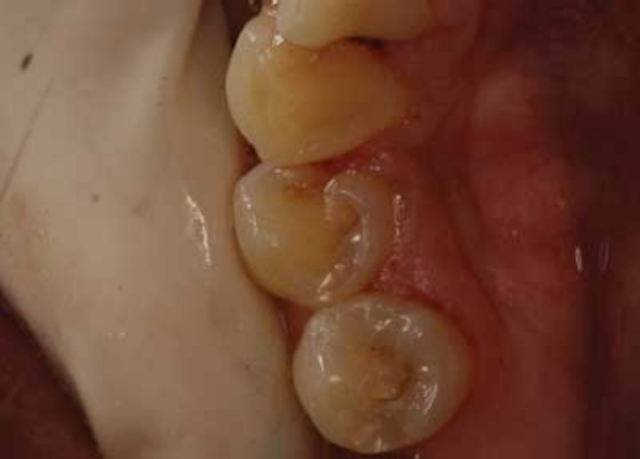 Tooth #29 (mirrored view) Pre-Op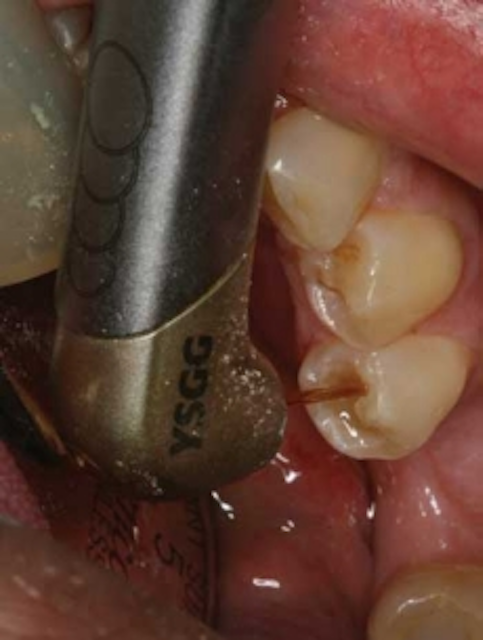 Tooth #29 prepped with YSGG laser without anesthesia
Differentiation! When everyone else zigs, you zag. Dentists must differentiate themselves from the other sheep and stand out in the crowd in order to be truly successful. How can we possibly differentiate our practice from the others? Practice differentiation has many facets, but one surefire method is technology, specifically, using lasers to provide both basic and enhanced dentistry.
Dentists who use lasers stand out from the herd as progressive and patient-friendly. Lasers reassure anxious patients and make them feel more at ease. Lasers can transform patients' anxiety into a pleasant experience. Our goal is not only to satisfy each patient, but to exceed their expectations in order that they might refer other people.
Lasers not only create a better patient experience, they allow for higher case acceptance and increased practice production. Lasers increase the production of common dental procedures by efficiently treating the conditions that present most frequently in our practices, such as restorations, build-up of broken teeth, endo treatment, and perio therapy. The YSGG laser allows for minimally invasive dentistry because it specifically seeks decay rather than sound tooth structure.
Patients may not understand crown lengthening, but they definitely understand tooth-colored fillings without anesthesia using a laser. Patients may fear gum surgery, but they can appreciate no-cut, no-sew laser perio therapy. Patients may cringe at the mention of a root canal, but they will release their death grip on the chair when they hear it can be done with a laser. In today's society, the word laser is patient-friendly, especially when compared to the word drill.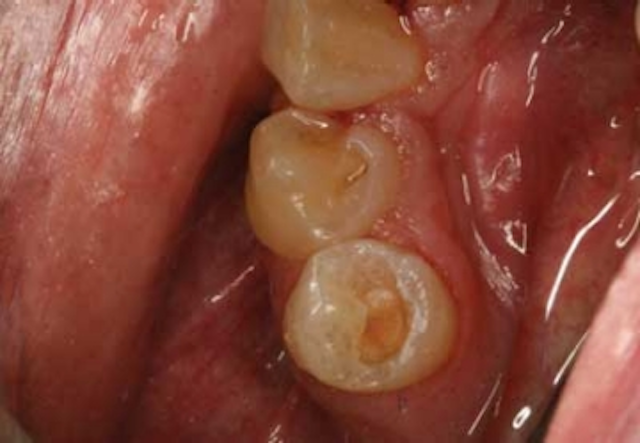 Tooth #29 (mirrored view) moderately deep occulsal prep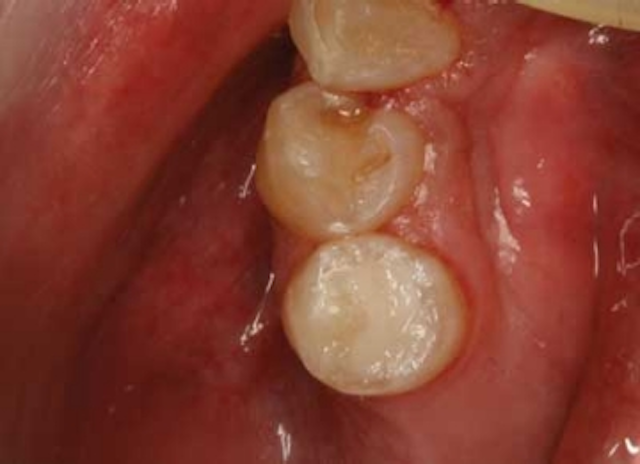 Tooth #29 (mirrored view) direct restoration, brief appointment, no numb lip
We have a cosmetic practice, but we complete all facets of general dentistry with lasers in more than 80% of cases. Lasers can be easily and quickly incorporated into any general dental practice. There are three things that can shut down my practice – loss of air, loss of vacuum, and loss of laser. We just can't practice without our laser, and our patients would not consider treatment without a laser. Lasers make life easier and practice quality better.
When a patient leaves our office after a recare visit and returns home, the family invariably asks, "Did you have any______?" You guessed it – cavities! When patients learn those cavities can be filled using a laser and without a shot or a numb lip, they don't mind returning to the office. They tell their family and friends about their newfound bravery on returning to that "awesome dentist that uses a laser instead of a drill. His practice is really different!"
Through the use of lasers for everyday dentistry, we create the perception that we are the technologically advanced practice in the area. We are different!
After talking with numerous dentists who practice in the same economy, I hear two entirely different stories. Some dentists are singing the blues, saying they can't make it in this economy, while other dentists are growing and thriving in the same economy. Remember, we graduated equal, but we differentiate our practices with time, effort, and technology. It's a matter of equal opportunity, not equal results!
Without the use of a laser today, you're just not as up-to-date as patients expect. Many patients consider lasers to be the norm. Practices that offer compassionate care using technology, such as lasers, will be the offices that experience the biggest influx of new patients. Currently, only 5% of dentists have chosen to differentiate their practices by doing everyday basic dentistry with lasers. There is still time and opportunity to remove yourself from the herd.
Don't be a sheep!
Dr. L. Don Wilson graduated from the University of Alabama School of Dentistry. He holds Standard and Advanced Proficiency Certification, as well as Educator Status through the Academy of Laser Dentistry, and the Associate Fellowship within the World Clinical Laser Institute. Dr. Wilson has conducted over 300 laser seminars and is the director of laser education at the Nash Institute in Charlotte, N.C. You may reach him at drwilson@76smile.com.
More DE Articles
Past DE Issues