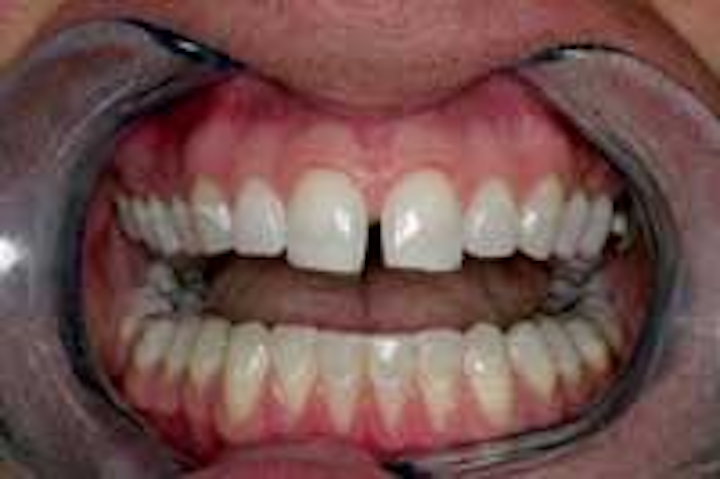 At first, Dr. Kevin Winters thought one of his friends in rural Claremore, Okla., was playing a joke on him. What were the chances that such a strange e-mail to his office could be real?
The e-mail's author said he was a special operatives agent for the U.S. government who would be leaving Iraq to fly into Tulsa, Okla., for only 24 hours - all for cosmetic dental work. The 30-year-old we'll call "David" vaguely explained how his front teeth became acquainted with some Iraqi concrete during an ambush that left chips in a pre-existing gap. Dr. Winters replied to David's e-mail with a request for photos of the damage. Sure enough, the resulting photos supported the mystery man's claim.
Dr. Winters blocked off an afternoon to give David six composite veneers that would close the diastema and lengthen and widen the laterals. He invited me to watch and ask questions. When David arrived, our questions began. Most important to Dr. Winters was why David chose a dentist 30 minutes outside Tulsa when he was working in Iraq.
"I got referred by a guy in my unit - his uncle had come here before," David said. "I'm going back to Iraq tomorrow, so I'm just here for the teeth. This is how the government works. When we've got flights available, we've got to get on them. I saw they had a rotator flight to Tulsa, and I didn't know when I'd have the time again."
To get to Claremore, David flew from Iraq to Kuwait, from Kuwait to Germany, and from Germany directly to Tulsa, he said. He rented a car at the airport.
David gave few details about his job description, except that he has worked in Iraq for two years and spent the previous year in Afghanistan.
"I volunteered to stay over there longer," he said. "I don't have a life or a wife, so I can stay over there."
David is from Maryland originally, but calls Florida home now. He studied psychology at the University of Miami, then spent nine years in the Marine Corps and attained the rank of staff sergeant.
"Now I work for the government," he said.
Dr. Winters and I weren't allowed to take David's photo, exept for closeups of his dental work.
When asked what he misses most about the United States, David said he couldn't wait to eat a big steak. Usually he eats Middle Eastern cuisine among the Iraqis - he's not affiliated with a branch of the U.S. military, he said.
Dr. Winters also wanted to know why getting composite veneers was so important to David. "You're off doing what you're doing, so why even think about your smile?" Dr. Winters said.
"I had braces for a year when I was 13, and my teeth were perfectly straight," David said. "I chipped my tooth and was going to get braces again, but I didn't want to go through that again. I just want a good smile again, and I hear you're the man."
Another factor, David said, was that he couldn't make monthly appointments with an orthodontist while working in Iraq. Composite veneers made the most sense for his situation.
Dr. Winters told David his composite veneers would be good for seven to 10 years. Then David could replace them with permanent porcelain veneers.
"I'll fly back here to get my porcelains," David said.
After getting his composite veneers that day, David accepted an invitation for a steak dinner at the home of Dr. Winter's dental assistant and her family. He returned to Iraq the next day.
Dr. Kevin Winters is one of the original clinical instructors at the Las Vegas Institute. He may be reached in Claremore at (918) 341-4403 or by e-mail at smilmkr95@aol.com.