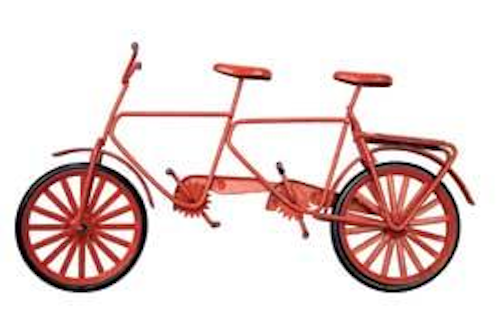 by Theodore C. Schumann, CPA, CFP
Throughout a good part of my youth, my parents owned a dairy store. The store, complete with soda fountain, sold milk in glass bottles, some groceries, and both packaged and hand-dipped ice cream. Customers could enjoy ice cream sundaes, banana splits and milk shakes. The store was a gathering place for local teenagers because of the jukebox and pinball machines that were part of the sit-down area. The store was typically staffed by one adult and various teenagers. From the age of 10 I worked there and learned many valuable lessons on leadership, customer service and human nature.
My father was very creative in trying new things in the store. For a period of about three or four years, my father purchased about a dozen tandem bicycles that we rented out on an hourly basis. Like any business, the cycle rental needed a sales force and a mechanical staff to keep the bikes in top running shape. Since I didn't know a wrench from a hammer and hated the thought of getting my hands dirty, I worked on the rental side of the business while my brother, Henry, very talented in mechanical matters, kept the bikes in good repair.
My Dad would encourage us to ride the bikes to school and around town on our off hours to promote the rentals. Now if you've never ridden a bicycle built for two, you might not realize that there are many lessons to learn by riding one. You must learn to balance with the other rider, and you are forced to learn the value of teamwork and cooperation. You soon appreciate the amount of trust that goes with riding a bike together.
When my brother Henry and I rode together, we always argued over who would ride the front of the bike and, consequently, who would choose our direction. Because neither of us was ever happy about letting the other drive, we would often pull tricks like letting the one in front do all the peddling. On a flat road it would take a while to realize the other guy wasn't doing his share of the work and yet still enjoying the ride. Traveling uphill, on the other hand, we were quickly aware that someone wasn't "pulling his weight." We both soon learned to develop the habit of constantly checking on the other to see that he was peddling.
My brother also figured out quickly that he could easily ride these big bikes by himself, but it never took long to find someone who wanted to ride with him. This was a great way to make friends and he was particularly good at convincing girls to join him on the ride. Though he could ride the bike alone, he knew it would be more fun with another person.
The lessons Henry and I learned riding tandem bicycles also apply to our professional lives as small business owners:
You need to find the balance in your life - balance between the personal and professional. Often I see people that lean to one side or the other when it comes to their practice, either completely devoted to their business, working untold hours while their personal and family lives suffer, or great at the family and personal side, but misssing the boat on running the business. To be truly successful you must find the right balance.
No one could successfully run a business with employees and partners they didn't trust. You need to surround yourself with team players and continually instill those values to your staff. When you work with people you trust, it's amazing how much more balanced your life becomes.
And finally, just like my brother Henry, you'll find that business and life are more fun if you take someone else along for the ride!
Editor's Note: reprinted with permission from Dental Business Success Newsletter
Theodore C. Schumann, CPA, CFP®, speaks on dental business topics and regularly lectures at the University of Michigan Dental School, the University of Detroit-Mercy Dental School, and dental meetings throughout the United States. He hosts a study group for dentists and authors a monthly newsletter. Reach Schumann via e-mail at tedtbti@dentalbusinesssuccess.com