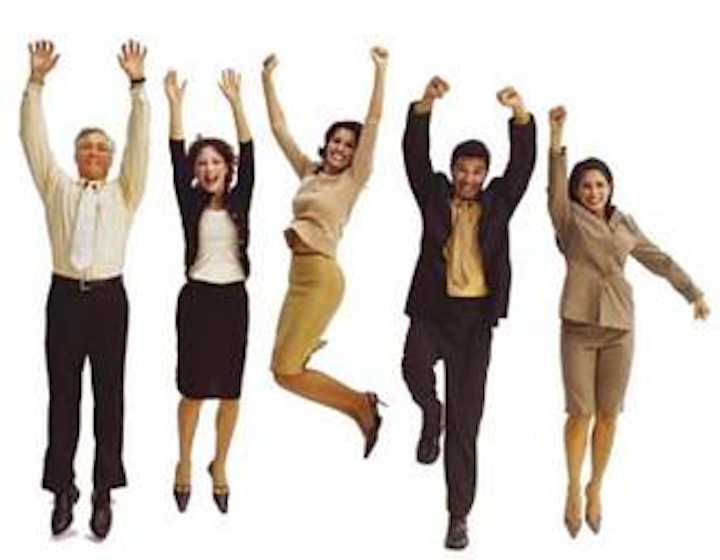 Every successful business is driven by its leader's vision. In the 1970s, Bill Gates began working in the computer business in his parents' garage. From those humble beginnings, he helped create Microsoft - one of the most successful corporations in the history of U.S. commerce. What fueled Microsoft's rise was not just talent and skill, but also the vision of its leader. For a dental practice to reach success, it must be guided by the dentist's vision. That's why one of the first things Levin Group tells ­every new client is to create a vision statement. Only a dentist with a vision can understand and communicate to the staffs where he or she wants the practice to go.
Creating a vision is not a snap decision. You need to determine how you want your practice to look. Most dentists have heard about vision statements, mission statements, and practice commitments. Unfortunately, many do not understand how to properly design a vision statement, create a mission statement, or develop practice commitments. In fact, few of the dentists I ask in Levin Group's 650 client practices tell me they have vision statements.
A vision for the future
Vision is about looking ahead three to five years or more. All good leaders have vision. A vision statement is not where you are today or even where you will be in the near future. Instead, it is focused on where the practice will be years down the road. Unfortunately, many doctors struggle with writing vision statements. It might seem uncomfortable to claim that you will be somewhere in three years, five years, or even 10 years since you are not sure how your practice will get there.
Think of a vision statement as a view of the earth from 100,000 feet. It is a high-level statement that outlines in writing where a practice wants to go.
Get it on paper
Forget all your concerns and discomfort. Writing a vision statement is not about planning, how you will achieve it, how you will afford it, or if it can really even happen.
It is about what you want your practice to be in the future. One of the best ways is to write three to five clear statements about what your practice will look like in seven years. Do not worry about whether you can achieve it, whether you will need consultants to help you, whether your current staff will buy in - just jot down three to five statements.
Once these are done, craft the vision statement. I suggest it be no more than three or four paragraphs. Long vision statements often go unread and are confusing. This is not a statement being written for patients, but for internal use only. A well-crafted vision statement will be one of the best motivational tools you have ever created. It can also let prospective staff know where your practice is going and help them decide whether they want to work toward your goals.
The mission statement
Levin Group Method™ dictates the first thing each dentist should do when addressing change in the practice is to establish a clear vision statement. The vision should be closely followed by the development of a mission statement.
While the vision statement is about where the practice wants to be in the future and how it will operate, the mission statement is a clear definition of the purpose and focus of the practice today.
Once again, an excellent leader has a clear practice mission and shares it with the team. Because of similarities in dental practices, many mission statements resemble one another - they talk about quality, patient care, practice services, and customer satisfaction. While it is not important to have a mission that differentiates one practice from another, you must have a mission that clearly defines your practice.
One way to seal in the mission statement is to hang it many places in the office. Many dentists hang their mission statements using plaques or posters to impress patients and act as superficial marketing. Nevertheless, the most powerful reason for hanging your mission statement throughout your office is to reinforce to the team that the mission is a living document that pervades and guides your practice.
Reference your mission statement regularly in conversation and meetings to remind team members why your practice exists and the difference the team is trying to make in patients' lives.
Putting it all together
Creating vision and mission statements might seem ­overwhelming or unimportant to some dentists. As founder and CEO of Levin Group, I have met many ­dentists who are excellent ­clinicians but whose practices are chaotic, stressful ­environments. ­Establishing a practice ­vision and mission is often the first step for these doctors to ­regain control of their practices. When done correctly, vision and ­mission statements integrate magnificently together.
Read your vision statement at the beginning of every monthly staff meeting and dedicate five minutes to discussing whether your practice is moving to support that vision. At first this might seem like a superficial or silly exercise, but within a few months, your team will begin working toward achieving the vision statement, which helps you build a high-performance team.
The mission statement is different. It needs to be referenced daily. In addition to displaying the mission statement on plaques or posters throughout the office, you should read it at the beginning of each morning meeting. This organizes the day and should be part of a standard agenda. (For a copy of the morning meeting agenda used by Levin Group Practices™, e-mail consulting@levingroup.com with "agenda" in the subject line.)
A morning meeting should require no more than 10 minutes each day with about 30 seconds dedicated to the mission statement. Oral repetition brings the message forward, reinforcing that the mission statement is an accurate reflection of the practice. Levin Group clients who do this tell me it gradually helps galvanize their teams. Once again, it might seem uncomfortable or silly to read the mission statement every day until a few weeks have passed and everyone becomes accustomed to hearing it. Leaders understand it is not enough to have mission and vision statements, but that these must be continually reinforced to the team.
Good leadership is about reinforcement of the right messages. When reinforcement is properly done, your vision and mission statements can inspire and motivate team members to make your practice more successful.
Developing commitments
Once the vision and mission statements have been clearly established and implemented, develop three to five commitments. The goal is to build a high-performance team, and that can occur only if leadership is displayed. A practice should not have more than three to five key commitments - the staff should understand that these are guiding principles of the organization.
A commitment could be:
1 Our practice works to attract the best team ­members and provide continuing training for their education and professional development.
2 Our practice is dedicated to outstanding customer service, and we work to meet or exceed the expectations of every patient.
3 Our practice is dedicated to providing an array of modern dental services to provide the highest standard of care to our patients.
4Our practice provides a range of general dentistry with an emphasis on cosmetic dental care for patients who want to improve the appearance of their smiles.
Having three to five commitments and reviewing them regularly lets you reinforce behaviors and habits for the team. While these commitments resemble a simple list, they come alive when you refer to them regularly.
Good leaders constantly look for opportunities to reinforce their practice visions, missions, and commitments. Reinforcement is necessary for success.
Vision and mission case study
A general dentist in his 40s enrolled in a one-year Levin Group management-consultant program. The practice had eight staff members and was producing $900,000 annually. The doctor thought dentistry was becoming increasingly unpleasant, even though he was earning a high income. After a period of turnover, stress and frustration in the practice continued to climb.
A review of the practice identified several systems that needed upgrading or replacing, including scheduling, hygiene production, and case presentation. While the practice's systems needed to be improved, the dentist's lack of leadership training presented an even bigger obstacle.
A consultant determined after observing the doctor and his team that leadership was lacking and that the team was functioning at a relatively low performance level. Several team members were not committed to the practice and even stated that they intended to leave within the next six to 12 months. This is a common occurence in many dental practices. When a dentist is frustrated and stressed, the team is usually more so, leading to conflict, gossip, and a less-than-positive environment.
The consultant recognized that leadership would be important even when effective systems were followed. To begin team building and a culture change, we assisted the doctor in writing a vision statement. The doctor then presented the vision statement to the team and explained it. Simply writing a vision statement does not change practice culture or behavior. However, the vision statement allowed the team to understand the doctor's goals. Then, together they designed a mission statement and set of commitments. As team members worked through this, the doctor garnered their commitment. Although the vision statement was written by the doctor - as it should be - it became an accepted rallying point for the future.
Changing the practice culture required about two months from first draft until final development of the vision, mission, and commitments. Once completed, those tools galvanized the team in a positive way. Two team members who had been unhappy and questionable for long-term employment became excited, and their attitudes gradually turned positive during this time. Another staff member continued to be unhappy and decided to leave, which allowed the practice to hire a new team member who shared the practice's vision.
During the interview, a staff member shared with the potential new hire the vision, mission, and commitments of the practice. The new employee, impressed with the presentation, said, "I never had an interview where the overview of the practice was explained so well, and especially by another team member who was excited about what the practice was doing and where it was going. I was pleased to get an opportunity to work in this practice."
At the end of 12 months, the practice had implemented new systems, but most important, had energized the team by changing the culture, attitudes, and commitments. As a result, practice production increased to more than $1 million. Two years later, all team members were still employed, and the practice exceeded $1.3 million in revenue. The dentist said he was more concerned about reducing stress than increasing revenue. He wants to develop an enjoyable work environment for the next 15 to 20 years of his career. He knows this is possible because of the leadership skills he developed. Determining clear visions and missions and living up to commitments are essential to practice leadership.
Summary
Visions, missions, and commitments make differences in practices. Good leaders dedicate themselves to their vision and mission statements. These dentists lead by honoring their commitments to team members and patients, which results in reduced stress, better customer service, and increased profitability. Leadership is imperative for teams that target success.
Dr. Roger Levinis founder and CEO of Levin Group Inc., a leading dental-management consulting firm that specializes in implementing documented business systems into dental practices. Levin Group is dedicated to improving the lives of dentists via proven dental-practice management and marketing consulting programs to achieve success and profitability. Reach Levin Group at (888) 973-0000 or at www.levingroup.com.