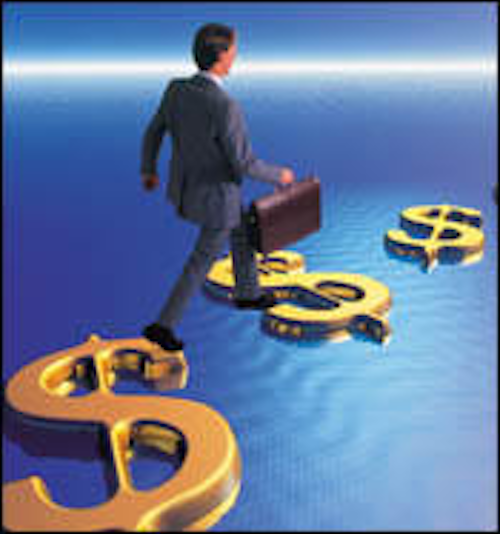 The economy is slowing and many patients feel they cannot justify the cost of the more expensive cosmetic services. Third-party finance programs provide options.
by Roger P. Levin, DDS, MBA
Dentistry is experiencing a renaissance. Technology has progressed so far and so fast that dental professionals are able to give patients a level of care unheard of just 10 years ago. The public has responded to these new services by clamoring for more cosmetic treatment.

But if all this is occuring, why are so many practitioners complaining that their profits are not what they should be? Unfortunately, the economy is slowing and many patients feel they cannot justify the cost of the more expensive cosmetic services. There is, however, a way to encourage these procedures while keeping accounts receivable low. Using third-party financing is an effective method for patients to honorably accept and pay for treatment.
High fees are not the problem
Patients refuse treatment for a variety of reasons, with fear, time, and cost topping the list. All three are hurdles to overcome, but cost is by far the greatest. If you have developed your practice so that patients understand the value you are offering them, then the problem is not so much that the fee is perceived as too expensive, but that they don't have the available funds to pay for it.
Believe it or not, 77 percent of Americans cannot write a check for more than $500 out of their monthly cash flow. The typical consumer has less than $400 available on consumer credit cards. So, the only recourse for these patients is to ask you to work out a payment plan.
A firm financial policy
Establish a strict financial policy, along with prepared scripts for presenting fees to patients. Then, stick to your policy or you will inevitably have problems sticking to your original financial goals. Using scripts allows you and your staff to consistently present financial options without any miscommunication.
For instance, patients will know if you expect payment at the time of treatment and that they cannot expect to be billed at a later date. They also will respect and appreciate the value of your work if they pay for it at the time of service.
Get out of the banking business
Playing the role of banker is a precarious position for a dental professional. Acting as a credit company for your patients is costly to both your profit margin and your patient relations. The dentist often is the last one on the patient's list of bills to be paid.
Overdue accounts are inevitable, and the cost of carrying them on your books far outweighs any benefit. Remember, accounts receivable is not a savings account. Many of these overdue accounts will never be paid and, inevitably, you will have to resort to collection agencies. This is an inefficient way to run a business, as well as terribly damaging to customer service.
Becoming a banker and collection agent destroys the special doctor-patient relationship you have developed. It also cuts into your time doing dentistry, with something that is extremely unpleasant.
Third-party financing
Offering third-party financing is a welcome alternative for both doctors and patients. When your patients use an outside financing company to pay for treatment, the first advantage is that you receive your payment within two business days. Credit-worthy people usually are approved for a line of credit within minutes when using leading companies. Your patients are happy and you are now free of the responsibility of being their banker.
Another great advantage to you is that you can be confident that your treatment acceptance rate is going to rise dramatically. When patients learn that they are approved for credit a few minutes after listening to your treatment-plan presentation, they are more inclined to accept it. Now you can be assured of payment upfront, along with a significant reduction in collections expense. When patients receive a line of credit, they are less likely to balk at your treatment fee, so third-party financing also brings you closer to having that ideal fee-for-payment practice.
With third-party financing, patients will be able to get major work done. Plans are available for all patient needs, including three, six, and 12-month interest-free and extended payment plans.
Some third-party financing companies offer interest-free options that allow patients to pay within the specified period without incurring interest charges. The extended payment plan is great for people who need more time to pay because it offers a low interest rate and low monthly payments for an extended term. This plan is a perfect incentive for those needing implants, major reconstructive, and cosmetic dentistry.
Some doctors balk at having to pay a small percentage of their fee to the finance company. For that reason, they will frequently hide this option from their patients unless there is no other alternative.
However, the advantages you gain far outweigh the minor fee you pay. You will have gained customer satisfaction which results in further referrals. You also will have gained the opportunity to perform comprehensive treatment that would otherwise have been rejected or not paid for upfront. There is no question that your profitability will be far greater with third-party financing available to your patients.
Reduce billing work
Clearly, not all your patients will be able to qualify for third-party financing. It is in these cases that you may have to work out a more burdensome payment option, or accept the fact that not all patients can participate in comprehensive treatment. But your overall billing work will be significantly reduced with the introduction of third-party financing. Now your primary objective in patient billing will be to collect the difference between the amount the patient's insurance company pays and the balance owed. The hassle and expense of collections will be drastically reduced.
Once you introduce a third-party financing option into your office, you will be one step closer to your dream practice. Now when a patient asks, "Can I make payments?" your front office staff member can quickly and happily respond, "Yes!" Your patients will be motivated to accept more comprehensive treatment plans and you will be out of the banking business, allowing you to devote more time to what you set out to do — practice quality dentistry.
---
Financial Options
Patients who need payment plans put you in the precarious position of playing banker. As such, you have four financial options to offer:
1. Give 5 percent off for cash upfront. This is based on the idea that everyone wants to save money.
2. Accept credit cards. This should be a routine part of every dental practice. Patients are comfortable using their credit cards and even become quite dependent on them. The small fee you incur is insignificant compared to the positive benefits you will receive.
3. Pay half up front and half at end of treatment. The risk with this method is trying to collect that final payment.
4. Offer a line of credit. A lot of people prefer this option if they do not have access to a significant amount of cash. Credit-worthy clients who would otherwise refuse treatment are now able to accept it.