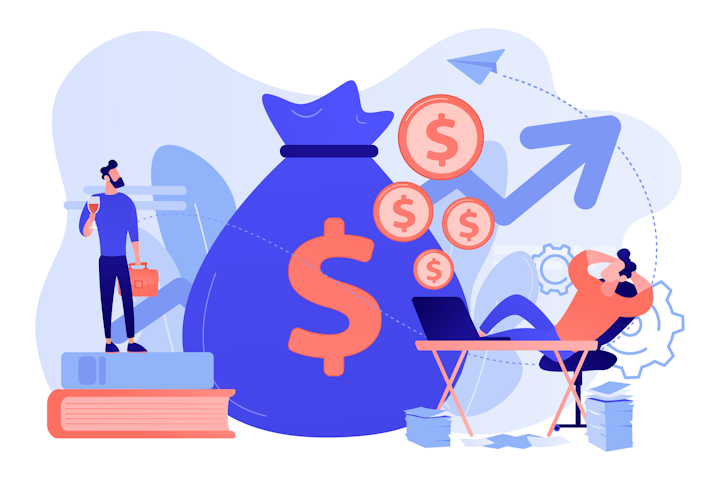 © Visual Generation | Dreamstime.com
Editor's note: This articles is part six of a six-part series on how dentists can benefit from the immense changes that DDSOs have brought to the profession. Parts one through five of this series appeared in June through October and may be found at dentaleconomics.com.
Ever since the major push of DSOs in the 1990s, there has been a steady trend related to the "centralization of the fragmented market" of dentistry. Yet it is also true that dentists, by nature, are fiercely independent, and we grow more so by the day as we watch the corporatization of the practice of medicine. 
As DSOs have increased in popularity and volume through the years, some very interesting hybrid models have emerged. Many of these hybrid business models have become wildly successful and created multiple streams of passive income. My intent in this article is to provide an overview of a DSO versus a DDSO, expose the secrets of highly successful business models within the DDSO genre, and illuminate the passive income strategies available. The case studies will provide actual examples to magnify certain key principles. The goal is to provide readers with actionable information with which to build, or continue to build, their own solo or group model.
DSO versus DDSO
It is important to first define and highlight the major differences between DSOs and DDSOs. By definition, a DSO is a dental service organization that provides certain nonclinical services to multiple practices through a nonclinical entity. A DDSO is a dentist-owned DSO that may be a solo practice or a small group of practices. There may or may not be a separate management company. 
In most cases, the DDSO adds vertical components, or multiple streams of income, to the organization to enhance value and cash flow. These vertical cash flow streams are often referred to as DDSOs or dentist-owned organizations. In the 1960s there were no true DSOs and the majority of the dental supply, equipment, and service companies were owned by dentists. Just a short half century later, much of the business of dentistry has been corporatized. This has allowed great opportunity for licensed dentists who are equipped with the right information, techniques, and strategies to thrive in the current dental environment. 
Franchisors receive franchise fees; authors and inventors receive royalties; real estate investors receive positive cash flow; business owners receive earnings before interest, tax, depreciation, and amortization (EBITDA); and investors receive dividends. These are all forms of passive income as opposed to earned or active income, as is the case with performing clinical dentistry. Illuminating the differences between DSOs and DDSOs helps reveal the incredible area of opportunity in the business of dentistry from a passive income standpoint as our profession experiences change. See Table 1.


Mini DDSO case studies from three dentists
Kevin Ison, DDS 
Early in my career I worked for Orthodontic Centers of America, and I knew that eventually I wanted to develop a dentist-owned and -driven practice or small group. When I met Brady, I had two locations. A year later, I have eight locations and I've launched several DDSOs, creating streams of income and benefit to each individual practice or group. 
One of the most misunderstood DDSO concepts is that it is not necessary to have multiple locations to benefit from DDSO concepts. In my DDSO I have incorporated a 3-D printing center to save on aligner costs (as low as $52 per aligner case), and I've added retail revenue from serving other dental practices. My DDSO has created a CE institute for training on multiple aligner subjects. In the last six months I've completed multiple joint ventures with dentists around the nation on practice and real estate acquisitions. I have created my own private equity/private lending organization to keep interest and equity returns within the DDSO.
One of my favorite components of the DDSO concept is that every practice, whether solo or group, finds benefit from the strategies. I have also found that no two DDSOs are the same in that each dentist incorporates strategies based on his or her own interests, goals, and financial maturity. This allows dentists at every stage of their careers to participate and reap the benefits of the DDSO concepts as the practices grow and mature. 
A DDSO doctor in St. Louis, Missouri
I have been using DDSO strategies for nearly one year. I just added a second location last month that was funded by another dentist. I used private lending resources of the dentist, which required no personal guarantee like traditional bank financing does. I am opening a 3-D printing center for aligner cases to provide retail aligner lab revenue as another stream of income. I am opening an aligner institute to educate other dentists, recruit dentists to my group, and add new business to the 3-D printing center. I have also created a mentorship program to help new dentists shave five years off of their learning curves and hit the ground running with practice ownership, specifically leveraging the growing aligner market. Through my DDSO I currently work two days per week doing the types of dentistry that I'm most passionate about. 
Keith Williams, DDS
As the founder of a large 17-operatory practice in California, I knew I was fairly maxed out in that particular facility. I used a DDSO strategy involving seller-financing with my main associate, who became an equity holder in the practice. This allowed for greater stability for the purchase of a second location or entrepreneurial satellite practice. We built three passive streams of income into location number two—interest income from the private lending aspect, positive cash flow from the real estate purchase of that location, and business EBITDA not attributable to clinical dentistry. Having doubled the second location in just a few months, we are now looking at a third location with real estate. I enjoy clinical dentistry, but I'm having the most fun I've had in 30 years since incorporating multiple DDSO passive income strategies. 
Hundreds of dentists around the US are actively incorporating these strategies into their DDSOs, creating multiple breakthroughs for private practitioners. The future is very bright for those who choose to educate themselves about the strategies necessary for success in dentistry's changing landscape.  
BRADY FRANK, DDS, is an international clinical and business lecturer, an inventor, and founder of multiple companies in the dental space. Since graduating from the Marquette University School of Dentistry in 2001, he has owned multiple private dentist-owned dental support organizations (DDSOs). He is a founding member of the DDSO Alliance. Reach him at brady@bradyfrankconsulting.com.