Product dispensing: Five keys for enhancing your practice
The concept of selling products to patients in a dental practice is not always looked upon favorably.
Oct 1st, 2005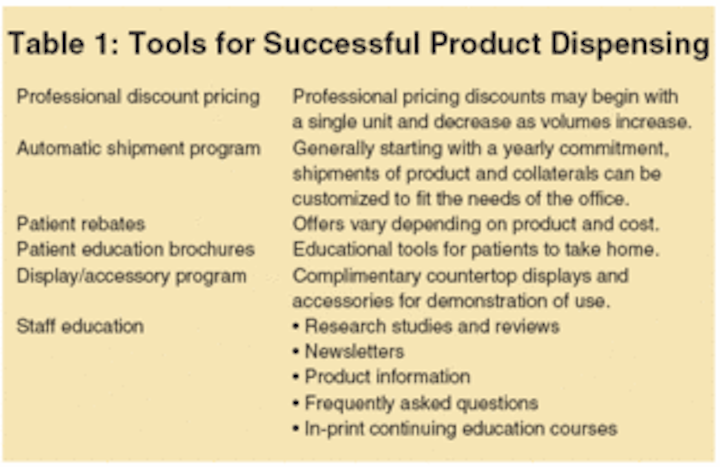 The concept of selling products to patients in a dental practice is not always looked upon favorably. Doctors may state they have concerns about storing inventory, or being unable to "sell" a product once they get it. Dental hygienists fear they may have to "push" a product they either do not believe in or feel a patient does not need. These issues are legitimate, yet they are easily overcome. Many companies that sell directly to dental professionals have a vested interest in your success, and have the tools available to conquer these barriers (see Table 1).
Product dispensing is less about selling and more about providing excellent customer service. Top-notch customer service can make your practice stand out from the rest. It can play a key role in developing patient loyalty and enhancing referrals. Excellent customer service involves more than just being nice to people, although that is essential, too. It involves listening to needs and focusing on how best to meet those needs. With product dispensing, there are five crucial elements that staff members must be aware of and believe in to be successful. These five elements are:
→ Product knowledge and fit. There is a multitude of products on the market today. The patient/consumer has figured out that not everything available does what it claims to do. Therefore, a patient will look to the dental professional for guidance on which product(s) best suit him or her. A patient may not care about the details of a research study, but in today's data-driven world, this person will expect you to know which products have research supporting their efficacy. Superior product knowledge can help you match products to a patient. This is particularly important for alternative interdental aids, the dental water jet, or pharmacotherapeutics (see Table 2).
→ Immediacy. In this fast-paced culture, no one wants to wait for anything. When you dispense products in the office, you have the opportunity to provide immediate, customized product training and education chairside. Just as important, a patient can take a product home and start that day on improving his or her oral health. You have the confidence in knowing a patient is using the product which is best for that person, and in the correct manner. There is no more wondering if a patient purchased the product, or is using it properly.
→ Credibility. When you deliver superior product knowledge, coupled with a top-quality product, the message is clear that you believe in the product and its importance for a patient. Your credibility with a patient is enhanced by this simple act. Your credibility will receive an additional boost when a patient returns for his or her next appointment with better oral health. Even more importantly, you are partnering with the patient to attain alignment between expectation and outcome.
→ Convenience. One-stop shopping has become a hallmark in today's society. In many places, you can go to a local discount retailer and purchase groceries, items for the home, and clothing while enjoying coffee and snacks. Perhaps you can even do some banking or fill up your car with gas. Having oral-care products available in a dental practice is a perfect marriage. Both you and the patient will have the confidence and satisfaction that the right product is in hand. Once the patient leaves your office, he or she is thinking about picking up children, cooking dinner, or work - not the dental water jet or power toothbrush you just recommended - until, perhaps, bedtime. If you dispensed, the patient will have it. If not, you have to hope the person remembers to purchase it sometime in the near future.
→ Practice revenue. Dispensing products in the office adds an additional source of income to the practice. There is nothing wrong with this. Your practice is a business, and you are providing an additional service. It is okay to make a profit. That profit can help enhance the line of products you offer, or help reward your staff for a job well done. Most companies offer professional discounts on products that allow you to resell the products at a price consistent with retail and still make some profit. In some situations, like orthodontic treatment, the cost of the product is a part of the treatment plan and is built into the cost.
Successful product dispensing requires a concerted, targeted effort by all staff members. If you are considering dispensing products in your practice, involve your staff members in the decision-making process from the beginning. This approach will ensure both ownership and commitment by all involved. Each staff member will likely have a role to play in the success of this venture, some more heavily than others. Deciding staff roles and responsibilities up front is crucial, and can help avoid confusion and frustration.
Product dispensing is a good risk to take. After all, which of the following scenarios seems more likely to have a successful outcome? One where the patient leaves your office with a directive to purchase, or one where the patient leaves with the product and knowledge to use it?
Carol Jahn, RDH, MS, is the educational programs manager for Waterpik Technologies. She has published numerous papers on periodontal disease and self-care, and provides continuing education courses on periodontal disease and diabetes. Jahn can be reached at cjahn@waterpik.com, or (800) 525-2020, ext. 8565.