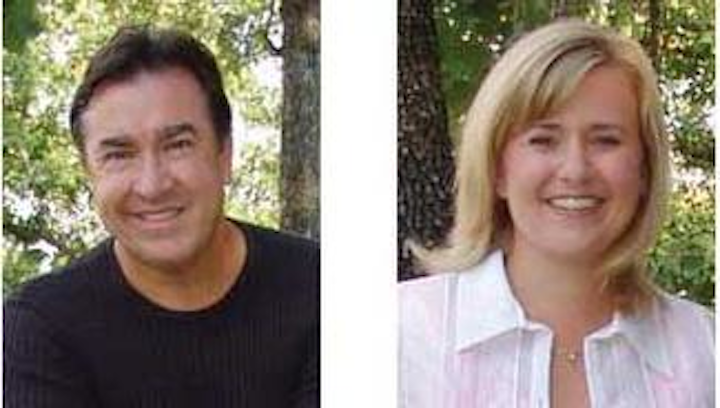 An old philosophy and a new office help Dr. Rick Tallon (left) and Dr. Suzanne Quigg (right) keep up with the country music mecca's exploding population ... and that's music to everyone's ears.
Dr. Rick Tallon wasn't looking for a new location for his practice. Happy in his current location inside the Skaggs Community Hospital building in Branson, Mo., Dr. Tallon saw his practice growing and flourishing. He had been in the same location for 10 years, and had seen a steady stream of new patients. But, overnight, things changed.
"We were told our lease wasn't going to be renewed," Dr. Tallon recalled. "The hospital was experiencing growth as much as the rest of the area and realized that there was a need for more space for new physicians coming to town. Our space was more valuable to use directly by the hospital, so we were told we had 18 months to look for a new site."
After the initial shock, it didn't take Dr. Tallon long to find a new spot for Branson Dental Center. A friend who owned an orthopedic surgery office had 3.2 acres available next to his facility. Located on a hilltop surrounded with trees, Dr. Tallon knew he had found the right place.
"The openness of this location and the ability to watch nature and the surrounding hills has been very relaxing," Dr. Tallon said. "I have placed a feeder for deer and wild turkey and we have an occasional visit from a deer, but we have three large male wild turkeys that are visible to our patients every morning and afternoon. We saw a tourist emergency the other day and he was heard calling a friend on his cell phone and saying, 'You're never going to believe where I am and what I'm seeing out this dental office's windows' as he watched our turkeys."
Moving locations was nothing new to Dr. Tallon. In practice in Branson for 25 years, the current building is actually the fourth location where Dr. Tallon has practiced under the Branson Dental Center name. He bought his first Branson practice in 1980 for $8,000 from a retiring dentist and immediately discovered change was needed.
"My wife was the first hygienist in Branson," Dr. Tallon smiled. "It was amazing because there were people here who didn't understand why they needed their teeth cleaned, and they certainly didn't understand a woman doing the work on their teeth. It took a lot of education for us to finally convince people of the value of dental hygiene."
Both the people of Branson and Branson itself have undergone significant change in the last 25 years. The sleepy city located in southwest Missouri has become one of the country's entertainment meccas. Projections indicate that Branson could grow as much as 20 percent per year during the next five years. With the population growth, of course, has come an increase in the number of dentists in the area.
"We've had four or five dentists move into the area over the last 10 years or so, but that really hasn't affected us," Dr. Tallon explained. "We have an established patient base, and we've never had a year in my 25 years of practice where we haven't experienced growth. People are retiring from places like Chicago and St. Louis and coming here, but we're also seeing a number of young families move into the area who are looking for a different kind of life. Branson is starting to become a community with a broad economic base rather than just a place for retirees."
Knowing that growth of the city and his practice would continue, Dr. Tallon built his new practice with growth in mind. The Branson Dental Center building has 12,000 square feet, with space evenly distributed on two floors. The bottom floor houses the Branson Heart Center (space is leased from Dr. Tallon for this clinic) as well as a staff lounge. The top floor holds Branson Dental Center's 12 operatories.
"The separate floors have allowed us to have an area where our entire staff can get together for lunch on a regular basis," Dr. Tallon said. "We really have a family feeling among our staff members. We do more than dentistry together. We like being together."
When mapping the floorplan for the dental office, Dr. Tallon wanted to create a way for the hygiene department to almost serve as its own entity. With five full-time hygienists on staff, Branson Dental Center's hygiene department is one of the office's strengths, and Dr. Tallon recognized that strength in the office design.
"Our dental center has a bit of a different design than most," Dr. Tallon explained. "Our hygiene department is located at the far end of the office, with a back reception area located nearby. It allows us to separate the hygiene area from the other operatories and provides a very calming effect for our patients."
Also providing a calming effect is the lobby, which reflects Dr. Tallon's Cherokee Indian heritage.
"Our old office had a Sioux war bonnet and other Indian clothing on display," Dr. Tallon said. "When we designed this office, we wanted the reception area to have the feel of a Western lodge. We wanted to create a sense of comfort, and I think we have. We have one retired couple who comes in every week just to sit in our reception area and read the Wall Street Journal.
"I love the atmosphere we have created. The design concepts have also contributed to the staff's overall attitude. I have an outstanding staff that I have the privilege to work with daily. When the staff is happy, everyone is happy."
Part of keeping the staff happy has been supplying them with whatever is needed to perform dentistry at the highest standard. One of the operatories is equipped with a microscope, a piece of equipment Dr. Tallon feels is critical to his practice.
"Magnification is an important part of our practice. Dr. (Suzy) Quigg and I have loupes, as do all of our hygienists. I don't feel that we can practice adequate care without magnification," Dr. Tallon said. "I purchased my Global microscope in 2001 and I can't imagine practicing without a microscope. I feel that microscope use in general private practice will become the norm over the next few years. I am able to see margins on cosmetic cases much clearer and I can't imagine doing endo - especially molar endo - without a microscope. I've found canals that were impossible to locate in the past, and I feel our standard of care is much higher with the higher magnification. Just the ergonomics with proper posture for me is reason enough to own a microscope."
Outside the operatories, Dr. Tallon has established a central handwashing area, once again bucking the trend of some design gurus.
"I know there are some who say that if the patient doesn't see you wash your hands when you enter the operatory, he or she isn't going to feel comfortable. However, we've never had any patient ask us about that," Dr. Tallon said. "We looked at the costs of plumbing each operatory for a sink, and we discovered that we could save a lot of money by establishing a central handwashing area. It has worked very well for us."
Another thing that has worked well at Branson Dental Center is the consultation room, set in the middle of the new office's design.
"We wanted the consultation room to have a central location and to not feel closed in," Dr. Tallon said. "We used a lot of glass in the consultation room, which gives the patient an open feeling. The glass allows us to still have privacy, but also lets the patient look at something more than just walls.
"We opened our new facility's doors on June 1, 2004, and we've continued to draw in new patients. In July of 2005, we had 56 new patients come into our practice. Patients are definitely receptive to the new building and to the design of the practice, and treatment acceptance continues to be high. Part of that is the feel of the practice, but another part is the patients having confidence in what we've done for their friends and their family members over the last 25 years."
Perhaps one of the greatest compliments that could be paid to Dr. Tallon is that several of his patients have followed his example and chosen dentistry as a profession. He estimates at least 20 of his former patients are now dentists, hygienists, or dental assistants. Among the number is Dr. Suzanne Newell Quigg, who now works at Branson Dental Center.
"Dr. Quigg was a patient when she was 9 years old. She showed an interest in dentistry at an early age," Dr. Tallon remembered. "Suzy's greatest asset is her ability to learn and adapt to things quickly. She came into our practice as the first female dentist in Branson. She stands 4-feet-11-inches tall and, when she joined us directly from a postgraduate program at the University of Missouri at Kansas City, she looked like she had just graduated from high school. But she never allowed any comments to discourage her and she adapted to our style of practice by using my existing assistants and procedure setups for a short period of time until she could develop her own style of practice. She has totally embraced our practice philosophy from the beginning and understood our area and patient needs from the first day.
"She told me several months ago that she was sure her friends thought her comment that one of her best friends was a 50-year-old guy (Dr. Tallon) was strange. I echo her feelings and it has been a great honor to watch little Suzy Newell become Dr. Quigg and become a skilled professional, partner, and best friend."
The practice philosophy that Drs. Tallon and Quigg embrace every day is quite fitting to the Branson area.
"The philosophy of our practice hasn't changed since moving into our new office, but I think the office design and flow has just reinforced our original philosophy and made it more evident to patients and staff," Dr. Tallon said. "We have a mission statement that was established 11 years ago - 'Enduring quality and craftsmanship is priceless.' We have many local artists and craftsmen in our area and we have some of their furniture and artwork as well as Native American artwork that all has a long-lasting value. We wanted to reflect our desire for our 'artwork' to have that same lasting value in the eyes of our patients."
And what does Dr. Tallon envision for his practice during the next five years?
"I would hope we continue to see the steady growth of our practice," he said. "I would like to add another dentist as soon as possible and, at some point, would like to see the office used as a teaching facility on practice management and design. I think that we can share our office's staff leadership with other practices and improve both staff and patient relations."