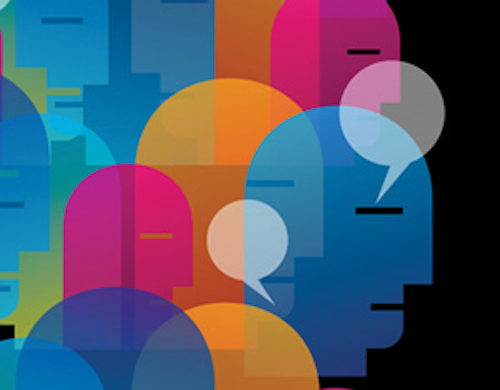 by Lou Shuman, DMD, CAGS, and Diana P. Friedman, MA, MBA

As Internet search engines and social media play an ever-increasing role in social interactions and marketing, dental practices can no longer rely solely on traditional forms of advertising and market communications to connect with their patients. This is the age of digital technology, with more than half of all U.S. residents and 75% of adults online. A dental practice without an online presence is virtually invisible, considering that 80% of adult Internet users look for health information online.
A simple online search is now the easiest way for potential patients to find you. The financial success of your dental practice depends on your patient base. This means you must attract new patients to the practice while staying connected with your existing patients to ensure that they remain engaged and active in the practice. Consumers today expect dental practices to embrace social media, ingraining themselves within their various social networks.
Social media has elevated marketing to a new level. Traditional directories, fliers, and print ads have become secondary to online marketing efforts for one very simple reason -- Your patients are already online and you must go where the customers are to engage them. A 2011 study revealed that 139 million consumers used the Internet on a monthly basis to seek health-care information.
The key principles of social media:
Get connected -- Social media is about conversations, community, connecting with other people, and building genuine relationships.
Be conversational -- Authentic, honest, and a naturally flowing dialogue are vital for success.
Listen and respond -- Social media not only allows you to hear what people are saying about your business; it also enables you to respond.
Make it worth saying -- Always be interesting, useful, current, and engaging with your social media dialogue.
Extend yourself -- Don't be afraid to try new things, but think your efforts through before putting them into action.
Using online social media marketing allows you to spend time effectively forging genuine relationships with an extensive range of potential patients. Word-of-mouth marketing is also valued within social media, as the personal touch characterizing these communications adds an additional layer of credibility.
Your dental practice is a business that faces common challenges, such as local competition from other dental practices, community members who do not know your office exists, or even the dreaded dental anxiety that keeps some people from visiting a dentist in the first place. Social media can help your practice overcome those challenges. With an effective social media strategy, your dental practice can connect with people in ways you may not have ever considered.
Today's digital generation associates a strong website and solid online presence with the legitimacy of a practice. When users are unable to find your dental practice online, they will often assume one of these things:
No one is talking about your business online because you are not an established practice.
You are a brand new dentist and therefore may lack experience.
You are such a small or out-of-touch dental office that you do not have the resources to create an online presence.
These things matter to most Internet users. In fact, 89% of all U.S. Internet users do an online search before making a purchase, even when the purchase is made at a local business. Practically everyone is online today. Just think, while you are prepping a crown, de-banding a patient, finishing a root canal, or tending to an impacted wisdom tooth, the rest of your patients are online.
Referrals
This role is filled by virtual platforms such as blogs, social networks such as Facebook, Twitter, LinkedIn, YouTube, Pinterest, Google+, and Yelp, podcasts, and rating and social bookmarking sites, all of which provide convenient methods for genuine contact. Not only is social media an effective and credible channel to reach patients, online marketing actually costs 62% less than traditional methods of marketing, making it even more valuable to your practice.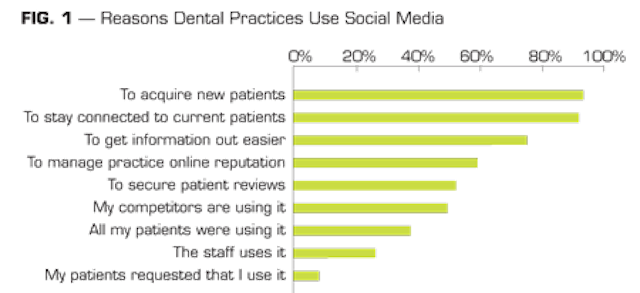 Patient engagement
Dentists who have already embraced social media are increasingly experiencing the impact that social networks have on their practice growth and success. In a 2012 national survey by Sesame Communications, when asked how important social networks were in being engaged with patients on a scale of 1 to 5, respondents scored a mean of 3.78 in their assessment of importance. And 85% stated it was important in order to remain competitive.
Social media marketing
New patient acquisition
In a recent study conducted by Sesame Communications, a panel of 88 dentists were asked about their social media usage and business experience. On average, these dentists had been using social media for at least one year. A staggering 96% of the panel acknowledged using social media as a vehicle to market their practice. In addition, 96% of the panel acknowledged using social media as a means of acquiring new patients for their practice.
The study also asked participants why they chose to use social media channels for their practices.
The vast majority of practices (78%) found that social media offered an effective and efficient way to communicate with their patients. Further, 49% of dental professionals used social media because they believed their competitors were already online. Statistics tell us that Facebook now has more than ONE BILLION active users, Twitter reports that 100 million people log in at least once per month, and YouTube shows that more than four billion videos are viewed each day, with more than 800 million unique users worldwide per month. Google+ now has more than 400 million users.
Various types of information are communicated by dental practices via social networks, including before-and-after photos, patient appreciation, patient testimonials, contests, community and office events, and office information and forms. Also, more than 94% of practices educate patients about their dental health via social networking. Social media is a diverse universe offering many different channels of communication.
Lou Shuman, DMD, CAGS, is the president of Pride Institute. He is a sought-after educator in digital marketing methods and operational practice management. Contact him at lou@prideinstitute.com. Diana P. Friedman, MA, MBA, is president and chief executive officer of Sesame Communications. She has a 20-year record of success in leading dental innovation and marketing. Throughout her career, Diana served as a recognized practice management consultant, author, and speaker. You can contact her at Diana@sesamecommunications.com.
More DE Articles
Past DE Issues